Symposium to Focus on Future of Private Equity
Experts from academia and the private sector will explore the role of private equity in the new global economy during a Virginia Law & Business Review symposium Friday.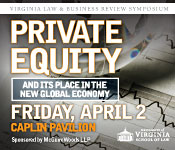 The symposium, which begins at 10 a.m. in Caplin Pavilion, will feature several panel discussions and addresses by Robert Bartlett, a law professor at U.C. Berkeley, and McGuireWoods partner Rob Marks.
"The fact that we're coming out of a recession and just had a very bad financial crisis makes this a good time to take a look at private equity," said Christopher Dass J.D. /M.B.A. '12, the symposium's director.
Professor George Geis, director of the Program in Law & Business, said he is pleased with the exceptional group of academics, lawyers and business executives slated to participate in the symposium.
"The recent cry for business innovation, combined with emerging policy proposals in this area, have combined to make this a particularly interesting time to explore the future of private equity investing," Geis said.
The morning sessions will focus on the future of venture capital, or private funds invested in emerging companies to spur development, while afternoon sessions will explore leveraged buyouts, Dass said.
"Venture capital I think is not only of interest to the law and business community but also of interest to everyone, because venture capital is often responsible for funding small businesses," Dass said.
Bartlett will give a talk titled, "What Killed the Venture-Backed IPO?" Afterward, there will be a panel discussion on trends in venture capital markets that will include Erick Rytter, an associate at Cadwalader; Susan Chaplinsky of the Darden School of Business; and Gordon Smith of BYU School of Law.
At 11:40 a.m., a panel discussion on current trends in angel and venture financing will feature Gene Lockhart of Oak Investment Partners, a former CEO of MasterCard International; Richard Marrow of Transit Kabel TV; Ken Maready of Hutchinson Law Group; and John May, a managing partner at of New Vantage Group. Professor Richard Crawford will moderate both venture capital panels.
After a very active period in the middle of the decade, venture capital investments cooled in 2009 as credit markets tightened, Dass said.
"People in general were risk averse, I think," he said."There wasn't a lot of funding going into venture capital. And the same could be said for leveraged buyouts. I think people were having a difficult time finding proper valuations for companies. They didn't have the access to debt that they had in the past."
After lunch, Marks will discuss structuring and executing a leveraged buyout, and a panel will explore current legal and business issues in leveraged buyouts. That panel includes Dean Paul Mahoney, Susan Chaplinksy of the Darden School of Business, Marks, and Jason Northcutt of Sheppard Mullin Richeter & Hampton. Geis will moderate.
Schedule:
10 a.m.
Opening Remarks
Christopher Dass, J.D. /M.B.A. '12
10:05 a.m.
Introduction
Professor George Geis
10:10 a.m.
"What Killed the Venture-Backed IPO?"
Professor Robert Bartlett, Berkeley Law
10:55 a.m.
Panel: "Trends in Venture Capital Markets"
Moderator:Professor Richard Crawford, Chairman of the Board, Virginia Investment Capital Group
Panelists:
Erick Rytter, Partner, Cadwalader
Professor Susan Chaplinsky, Darden School of Business
Professor Gordon Smith, BYU School of Law
11:40 a.m.
Panel: "Current Trends in ANGEL and Venture Financing"
Moderator:Dick Crawford, Chairman of the Board, Virginia Investment Capital Group
Panelists:
Gene Lockhart, Oak Investment Partners, Former CEO of MasterCard International
Richard Morrow, Transit Kabel TV
Ken Maready, Hutchison Law Group
John May, Managing Partner, New Vantage Group
12:30 p.m.
Lunch
1:30 p.m.
"Structuring and Executing an LBO"
Rob Marks, Partner, McGuire Woods
2:30 p.m.
Panel: "Current Legal and Business Issues in LBOs"
Moderator:Professor George Geis
Panelists:
Dean Paul Mahoney, UVA School of Law
Professor Susan Chaplinsky, Darden School of Business
Rob Marks, Partner, McGuire Woods
Jason Northcutt, Senior Associate, Sheppard Mullin Richter & Hampton
3:30 p.m.
Closing Remarks
Christopher Dass, J.D. /M.B.A. '12