1960s Class Notes

1963
William R. Rakes has been included in Virginia Super Lawyers in the area of business litigation. Rakes is a partner in the Roanoke office of Gentry Locke Rakes & Moore.
1964
W. Thomas Grimm lives in Ruskin, Fla., where he has embarked on a new career as an adjunct professor teaching American government, political science, and business law at Hillsborough Community College. His daughter, Emily, recruits physicians for a regional hospital in Thomasville, Ga. His son, Lars, graduated from Yale medical school this spring and is at Duke for his residency. His son, Nils, just graduated from Vanderbilt and is attending UVA Law.
Edward J. Handler III is the founder, chair, and CEO of The Bronx Project, Inc., a developmental stage drug company. The company has finished pre-clinical testing of Pharmaceutical C3 in mice and expects to conclude trials in non-human primates soon. Pharmaceutical C3 will be effective in arresting Parkinson's. Studies with rodents have shown it to be effective against schizophrenia and ALS as well. Publication of articles (on Parkinson's) in juried journals is anticipated as well as some media coverage.
Whayne Quin is a partner in the Washington, D.C., office of Holland & Knight, where he practices municipal law.
Gilbert Wright practices insurance and contract litigation law as a solo practitioner in Jacksonville, Fla., after many years as counsel with larger law firms. In 2006 he moved to Jacksonville from Massachusetts with his wife, Nancy. They have a son who practices law in Chicago, a son who works in banking in Montana, and two grandchildren.
1965

Stuyvesant K. Bearns has been included in Best Lawyers in America 2010 in the area of trusts and estates. He was also listed in Connecticut Super Lawyers in the area of estate planning and probate. He is of counsel in the Lakeville office of Shipman & Goodwin.
1966
Guy Farmer recently joined Gray Robinson in Jacksonville, Fla., where he will continue to practice labor and employment law. He was recently recognized as having been named in every edition of Best Lawyers in America.
1967
J. Rudy Austin has been included in Virginia Super Lawyers in the area of construction litigation. He is a partner in the Roanoke office of Gentry Locke Rakes & Moore.

Howard W. Martin, Jr., recently received the Eggleston-I'Anson Award from the Norfolk & Portsmouth Bar Association. The award, given in a formal ceremony at the association's annual meeting in May, honors attorneys who epitomize the highest standards of professionalism throughout their careers. Martin has been selected for inclusion in Best Lawyers in America 2009 and has also been listed in Virginia Super Lawyers in the area of real estate. He is a partner with Crenshaw, Ware & Martin in the firm's Norfolk office.
Henry L. Young, Jr., is a sole practitioner in Dawsonville, Ga. He serves as National Judge Advocate of the 82nd Airborne Division Association, a veterans organization. In 2008 the Association honored him with "Airborne Man of the Year" at its annual awards ceremonies in Atlanta.
1968
David D. Biklen was elected a lifetime member of the Uniform Law Commission at the organization's recent annual meeting in Santa Fe, N.Mex. Biklen, executive director of the Connecticut Law Revision Commission, was first appointed a Connecticut commissioner in 1982 and has been reappointed by three succeeding governors.
Donald C. Greenman has been included in the International Who's Who of Shipping & Maritime Lawyers 2009. He has been included in Best Lawyers in America in the maritime category since 1989 and has been editor of American Maritime Cases since 1993. He is a principal in the admiralty and maritime group in the Baltimore, Md., office of Ober/Kaler.
Barry C. Hawkins has been selected for inclusion in Best Lawyers in America 2010 in the area of real estate law. He was also listed in Connecticut Super Lawyers. Hawkins is a partner in the Stamford office of Shipman & Goodwin.
Bruce Lev has joined the board of directors of Integral Systems. Since 2003 Lev has served as a managing director of Loeb Partners, an investment firm based in New York City. Previously, Lev served as vice chairman and director of USCO Logistics, a service provider of supply chain management. From 1995 through 2000 he served as executive vice president of corporate and legal affairs of Micro Warehouse, a $2.5 billion direct marketer of brand name personal computers and accessories to commercial and consumer markets.
Gail S. Marshall and her husband, John, recently completed a two-week volunteer teaching tour in Ghana. Gail continues a private practice and serves as attorney for the town of Orange, Va.
Ambassador (ret) W. Robert Pearson has been president of IREX since November 2008. IREX is an international nonprofit organization providing leadership and innovative programs to improve the quality of education, strengthen independent media, and foster pluralistic civil society development. Founded at Princeton in 1968, IREX has an annual portfolio of over $60 million and a staff of 500 professionals worldwide.
Pearson retired in 2006 from the U.S. Foreign Service. As Director General of the U.S. Foreign Service from 2003 to 2006, he introduced critical changes in American diplomacy, earning awards for innovation and management improvement and preparing the United States for the challenges of the 21st century. He served as Ambassador to Turkey from 2000 to 2003 during a critical period, and was previously posted in Paris, Brussels, Beijing, Taipei, and Auckland, in addition to other senior positions at the Department of State. From 2006 to 2008, he headed the international business division of the Spectrum Group in Alexandria, Va.
1969



Robert W. Ashmore has been selected for inclusion in Best Lawyers in America 2010. He is a partner in the Atlanta, Ga., office of Fisher & Phillips, where he focuses on representing employers in nearly every area of labor and employment law.
Ford Barrett recently argued a case before the U.S. Court of Appeals for the Fifth Circuit concerning the use of suspicious activity reports in private civil lawsuits. The argument was held at the University of Texas Law School in Austin. Barrett is senior counsel in the Office of the Comptroller of the Currency, a bureau of the U.S. Treasury Department that regulates all the national banks in the United States.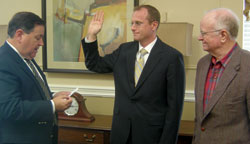 Tom Carr reports that his son, Brendan, was sworn in as a member of the bar of the Fourth Circuit Court of Appeals on May 14 in Richmond by Judge Dennis Shedd, for whom he clerked through the summer. The day after Brendan's swearing in, Tom had breakfast with His Honor J. Harvie Wilkinson III '72, and toured the State Capitol with Her Honor Diana Gribbon Motz '68, who was leading the clerks on a special tour. Tom notes that his son introduced him to Her Honor Sandra Day O'Connor.
James Cosby and his wife, Noel, are enjoying retirement. James retired from the Department of Justice in 2007; Noel retired from the IRS in 2001. All three of their daughters are married and live in Richmond and Fluvanna County, Va. James is a member of the Roanoke Chapter of the National Railway Historical Society, and he and his wife are active in the Lions Club. They enjoy traveling, and this year they will take their eleventh trip to Europe—this time visiting Eastern Europe.
Frederick Hodnett is quite active in his "retirement." He worked for the Senate of Virginia Clerk's Office for the 2009 session of the Virginia General Assembly, is a substitute teacher in the Hanover County School system, and performs civil marriage ceremonies throughout Virginia.