1990s Class Notes
1990

Mary Bauer was recently named the new legal director for the Southern Poverty Law Center in Montgomery, Ala. She will guide the course of SPLC's legal advocacy, including litigation in state and federal courts, public policy advocacy, and legislative reform. Bauer has directed the Center's Immigrant Justice Project since it began in 2004, overseeing lawsuits aimed at protecting the rights of migrant workers, immigrants, and foreign guest workers. She has served as legal director for the Virginia Justice Center for Farm and Immigrant Workers and for the Virginia ACLU and has testified before Congress on issues concerning the exploitation of migrant workers in the U.S.
Alumni Events
Richmond Reception
The annual Richmond Reception took place on June 11 at the Jefferson Hotel. Alumni sampled hors d'oeuvres while catching up with Law School friends. Dean Paul Mahoney addressed the crowd of 40 regarding the current news of the Law School and
answered questions.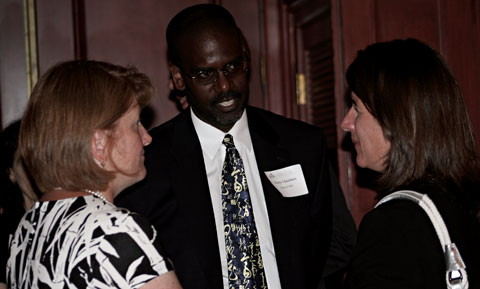 From left: Patricia Merrill '92, Henry Chambers '91, and Francine Mathews '97
Karen Elliott '86 talks with Calvin Thigpen '74
Photos by Laura Monroe
1991
Matthew Pachman has been named to the 2009 Attorneys Who Matter list by the Ethisphere Institute, an international think tank dedicated to creating and sharing best practices in business ethics and corporate social responsibility. The list recognizes legal professionals who have advanced the cause of corporate ethics and compliance inside and outside their organizations. Pachman is vice president for ethics and compliance at Freddie Mac in the corporation's McLean, Va., office.
Ken Paxton was re-elected to the Texas House of Representatives in November 2008 and recently completed his fourth legislative session. He currently serves on the ways and means committee and the house land and resource management committee. Paxton also operates a private practice, specializing in estate planning, probate, real estate, and general business matters. He and his wife, Angela, and their four children currently reside in McKinney.
1992
Patrick Jackman has joined the international tax practice at Weil Gotshal & Manges as partner in the New York office. Jackman was previously with Merrill Lynch, where he concentrated on improving the tax efficiency of cross-border operations.
Paul G. Lannon, Jr., has been appointed chair of the board of editors of the Boston Bar association's publication, the Boston Bar Journal. The quarterly magazine features news, analysis, and opinion for lawyers in nearly every area of practice. During his three-year term, Lannon will lead the board in selecting and editing articles for publication. He is a partner in the litigation section of Holland & Knight.

Kay Lynn (Vincent) Brumbaugh has been recognized as one of the top 15 business defense lawyers in Dallas in The Defenders, a publication of the Dallas Business Journal. She has also been listed as a leading antitrust lawyer in Texas by Chambers USA, America's Leading Lawyers for Business in 2007-09. Brumbaugh is a partner in the Dallas office of Andrews Kurth, where she focuses on the areas of antitrust litigation and counseling, class actions, and other complex commercial and business litigation matters.
1993



Amy Y. Jenkins has been named one of the top attorneys in South Carolina by South Carolina Super Lawyers magazine. She was also selected for inclusion in the 2009 and 2010 editions of The Best Lawyers in America. Jenkins is in the Charleston office of McAngus Goudelock & Courie, where employment law is the focus of her practice.
Robert J. Schmidt, Jr., has been recognized by Chambers USA 2009 as one of Ohio's leading lawyers in the area of natural resources and the environment. He is listed in Best Lawyers in America in environmental law and has been recognized as an Ohio rising star by Ohio Super Lawyers. He represents clients in all major environmental programs, including the Clean Water Act, the Clean Air Act, emergency planning, Superfund sites, solid and hazardous waste, and agricultural issues. Schmidt is in the Columbus office of Porter Wright Morris & Arthur.
Wendy Silliman is a partner in the real estate section of Troutman Sanders in Atlanta, Ga., where her practice centers primarily on cellular communications. She is married to R. Todd Silliman, who is a partner in the environmental section of McKenna Long & Aldridge. They have two children.
Shane Shepard Cobb is general counsel of Circle, a private hospital group in the U.K. Stephanie '94 is general counsel of the investment firm New Amsterdam Capital Management. The couple lives in London with their three children, Zoe (8), Liesel (6), and Atticus (4).
1994
Fran Cannon Slayton's recent book, When the Whistle Blows (Philomel Books/Penguin, June 2009), has been voted one of the top ten recommended children's books for fall by independent booksellers. Visit Fran at www.FranCannonSlayton.com.

Amelia A. Fogleman has been included in Best Lawyers in America 2010 in the areas of antitrust law, appellate law, and commercial litigation law. She is a shareholder with GableGotwals in the Tulsa, Okla., office.

Stephanie Shepard Cobb is general counsel of the investment firm, New Amsterdam Capital Management, in London, where she lives with her husband, Shane '93, and their three children, Zoe (8), Liesel (6), and Atticus (4). Shane is general counsel of Circle, a private hospital group in the UK.
Richard L. Winston has been recognized as a leading U.S. international tax lawyer in the 2009 edition of Chambers Global: The World's Leading Lawyers for Business. Winston is a partner with K&L Gates in the Miami, Fla., office, where his international tax practice focuses mainly on Europe and Latin America.
1995
In March Trey Cox tried and won a trademark case on behalf of Mary Kay. After a two-week trial, the jury found in his client's favor on all counts, finding trademark infringement and willfulness, and forfeiting the defendant's profits for the past three years. Cox has recently been honored with an invitation to join the Litigation Counsel of America, a trial lawyer honorary society representing less than one-half of one percent of American lawyers. He has also been recognized in Chambers USA 2009 as a leading lawyer in general commercial litigation. He is in the Dallas, Tex., office of Lynn Tillotson Pinker & Cox, where his practice focuses on business disputes.
J. Travis Laster has been nominated by Delaware Governor Jack Markell to serve as Vice Chancellor on Delaware's Court of Chancery. Laster practices in the Wilmington, Del., office of Abrams & Laster, a corporate and business law boutique firm he co-founded in 2005.
Anne H. Littlefield has been selected for inclusion in Best Lawyers in America 2010 in the area of education law. She is a partner and current chair of the labor and employment department in the Hartford office of Shipman & Goodwin.
Shannon Nash and her husband were featured in a Black Enterprise magazine article on their family's approach to financial matters.
Amy Tisinger was recently sworn in as the newest judge on the 26th General District Court. She was selected by the Virginia General Assembly, becoming the first woman to sit on the 26th district bench, and will serve a six-year term. She previously served as the Shenandoah County Assistant Commonwealth Attorney.

Peter S. Vincent has been appointed principal legal advisor for U.S. Immigration and Customs Enforcement (ICE), U.S. Department of Homeland Security. In this position, he oversees the largest legal program in DHS, supervising nearly 1,000 attorneys across the country who are responsible for representing ICE in removal proceedings before immigration courts and the Board of Immigration Appeals. He also advises ICE's numerous enforcement components on issues ranging from customs law to Fourth Amendment search and seizure issues. Vincent previously served as the judicial attaché at the U.S. Embassy in Bogotá, Colombia.
1996
Cory C. Caouette has been appointed to the board of governors of the American Immigration Lawyers' Association and continues to manage his own Southern California immigration practice. He was instrumental in founding By Sea Immigration Services in 2002, and has represented clients from more than 40 countries in immigration matters. His clients include sole proprietors, athletes, entertainers, business investors, Fortune 500 companies, and corporate executives. Catherine '04 has returned to the employment and labor division of Paul, Hastings, Janofsky & Walker in San Diego following maternity leave after the birth of their son, Kieran.
Kathleen Grillo is senior vice president of federal regulatory affairs for Verizon, becoming the company's main advocate on policy issues before the Federal Communications Commission. She joined Verizon in 2002 as counsel in the legal department's federal regulatory group and became vice president of federal regulatory affairs in 2003.
Gregory L. Maurer recently spoke at the Indian Institute of Science in Bangalore on "The Global Future of Software Patents." He is a partner in the Portland, Ore., office of Klarquist Sparkman, where his practice focuses on computer-related and bioinformatics patent applications and business methods and intellectual property counseling.

Erik Petersen and his wife, Andrea, welcomed their daughter, Marley Joan Petersen (9 lbs., 10 oz.), into the world on July 14. Mother and daughter are doing fine.


Mark H. Vacha recently gave a presentation entitled "The Current U.S. Economy and Its Impact on Local Government" at the Government Finance Officers Association of Pennsylvania's east regional chapter meeting in Villanova. In July he presented a talk entitled "Bedrock Tools—Bonds and the Basics" at a seminar in Allentown organized by the Pennsylvania State Association of Township Supervisors and the Council of Development Finance Agencies on the fundamentals of economic development. Vacha is a partner in the public finance group of Dilworth Paxson in Philadelphia.
1997



Kate Henderson Day and Jonathan Day '99 welcomed their second child, Charles Clark Day, in January. Charlie joined his big sister, Molly (3), for fun and games in Houston, where the Days live and work. Kate is a finance partner at Bracewell & Giuliani, and July marked the two-year anniversary of Jonathan's litigation and general practice firm, Day PLLC (www.daypllc.com).
Kevin W. Holt has been selected for inclusion in Virginia Super Lawyers and named a rising star by Law & Politics magazine in the area of business litigation. He is a partner with Gentry Locke Rakes & Moore in the Roanoke office.
Jennifer Morgan DelMonico was recently elected as the secretary and general counsel of the Greater New Haven (Conn.) Chamber of Commerce. She has served on the Chamber's board of directors since 2005. She is a partner at Murtha Cullina in New Haven.
Heather Podesta was recently included in the National Law Journal's list of 40 lawyers under 40 in the Washington, D.C., area who are expected to play a major role in the nation's capital in the years to come. Editors with the National Law Journal made their selections based on reporting and nominations. Podesta is head of Heather Podesta + Partners, which lobbies on key Congressional issues, including climate change, financial regulatory reform, economic stimulus, and health care reform. She started her firm in 2007 and already represents well-known corporations, including U.S. Steel and Eli Lilly & Co.
Melissa Roberts Tannery and her husband, Joe, proudly announce the birth of their daughter, Hollis Sterling Tannery. She joins big brother, Austin (5). Melissa is of counsel with Troutman Sanders in Richmond, Va., where her practice focuses on pharmaceutical and medical device products liability litigation. Melissa is currently the chair of the Defense Research Institute's Young Lawyers Committee, which has over 4,000 members nationwide.

Glenn Saks was recently interviewed on National Public Radio's Marketplace report and on WLRN's Miami Herald News about the mortgage foreclosure crisis and how it impacts tenants. He is of counsel in the Miami, Fla., office of Assouline & Berlowe.
1998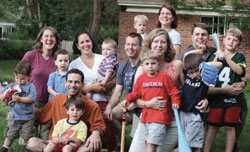 Ann Ayers reports that a group of alums—all greatly missing, inter alia, their close friend, Ned Scharfenberg—gathered at Marylou Brown Houston's house in Denver, Colo., in July for a summer barbeque. Pictured: Front Row: Charlie May (2), Craig May '98, Harris May (4, in lap), Davis Long (holding bat, 4), Magnus Houston (holding glove, 4) Second Row: Katie van Heuven '99, Ryan Ritacco (3), Ann Ayers '98, Tate Ritacco (1), Coates Lear '98, Valerie Long '98, Don Long '97, Davis Long (7) Back row: Marylou Houston '98, Wyatt Houston (1)



In May David Chung was sworn in as chair for the Commission on Asian and Pacific Islander Affairs. The organization's mission is to ensure that health, education, employment, social services, business information, and programs and services are available for the Asian and Pacific Islander community in the District of Columbia.
Earsa Jackson has been named among the best business lawyers in Dallas, Tex., in the area of franchise and development by D magazine. She was also recently recognized as a leading franchise lawyer in the sixth annual Legal Eagle poll conducted by Franchise Times. She is a partner with Strasburger and Price in the firm's Dallas office, where she leads the franchise and distribution group.
Jeff Kreisler's first book, the satire Get Rich Cheating, was published by Harper Collins in June. He misses his Law School friends and lives in New York City. (See In Print)
1999
Carlos Brown and his wife, Tamara, welcomed a new daughter, Chelsea Joanne, in September 2008. Carlos recently ran for a seat in the Virginia House of Delegates.
In March Jody Calemine was named general counsel, handling labor issues for the U.S. House Committee on Education and Labor. He previously served as the Committee's Deputy Director for Labor Policy. He and his wife, Daria, welcomed their first child, Annabella, in March 2007.

Stephanie Chandler has been named a 2009 rising star in Texas Monthly magazine. She is a partner in the intellectual property, energy, finance, corporate and securities, telecommunications, life sciences and medical technology, internet/e-commerce, and technology practice areas in the San Antonio office of Jackson Walker.
Jonathan Day and Kate Henderson Day '97 welcomed their second child, Charles Clark Day, in January. Charlie joined his big sister, Molly (3), for fun and games in Houston, where the Days live and work. Kate is a finance partner at Bracewell & Giuliani, and July marked the two-year anniversary of Jonathan's litigation and general practice firm, Day PLLC (www.daypllc.com).
Darren Dragovich and Parker Whitfield Dragovich welcomed their first son, Josiah Charles, in November, joining his two big sisters, Reese and Sydney. Darren serves as counsel at Western Union and Parker practices at Holland & Hart in Englewood, Colo.
In November 2008 Kathleen Evey Walters was asked by the Department of the Treasury to assist in developing a compliance program for the Troubled Asset Relief Program. After completing her temporary assignment at Treasury in April, she returned to the IRS, where she serves as the director of privacy and information protection. In March she was selected to be a member of the Senior Executive Service, becoming one of the youngest career executives in the federal government. She lives in Northern Virginia with her two Cavalier King Charles Spaniels, Katie and Charlie.
The American Constitution Society for Law and Policy has given the first David Carliner Public Interest Award to Tim Freilich, the legal director of the Charlottesville-based Immigrant Advocacy Program (IAP). The award honors mid-career public interest lawyers who do advocacy work for marginalized people. During Freilich's time with the IAP, he has served as co-counsel on a class action suit on behalf of Hispanic workers brought to America to plant trees under the H-2B work visa program, and helped promote immigrant-friendly policies.
Thomas Funke LL.M. is a partner in the Cologne, Germany office of Osborne Clarke, where he is head of the department for antitrust & EU law. Thomas, his wife, Alexa, and their son, Jonathan, live in Cologne.
Stanley Panikowski was selected by San Diego Metropolitan magazine as one of its "40 Under 40" honorees for 2009, recognizing him as "one of the brightest and most enterprising young people in San Diego County." Panikowski is a partner in the San Diego office of DLA Piper, where his practice focuses on intellectual property, antitrust, and other areas of business litigation.



Sali and Michael Rakower are happy to announce the birth of their daughter, Rebecca Brooke Rakower, on August 11.




Kelly Riordan Horwitz was elected to the Tuscaloosa, Ala., Board of Education for a four-year term beginning in November. Kelly recently was admitted to the Alabama Bar and continues to work part-time, telecommuting as an appellate litigator for Benedon and Serlin of Woodland Hills, Calif. She and her husband, Paul, had a son, Isaac, on November 28, 2008. He was welcomed by his older sister, Samantha.
Riley H. Ross III was elected to the board of directors of the newly formed Pennsylvania Innocence Project (PIP), an organization dedicated to exonerating persons imprisoned in Pennsylvania for crimes they did not commit. This is the first innocence project launched in Pennsylvania. Since the first innocence project was founded in New York in 1992, more than 400 individuals serving long prison sentences have been exonerated based on DNA analysis. In many of these cases, the exoneration led to the capture of the actual perpetrator. The PIP will operate out of Temple University's Beasley School of Law. Ross is in the Philadelphia office of Drinker Biddle & Reath.
Anthony M. Russell has been selected for inclusion in Virginia Super Lawyers and was named a rising star by Law & Politics magazine in the areas of personal injury and medical malpractice. He is a partner with Gentry Locke Rakes & Moore in the Roanoke office.
Johanna W. Schneider has been accredited by the U.S. Green Building Council as a LEED™ (Leadership in Energy and Environmental Design) Green Associate. She is one of the first attorneys in the U.S. to earn this designation, which required her to demonstrate thorough knowledge of green building design, construction, and operations, and an understanding of the complex LEED™ certification system. Schneider is a partner in the Boston, Mass., office of Choate, Hall & Stewart.