1950s Class Notes
1950
Seymour R. Young passed away on October 11 in Alexandria, Va. Born in Mt. Vernon, N.Y., Young attended the University as both an undergraduate and law student. His education was interrupted by his service to his country. A member of the first Naval ROTC class at UVA, he was commissioned early and served in the U.S. Navy from 1941-46, achieving the rank of LTJG, and was the commanding officer of the USS Cayuse 8 in the Southern Philippines. After graduating from the Law School he served in the Central Intelligence Agency for almost 30 years as an operations officer in the Far East, Canada, and the Benelux Countries, as well as the chief military liaison officer for counterintelligence operations. Seymour was a civic activist and an avid sailor, and leaves behind his wife of close to 68 years, Marion, three children, and eight grandchildren.
1953
Judge Lapsley W. Hamblen Jr. passed away on September 10. He was born in Chattanooga, Tenn., and served in the U.S. Navy during World War II. He was a partner with Caskie, Frost, Hobbs & Hamblen in Lynchburg, Va., where he practiced for more than 25 years. He was a fellow in the American College of Tax Counsel and the American College of Probate Counsel and was co-director of the annual Virginia Conference on Federal Taxation at UVA. In 1982 President Reagan appointed him a judge of the U.S. Tax Court for a 15-year term. He served as chief judge for four years, retiring in 1996, and returned to perform judicial duties as senior judge until June 2000.
1956
Judge Robert Beezer died in Seattle on March 29 at the age of 83. After graduating from UVA in 1951, he served in the U.S. Marine Corps for two years before entering the Law School. He served as a Marine for two decades, retiring with the rank of lieutenant colonel.
Beezer influenced judicial standards for determining sexual harassment by instituting a "reasonable woman" test in place of what he thought was a male orientation in deciding whether a reasonable person would find certain behavior offensive.
He retired from active judgeship in 1996, but like many senior judges on the 9th Circuit, he continued to hear cases in the overwhelmed appeals court that serves nine Western states and two Pacific territories. As Judge Beezer's eyesight began to fail, he used a computerized text-to-audio system to keep up with the reading necessary for each case.
1957
Last summer John Corse fell off a bulkhead and suffered a compression fracture of a vertebra and serious cuts to his left arm. That put a serious crimp in his swimming routine, but after four months in a body brace, and with the okay from his neurosurgeon, he began to swim three times a week in preparation for competing in the Spring Nationals of the U.S. Masters Swimming Association in Greensboro, N.C. in April. Corse and three friends, who, like him, had been on their varsity swim teams in the 1940s at their respective colleges, broke the longstanding National 200-yard freestyle relay record by over 33 seconds, with a finishing time of 3:05:24. That equals finishing more than a length of the pool ahead of past record holders.
Corse also did very well in individual events in the 85-89 age group, placing first in the 50-yard freestyle, the 50-yard breaststroke, the 100-yard breaststroke, the 200-yard breaststroke, and the 50-yard butterfly. He walked away with seven medals in all. "Despite our advanced ages and many infirmities, through swimming and perseverance we have been able to recuperate and become competitive again," Corse says. "What a great sport for all ages!"
Noel C. Crowley reports, "The investment I made in sending two of my four sons to law school is paying big dividends. They both work with me in the law firm of Crowley & Crowley." Noel opened his firm two decades ago in Morristown, N.J.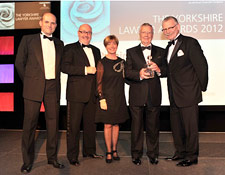 In October Sir
Harry Ognall LL.M.
received the President's Award at the 2012 Yorkshire Lawyer Awards in Leeds, England, for his distinguished contribution to the law. Ognall became a member of the Queen's Counsel in 1973 and a judge of the High Court in 1986, where he served through 2000.
1958

By Ted Torrance, Corresponding Secretary; 1955 Windward Way, Vero Beach, FL 32963; e-mail: etorr@cox.net
Personal complications prevented your scribe from making an all-court press this summer on the class of 1958 for contributions to this column. Nevertheless, a few items will be of interest:
I received an entertaining and informative letter from
Arthur Berney
, a retired professor of constitutional law (among other subjects) at Boston College Law School. Arthur recounted the circuitous, not to mention serendipitous, route he followed in ending up at Boston College, but all too little mention was made of his outstanding career as a teacher. He did take pride, however, in his significant role in
Loving v. Virginia
, the case in which the Supreme Court struck down Virginia's so-called miscegenation laws. If any classmate would like a copy of Arthur's letter, please let me know. It's very interesting.
Fred Goldstein, the indefatigable nexus between our class and the Law School, has generously volunteered to take charge of the arrangements for our 55th (!) reunion in May. Fred reminds us that, as members of the Lile Society, we are all welcome at the traditional Saturday evening (May 11) dinner for the 50th reunion class being introduced into the society. Fred says that, in addition, plans are being made for a gathering of our class for drinks and dinner on Friday evening, May 10. More details on our reunion, including the possibility of golf at Farmington Country Club on Saturday afternoon, will be forthcoming from Fred.
John Merchant's autobiography, A Journey Worth Taking, which was in the midst of printing late last winter, has now been published, and I am pleased to say that I am the owner of a copy signed by the author himself. It makes for very interesting reading, in particular those portions devoted to his years with us in Charlottesville. Reflecting on those days of 50-plus years ago, it is, for me at any rate, difficult to believe that many of us were so blind to the singular difficulties John faced in securing his law degree with us. The latest word I had from John was that copies of his book are available through him at a discount price. I recommend it.
Erratum Department: My report on Michael Kaplan in the last issue of this magazine erroneously referred to his status upon retirement as "counsel" to Horizon Blue Cross and Blue Shield of New Jersey. He was in fact at the time Deputy General Counsel. My apologies to Michael for the error (which, to be fair to Michael, was considered by him to be de minimis, but I think he should have his due).
You will be hearing from me with a request for contributions for the spring issue of UVA Lawyer, but I urge you all not to wait until I contact you. Rather, I would be delighted to receive and inventory any and all letters and notes, pending their publication for the interest of our classmates.
1959
Thomas Gill passed away in Huntington, N.Y., in June at the age of 78. Gill took three degrees from the University of Virginia before moving to Long Island. He practiced as an attorney and in corporate development with a Grumman Corporation subsidiary. Gill was a 45-year member of the Bethpage Credit Federal Union Board of Trustees, the northeast's largest credit union. He is survived by his wife of 47 years and three children.
Shant Harootunian is volunteering as a court appointed special advocate for children in the Hall-Dawson Counties, Georgia, C.A.S.A. Program.