1980s Class Notes
1980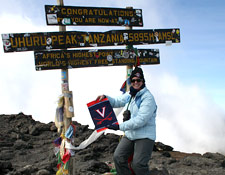 Mary Gayle (Ashley) Holden writes that a few years ago, her husband asked her what she wanted to do for their 25th wedding anniversary. Expecting her to say a cruise, he was shocked when she told him that she wanted to go to the top of Africa, but he agreed. After lots of hiking in preparation, on February 1 last year they made it to the top of Africa—Mt. Kilimanjaro. "UVA Law was with me all the way to the top!" she writes. "Next on our list—Machu Picchu!"
John F. Brenner
is included on the
New York-Metro Super Lawyers 2012
list. He is a partner in the health effects litigation practice group with Pepper Hamilton and is resident in the Princeton, N.J., and New York City offices. He focuses his practice on the defense of complex products liability and mass tort cases against pharmaceutical and medical device manufacturers.
Martha Ellett's husband, William A. Ragland, died on July 20, in Alexandria, Va., after a brief illness. He retired several years ago from work in the research, administration, and public affairs offices of the Interstate Commerce Commission, the Resolution Trust Corporation, and the Federal Deposit Insurance Corporation. They were married in 1994.

Charles D. Fox IV was listed in Virginia Super Lawyers 2012 in estate planning & probate and was named a Leading Lawyer in Chambers USA 2012 for his work in wealth management. He is a partner in the tax and employee benefits department with McGuireWoods in Charlottesville, where his practice focuses on estate planning, estate and trust administration, and work with charitable organizations.

Leonard C. Martin has been appointed state chair of Mississippi for the American College of Trust and Estate Counsel. His chair appointment is a one-year term with presumptive appointments for a total of five years. Martin is a shareholder with Baker Donelson in Jackson, where he focuses his practice in the areas of taxation, trusts and probate, planned giving, and nonprofit organizations.

Norman E. Parker, Jr. has been elected chair of the board of directors of the Elijah Cummings Youth Program in Israel. The program prepares teens from Maryland's 7th Congressional District to serve as open-minded leaders through community service, leadership workshops, and a month-long residence in Israel. The program promotes understanding and positive interaction among ethnic communities and fosters civic involvement.

Parker is of counsel in the public finance department and a member of the housing group and transactional finance group with Ballard Spahr in Baltimore. He represents financing transactions in affordable housing and has considerable experience in the areas of public finance and economic development.

W. David Paxton is listed in Virginia Super Lawyers 2012 in the area of employment & labor. He is a partner with Gentry Locke Rakes & Moore in Roanoke.



Frank E. Stevenson has been elected chair of the State Bar of Texas board of directors. His chairmanship took effect in June. Stevenson served as president of the Dallas Bar Association in 2008 and has been on the State Bar's board of directors since 2010 and on the boards of the Dallas Bar Association and the Dallas Bar Foundation since 1999 and 2007, respectively. He is with Locke Lord, where his practice focuses on administrative, transportation, real estate, and finance law. He is also a member of the firm's administrative and regulatory, public law, governmental and public affairs, and real estate and finance practices.
Benton D. Williamson is listed in Best Lawyers 2013 in real estate law. He is a shareholder with Haynsworth Sinkler Boyd in Columbia, S.C., where his practice includes commercial and lending transactions, corporate and business, project finance and commercial lending, and real estate and commercial development.
1981
Donald A. Baer has been named worldwide president and chief executive officer of the strategic public relations firm Burson-Marsteller, which has 73 offices worldwide. Baer will be based in Washington, D.C. He joined Burson-Marsteller in 2008, serving as vice chairman and chief strategy officer while leading major engagements with companies in communications, media, and technology. He has also been chairman of Burson-Marsteller's research firm, Penn Schoen Berland, a role he will maintain. Before joining Burson-Marsteller, Baer was senior executive vice president for strategy and development and an executive committee member at Discovery Communications, home of the Discovery Channel and other major media platforms. He also served as a senior White House advisor to President Bill Clinton, White House director of communications and strategic planning, and chief speechwriter/director of speechwriting and research.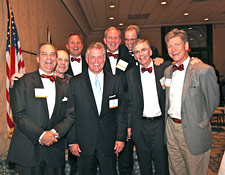 Following his installation as Virginia State Bar President, W. David Harless was surrounded by bow-tied UVA classmates (from left): Matthew L. Jacobs, John A. Anderson, Michael Urbanski, William R. Van Buren III, T. Mark Flanagan Jr., Terence Murphy, and Steve Pearson.
W. David Harless was sworn in as president of the Virginia State Bar for the 2012-13 term on June 15 at the annual meeting in Virginia Beach. He has chaired the bench-bar relations committee, served as a member of the budget and finance committee, and as a member of the task force that established the diversity conference. He is a fellow of the American College of Trial Lawyers and the Virginia Law Foundation and is a member of the Lewis F. Powell Jr. American Inn of Court, the Virginia Bar Association, and its Boyd-Graves Conference, the Virginia Trial Lawyers Association, and the Bar Association of the City of Richmond. He has lectured on a range of business, employment, and products liability litigation subjects and has taught in the National Trial Advocacy College at the Law School. Harless is with Christian & Barton in Richmond, where he is a partner in the litigation department and leads the employment practice group. He is also a member of the executive committee.

Michael S. Hooker has joined Phelps Dunbar as partner in the commercial litigation practice in Tampa, Fla. He was previously a name shareholder at Glenn Rasmussen Fogarty & Hooker.

Blaine A. Lucas is listed in Pennsylvania Super Lawyers 2012 as one of the top lawyers in Pennsylvania in the area of land use and zoning. He was also listed as one of the Top 50 lawyers in Pittsburgh Super Lawyers 2012. He is a shareholder and chairman of the public sector services group and a member of the energy and natural resources development group with Babst Calland.
1982
In July 2011 Alma Angotti joined Navigant Consulting's Global Investigations and Compliance Practice as a director in the Washington, D.C., office. She is a widely recognized anti–money laundering expert.
Allen D. Boyer is senior appellate counsel with the Department of Enforcement of the Financial Industry Regulatory Authority (FINRA), and previously held the same position at the Division of Enforcement of the New York Stock Exchange. He worked on a settlement reached by FINRA with the broker-dealer Citigroup Global Markets, Inc. for providing inaccurate mortgage performance information, supervisory failures, and other violations relating to subprime residential mortgage-backed securitizations.The fine imposed was $3.5 million.He also worked on other settlements relating to subprime mortgage violations reached by FINRA in the past year.
Boyer's 2003 biography, Sir Edward Coke and the Elizabethan Age, sold out its first edition and is now in paperback. He continues to work on volume two, which he writes mainly while commuting on the Staten Island ferry. He lives on the North Shore of the island with his wife, Kathleen, and sons Declan (17) and Thomas (9).
James P. Cooney III was recently named practice group leader of the business litigation practice for Womble Carlyle Sandridge & Rice. The group encompasses all areas of business litigation including governmental investigations and white-collar criminal defense. Cooney is a fellow in the American College of Trial Lawyers and a permanent member of the Fourth Circuit Judicial Conference. He has been named to Best Lawyers since 2000, was recently named as the "Bet-Your-Company" Best Lawyer for North Carolina, and has consistently been named as one of the top criminal and civil lawyers in the state. He has given invited lectures to more than 30 state and local bar associations and law schools.
Kevin M. Doyle
accepted the Norman Redlich Capital Defense Distinguished Service Award, presented by the New York City Bar Association in July.After more than five years defending death row inmates and capital defendants in Alabama, Kevin founded and headed New York State's Capital Defender Office.Through its trial and appellate advocacy, the Capital Defender Office brought an end to New York's death penalty.
Allen Gibson is listed as one of the Top 25 Attorneys in South Carolina in 2012 South Carolina Super Lawyers. He is with Womble Carlyle in Charleston, where he leads the construction practice group.

Charles F. Hudson is listed in Best Lawyers 2012 in the area of eminent domain and condemnation. He was also named in Oregon Super Lawyers 2012 in the area of business litigation. He is a shareholder with Lane Powell in Portland, where he represents individual and corporate clients in a broad range of commercial litigation and alternative dispute resolution, including real estate, administrative law, securities, and eminent domain matters.
Charles J. Johnson has been recognized in The Legal 500 as a leading lawyer for middle-market mergers and acquisitions and private equity buyouts. He is a partner with Choate Hall & Stewart in Boston, Mass., where he focuses his practice on mergers and acquisitions, private equity, and corporate finance.

Mark W. Merritt received the 2012 H. Brent McKnight Renaissance Lawyer Award given by the North Carolina Bar Association. The McKnight Award recognizes intellectual achievement, integrity, commitment to civility, and pursuit of excellence and service. Merritt is currently a councilor of the state bar and chair of its Lawyers Assistance Program. He is with Robinson Bradshaw & Hinson in Charlotte, where his practice includes a broad range of business-related litigation, including antitrust litigation and counseling, complex and class action litigation, and securities litigation.
He was listed in Best Lawyers 2012 in the areas of litigation, commercial litigation, eminent domain and condemnation, litigation-antitrust, and litigation-securities; was Charlotte Bet-the Company Litigation Lawyer of the Year for 2012; and Charlotte Litigation-Securities Lawyer of the Year 2012. He was recognized as a Top 10 North Carolina Super Lawyer 2012 in business litigation; listed in Chambers USA 2012 in litigation and antitrust; and noted as the state's leading litigation attorney in antitrust, class actions, and securities in Benchmark Litigation 2012.
Thomas Nolan remains asole practitioner in Charlottesville. His law firm, Virginia Wills, Trusts & Estates(www.vawills.com), focuses on estate planning, estate administration, and adoptions. He and his wife, Jane, "have been blessed with two great kids." Grace will graduate from the EKU Nursing School in December and John is an undergraduate atUVA (Class of 2015).
Tomisglad they made the decision to remain in Charlottesville,which has been a great place to work and raise a family. He and Jane travel to Massachusetts regularly to visit his family and to open and close theirbeach house on Cape Cod. He patiently awaits the third Red Sox World Series championship of his lifetime.
Julie A. Petruzzelli joined Baker & McKenzie as a partner in the intellectual property practice group in Washington, D.C. She has developed and implemented IP strategies for both large and small corporations and in recent years has represented a number of companies in Asia, especially Japan. She was recently recognized as the 2012 Washington, D.C. Technology Law Lawyer of the Year by Best Lawyers. She was previously a partner with Venable.
James S. Ryan III has been selected for inclusion in Best Lawyers 2013 in the area of corporate law and mergers & acquisitions law. He is a partner with Jackson Walker in Dallas, Tex., where his practice focuses on mergers, roll-up transactions, securities, divestitures, joint venture formations, and liquidations of business assets inside and outside bankruptcy.
1983
Don Blackwell's book, "Dear Ashley . . ." – A Father's Reflections and Letters to His Daughter on Life, Love and Hope, was published this fall by Imbue Press, an imprint of Morgan James Publishing. (See In Print.) The book was borne of Don's search for understanding in the midst of his now 24-year-old daughter's life-and-death struggle with anorexia. Don is a partner at Seipp & Flick in Miami, where he specializes in product liability defense. This year also marks the year that Don had his 5th peer-reviewed feature article published in The Florida Bar Journal, "Mandatory Injunctions - The Forgotten Art of Putting the Horse Back in the Proverbial Barn" (May, 2012).
Mark A. Bradley received a 2012 Attorney General's Award for his work in the U.S. Department of Justice's National Security Division. Bradley is a member of the federal government's Senior Executive Service. Before joining the DOJ in 2000 as an attorney, he served as U.S. Senator Daniel Patrick Moynihan's legislative director, and as an intelligence officer in the CIA.
Jim Campbell finished his term as president of the International Association of Defense Counsel and was appointed to a five-year term on the Massachusetts State Committee of the American College of Trial Lawyers. He is president and shareholder with Campbell, Campbell, Edwards & Conroy in Boston, where he focuses his practice on civil litigation and the defense of catastrophic product liability, toxic tort, medical device, pharmaceutical, professional liability, and negligence matters.
Campbell was listed by Chambers USA 2012 in products liability & mass torts nationwide and as a "star individual" in products liability: automotive. The Legal 500 named him one of eight leading lawyers nationwide for 2012. He is listed in Best Lawyers 2012 and 2013 for products liability litigation–defendants, and Massachusetts Super Lawyers 2012 in the areas of personal injury defense: products; personal injury defense: general; and professional liability: defense.
Joyce Elden works at Sun Life Financial in Wellesley, Mass., as an assistant vice president and senior counsel. She manages the legal team dealing with commercial mortgage lending and real estate investment acquisitions across the United States. In connection with this job, she and her husband, Dana, relocated to Wellesley after 17 years in West Palm Beach, Fla. She has been selected as incoming co-chair of the corporate counsel committee of the American College of Mortgage Attorneys.
Patrick Gottschalk has been appointed to the executive committee of the Greater Richmond Chamber of Commerce. He is currently chair of the economic development team at Williams Mullen, and previously served as Virginia's Secretary of Commerce and Trade under Governor Tim Kaine from January 2006 to January 2010.
Stan M. Haynes has written a book about the origin and development of American political conventions entitled The First American Political Conventions: Transforming Presidential Nominations, 1832-1872. (See his Website www.americanpoliticalconventions.com and In Print.) He is with Semmes, Bowen & Semmes in Baltimore, Md., where he focuses his practice in litigation.

Christopher Knopik has been named one of the Top 100 Lawyers in Florida Super Lawyers 2012. He was also listed in the area of personal injury: medical malpractice. Knopik is with Knopik Deskins Law Group in Tampa, where he focuses his practice on personal injury, wrongful death, medical negligence, and commercial litigation.
Greg L. Musil has been named by Best Lawyers 2013 as the land use & zoning law Lawyer of the Year in Kansas City. He is a shareholder with Polsinelli Shughart, where he focuses his practice in construction, energy, and real estate litigation; commercial litigation; and zoning and land use.
John E. Osborn was recently appointed senior vice president, global corporate affairs at Onyx Pharmaceuticals, a global company engaged in the development and commercialization of innovative therapies for improving the lives of cancer patients. He is responsible for public and government affairs activities of the company as well as maintaining key stakeholder relationships. Onyx is based in San Francisco, Calif. Prior to joining Onyx, he was executive vice president & general counsel with Dendreon Corporation, a biotechnology company that developed and commercialized the first cancer immunotherapy.

Neil L. Rose has been elected a Fellow of the American College of Trust and Estate Counsel. He is a member with Willcox Savage in Virginia Beach, Va., where he focuses his practice on federal and local taxation, estate planning and administration, and real estate and corporate law.
1984
Sam D. Eggleston III was appointed general district court judge of the Twenty Fourth Judicial District and began serving the City of Lynchburg and Campbell County, Va., in that capacity on July 1. He previously practiced law in Nelson County, Va.

K.C. Green is listed in Best Lawyers 2013 in mass tort litigation and class actions–defendants and mass tort litigation and class actions–product liability litigation. He is a partner with Ulmer & Berne in Cincinnati, Ohio, where he focuses his practice on product liability and mass tort/occupational exposure.
Kurt J. Krueger is listed in Virginia Super Lawyers 2012 in the area of mergers & acquisitions. He is a partner with McGuireWoods in Charlottesville, where he focuses his practice on working with public and private closely held corporations, as well as partnerships and limited liability companies.
John Ragosta, currently a resident fellow at the Virginia Foundation for the Humanities, will be spending the 2012-13 academic year as a visiting assistant professor of history at Hamilton College in Clinton, N.Y. His second book, Religious Freedom: Jefferson's Legacy, America's Creed, will be published by the University of Virginia Press early in 2013.
1985

William C. Guerrant Jr. is listed in Florida Super Lawyers 2012 and the 2012 Super Lawyers Business Edition in the areas of business litigation and intellectual property litigation. He is of counsel with Hill Ward and Henderson in Tampa.
Harry "Hal" J. Hicks III has been a partner at Skadden, Arps, resident in the Washington, D.C., office since he left the U.S. Treasury in 2007. He is global chair of Skadden's international tax practice. He has been included repeatedly as a leading tax lawyer in Chambers USA, Chambers Global, Best Lawyers, and similar publications.
Hal and his wife, Nancy, of 27 years ("clearly the woman is a saint") live in McLean, Va. Their oldest son, Josh, recently graduated from Dickinson College and is a teacher ("much more noble than tax lawyer"). Their middle son, Matthew, is a sophomore at the University of Richmond and is on the lacrosse team. They hope he will at least consider graduate school at The University. Their youngest son, Billy, is in 10th grade. "Maybe he will decide to go to college at UVA," says Hal. "Our dog, Maggie, has no plans on attending UVA."

Stephen M. Hudoba is listed in Florida Super Lawyers 2012 and Super Lawyers 2012 Business Edition. He is a shareholder with Hill Ward Henderson in Tampa, where he practices in the real estate group.

Brad Marrs has formed the Marrs Law Firm in Richmond. He previously co-founded and led civil litigation at Meyer, Goergen & Marrs. He will continue practicing civil litigation with emphasis on complex business and personal cases, construction law, and business-to-business collections.
Moffatt G. "Mott" McDonald is listed in Best Lawyers 2013 in bet-the-company litigation and litigation-environmental. He is a shareholder with Haynsworth Sinkler Boyd in Greenville, S.C. where he represents clients in a variety of complex contractual and property disputes. Much of his recent work involves defense of toxic tort and asbestos suits.

Michael Regier has been named Atlantic Health System's vice president, legal affairs, and chief legal officer. Atlantic Health System is one of the largest non-profit health care systems in New Jersey, and includes the Morristown, Overlook, Newton Medical Centers, and Goryeb Children's Hospital. Regier oversees the system's legal, compliance, risk and claims management, internal audit teams, and insurance matters.
Judge
Robert Vance
is the Alabama Democratic party's candidate for chief justice in November. He has served as a Jefferson County Circuit Court judge in Birmingham's civil division since he was appointed in 2002. He was elected in 2004 and again in 2010.
Vance stepped in as the Democratic candidate when the previous candidate was taken out of the running in August for making inflammatory statements. He will continue his duties as circuit judge while campaigning.
1986
Debbie Holloman is a career law clerk in the Eastern District of Virginia. She had the honor of clerking for the Honorable United States District Judge Richard L. Williams '51 for 15 years. In 2005 Debbie was instrumental in establishing the Judge Richard L. Williams '51 and Eugenia K. Williams Scholarship in honor of Judge and Mrs. Williams, and all of the Judge's law clerks contributed to the scholarship. Upon Judge Williams's death in February 2011, his family requested that contributions to the scholarship be made in his memory. Debbie now clerks for the Honorable U.S. District Judge Robert E. Payne.
Debbie's daughter, Rebecca Walker, an Echols Scholar and college science scholar, is in her second year in the College of Arts and Sciences at Virginia. Debbie's son, Robby Walker, currently works in Yeosu, South Korea.
Bradley R. Kutrow organized a reception for Law School graduates at the North Carolina Annual Bar Meeting in Wilmington in June. A number of UVA Law School graduates hold or have held key positions in the NCBA. Kutrow is chair of the appellate rules committee, Judge Bob Conrad '83 is on the board of governors, the wife of Gordon Brown '75 is on the board of governors, Neal Ellis '75 is a former member of the BOG, Norfleet Pruden '73 is a past NCBA president, and Mark Merritt '82 received this year's McKnight Professionalism Award.
Kutrow is a partner with McGuireWoods in Charlotte, where he focuses his practice in complex litigation with emphasis on business torts, securities, and products liability.
1987
Elizabeth Finn Johnson was a finalist in the community champion category for the Atlanta Business Chronicle's corporate counsel awards. She is senior litigation and employment counsel with Coca-Cola Co., where she provides employment counseling for the company and spends much of her time serving on nonprofit boards and providing pro bono work. She was instrumental in establishing the pro bono program at Coca-Cola more than a decade ago. As chair of Coca-Cola's pro bono committee she accepted the American Bar Association's 2012 National Public Service Award.
The Honorable David C. Keesler has been reappointed to a second eight-year term as U.S. Magistrate Judge for the Western District of North Carolina. Judge Keesler hears federal civil and criminal matters arising in the 32 counties comprising the Western District. He lives in Charlotte with his wife, Susan, and their two daughters, Amelia and Caroline.
Andrew Langhoff has recently joined Burford Group as chief operating officer. Burford is the world's largest provider of investment capital and risk solutions for litigation. Burford has operations in New York and London, and is publicly traded on the London Stock Exchange (ticker symbol: BUR). Andrew, his wife, Katy, and their children William, Caroline, and Elizabeth, live in London.

Steve McIntosh's new book, Evolution's Purpose: An Integral Interpretation of the Scientific Story of Our Origins, was published in October. It presents a fresh perspective on the intersection of evolutionary science and philosophy and delves into the very meaning of evolution. (See In Print.) McIntosh is a founding partner of the Institute for Cultural Evolution, a foundation involved in social policy.
Geoff S. Mearns became president of Northern Kentucky University in August. He previously served as dean and professor of law, then provost, at Cleveland State University's Cleveland-Marshall College of Law.
Following Law School, Mearns practiced law for more than 15 years and served as a federal prosecutor in the Department of Justice. As special assistant to the U.S. Attorney General he took part in the prosecution of Terry Nichols, one of the defendants in the 1995 Oklahoma City bombing. He also taught at Case Western Reserve University School of Law and New York Law School.

John Mitnick and his wife, Carol Deane, welcomed their daughter, Hadley Palmer Mitnick, on April 30.Carol is a rheumatology fellow at Georgetown University Hospital, and John is vice president and general counsel of Raytheon Technical Services Company in Dulles, Va. They reside in McLean.
Keith Munson serves on the Research Universities Centers of Excellence Board and the South Carolina Upstate Alliance Economic Development Board. He is with Womble Carlyle in Greenville, where he focuses his practice in product liability, medical device, and business litigation cases. Recently, Keith and his wife, Suzanne, matriculated their last daughter into college, and Keith completed the Bike Ride Across Nebraska with his WWII veteran uncle.
In January
Deborah Paxson
was elected by the Virginia General Assembly to her third term as a juvenile and domestic relations district court judge. She has served on the Virginia Beach JDRC for the past 12 years and was chief judge from 2005-06. From 2007-11 she served on the Virginia Supreme Court commission for mental health law reform, where she was co-chair for the task force on children and adolescents. Recently she was appointed to the Virginia Wesleyan College board of trustees.
John J. Rice has joined Ballard Spahr as of counsel in the litigation department in San Diego, Calif. He is also a member of the securities litigation and white collar/investigations groups, focusing his practice on white-collar criminal defense and complex securities litigation. Before joining Ballard Spahr, Rice was with the U.S. Attorney's Office as Assistant U.S. Attorney in the Southern District of California specializing in public corruption cases. He also served in the U.S. Attorney's office for the Southern District of New York in the organized crime and terrorism section.

Jeff Tinkham has opened the Tinkham Law Group in Norfolk, Va., where he routinely handles mergers and acquisitions, commercial real estate transactions, and estate planning matters. He and his wife, Denise, have a son who is a sophomore at Baylor University in Texas, and another son who is a junior in high school.
1988
Since 2007 Garry Carneal has served as president and CEO of Schooner Healthcare Services, a consulting firm that focuses on promoting and managing companies with innovative products in the health care field. He also continues to serve on several non-profit boards promoting quality standards in medicine. In June he received the Case Management Advocate Award recognizing his contributions to the Case Management Society of America. In his spare time, he continues to restore and sail his classic sailboat named Compass Rose. He lives in Annapolis, Md., with his wife, Traci, and their three children.

John Cooper is listed in Virginia Super Lawyers 2012 in the area of personal injury law. He was recently elected to chair the federal employers liability act litigation group for the American Association of Justice for the second consecutive year. The FELA litigation group brings together lawyers from across the country who specialize in FELA/railroad worker accidents. Cooper has represented injured railroad workers in FELA claims against railroad companies since 1997. Cooper started a new firm, Cooper Hurley, in Norfolk that exclusively handles plaintiff-side personal injury law.

In May
Wesley G. Marshall
was appointed commissioner of the Virginia Workers' Compensation Commission by the Virginia General Assembly. He serves as one of three commissioners who are appellate judges for the workers' compensation system and share responsibility for administering the system and its 266-person independent state agency.
Steven A. Snyder has been recognized by Greenville Business Magazine as one of South Carolina's 2012 Legal Elite in health care law. Snyder is with Davis & Snyder, where he specializes in representing physicians and hospitals in medical negligence litigation and risk management. He lives with his wife and their three teenagers on a small, non-working, hillside "farm" in upstate South Carolina that is "reminiscent of the beauty of Central Virginia."
1989
Carol J. Bernick recently made a month-long trip to Africa, during which she spent two weeks working on a Habitat for Humanity project in Zambia. She and her 17-year-old son, Austin, worked with other Habitat participants from North America to build two 400-square-foot houses and most of an outhouse during their stay. Bernick made her first Habitat trip three years ago to Honduras. She appreciates how this work provides the opportunity to interact with people in a meaningful way and directly impact people's lives. Bernick is partner-in-charge with Davis Wright Tremaine in Portland, Ore., where she represents employers in complex employment cases, including numerous wage and hour class actions.
Shireen Lewis received an honorary degree from Rutgers University in May. She attended Douglass College, which is now part of Rutgers' School of Arts and Sciences, before attending UVA Law. In 1997 Lewis founded a group called Sister Mentors that offers support to women of color who aim to attend college and earn advanced degrees.
Matthew McElhiney moved his corporate and transactional practice, along with three of his other partners, to Kutak Rock's Denver offices. He was recently elected as chairman of the board of directors of the University of Colorado, Boulder Alumni Association. He resides in Denver with his wife, Colleen, and son, Max (10).