vita

Embarking With the Ambassador to Finland: Charles Adams Jr. '73
For Charles Adams '73, Foreign Service Is a Family Affair
by Mark F. Bernstein '89
As his ferry sailed into Helsinki Harbor early one morning in August 2015, the new American ambassador to Finland, Charles C. Adams Jr. '73, stood on the deck with his wife and daughter, admiring a view of their new home—the U.S. Embassy, dramatically situated along the waterfront at the city's southern edge. When Adams made plans to take his family to Helsinki, he chose to approach the city by sea so that his daughter might have the same experience he once had. In April 1961, Adams' father, Charles C. Adams Sr., sailed into the exotic port of Casablanca with his family to begin a two-year diplomatic assignment at the U.S. consulate in Morocco.
Adams, in fact, has spent most of his life abroad. He was born in Belfast, Northern Ireland and, with the exception of a few years in Washington, D.C., spent his childhood at his father's diplomatic postings in Nepal, Canada, France, West Germany, Morocco, Ghana, Belgium and Senegal. Those experiences have enabled him to establish a quick rapport with the career foreign service officers who comprise most of the U.S. Embassy staff.
"My background as a foreign service brat gives me instant pedigree," Adams said. "This is the life that I lived as a kid. I view my post as coming home."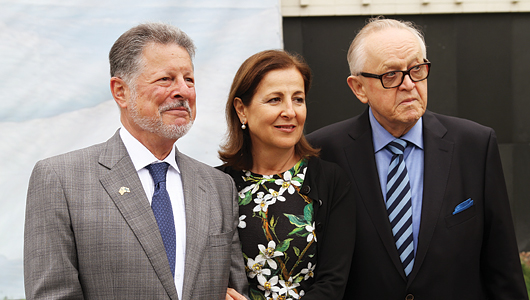 Charles Adams and his wife, Vera Risteski-Adams and Finland's president, Martii Ahtissari during a celebration of the U.S. independence on June 16, 2016.
After graduating from Dartmouth in 1968, Adams spent two years in Kenya with the Peace Corps before attending law school at UVA. Following several years practicing law in Paris and Washington, D.C., he moved to Geneva in 1986, and has lived abroad ever since. He has worked for several firms, most recently Akin Gump Strauss Hauer & Feld, and is regarded as a leading expert in international arbitration.
Absence from the United States did not dull his interest in public affairs. Adams led the Democratic Expatriate Leadership Council and served on the finance committee for both of Barack Obama's presidential campaigns. In 2008, he hosted an Obama fundraiser with actor George Clooney at Adams' Geneva home. As Adams told the Swiss newspaper Le Temps, "I personally assured George Clooney that Geneva is a city where restraint is the norm and that he wouldn't be assaulted by fans trying to tear the shirt off him." That dinner was such a success that Adams and Clooney reprised it in 2012, co-hosting with Matthew Barzun, now the U.S. ambassador to the Court of St. James. The dinner raised more than half a million dollars for the president's reelection campaign.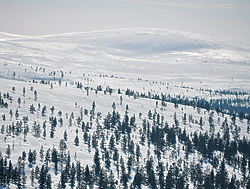 Adams took this photo of northern Lapland during
his travels in Finland.
In February 2014, Adams was invited to a state dinner at the White House for French president Francois Hollande. Adams respectfully declined, citing plans for a ski vacation, but White House officials insisted that he attend. After the dinner, they first broached with him the ambassadorial post to Helsinki. Although he was aware that he was being considered for a diplomatic assignment, Adams said that this particular post had not crossed his mind. "Had I known about Finland, it would have been at the top of my list," he said.
At his confirmation hearing, Adams pledged to "sustain and advance" U.S.- Finnish relations by emphasizing "our shared security, shared prosperity and shared values." Those ties are both broad and deep. Finland is strategically important to the United States, not least because it shares an 833-mile border with Russia. Finnish troops have also participated in joint training missions with NATO forces, fought alongside Americans in Afghanistan and helped destroy chemical weapons in Syria.
Adams said that the two countries have closer economic ties than many Americans might expect: The United States is the third-largest export market for Finnish goods and the sixth-largest supplier to Finland. Both countries also sit on the Arctic Council, an intergovernmental organization of eight nations with territory north of the Arctic Circle. Adams hopes to increase U.S. access to advanced Finnish technology in developing a new generation of American ice-breaking ships.
Last May, Adams helped arrange a visit by Finnish president Sauli Niinistö to Washington as part of a six-nation U.S.- Nordic Leaders' Summit. This marked the first time in 14 years that a Finnish president had met one-on-one with his American counterpart and helped the new U.S. ambassador achieve his goal of enhancing the bilateral relationship between the two countries. The summit was widely considered a success. As President Obama declared before a dinner honoring the visiting heads of state, "The world would be more secure and more prosperous if we just had more partners like our Nordic partners."
Adams, who is fluent in three foreign languages—French, German and Swahili— has been working diligently to add Finnish to the list; he and his wife, Vera Risteski- Adams, spend several hours a week in lessons. Their 14-year-old daughter, Maya, attends school in Helsinki. True to another promise made at his confirmation hearing, Adams has traveled extensively around the country.
His term, though, will end sometime next year when a new administration names his successor. Adams intends to return eventually to Geneva, but describes his immediate plans as "inchoate," with one exception:
"My days of 2,000-plus billable hours per year, unrelenting business development initiatives and aggressive pursuit of unpaid receivables are, however, mercifully over."