To Russia with Love
Murray's Future of Russia Foundation Building Maternity Care System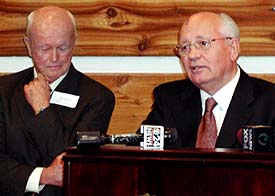 Tom Murray and Mikhail Gorbachev at a press conference in Ohio announcing the model maternity care system being built by the Future of Russia Foundation in Balashikha, Russia.
In an extraordinary example of effective philanthropy, Tom Murray's Future of Russia Foundation is building a health care facility designed to be the model for radically reforming Russia's maternity care system. Named the Balashikha Project for the town near Moscow in which it is located, the facility will address one of Russia's most intractable problems: a declining population.
At a celebration near Sandusky, Ohio, where Tom Murray '65 is a partner in his family law firm, Murray & Murray, former Soviet President Mikhail Gorbachev dedicated the Balashikha Project, saying "The idea behind this project is now being implemented in real, concrete terms, and when this happens, I say, 'It's under way.'"
"I've been enormously impressed with the things Tom has been doing as a philanthropist," said Professor John Norton Moore, the Law School's Walter L. Brown Professor of Law, who has worked on a project with Murray's World Law Institute to develop techniques that use civil litigation to fight terrorism. "His is just pure, thoughtful philanthropy and he's been a success story his whole life."
According to the Future of Russia Foundation, nearly half of Russia's babies are born unhealthy. Many women are not well enough to bear healthy children, and maternal and newborn care is extremely poor, if not non-existent.
"Everyone in Russia knows this is their most urgent problem." says Murray. "It was President Putin's lead topic in his first address to the Russian people. And they know they can't succeed without fundamental and radical reform of Russia's medical services system. We think the best way to do it is to bring the public and private sectors together."
Gorbachev Rode the Tiger
Even Shakespeare would have had trouble conjuring up a character like Mikhail Gorbachev. A beguiling mixture of charm and strength, Gorbachev rose from farming roots in Privolnoye, Russia, finessed the byzantine workings of the Communist party, and soared into the Kremlin as the youngest Politburo member in history (and Russia's only President). Then, in 1991, the victim of what some experts say was a colossal misread of political reality, Gorbachev plummeted into quiet disgrace in his beloved country. Arguably the most influential statesman of the 20th century, Gorbachev instituted policies which ended the Cold War, reunified a fractious Europe, and stopped communism's historically brief, but ruinous, role in world history. Recognized throughout the world for his contributions to world peace, he won the Nobel Peace Prize in 1990.
But Gorbachev became a pariah in his own country. His policies of glasnost and perestroika drew back the curtain, but he couldn't replace the cast on stage, and the play closed to terrible reviews. In 1996, he attempted a political comeback, running for president as a moderate and experienced candidate. He earned just one-half percent of the vote.
"Gorbachev is a believer in the truth," says Tom Murray '65, who has known Gorbachev for many years. "His greatest moral achievement was to recognize that the system wasn't working, that it had failed so badly that it needed radical reform. He had the courage, and the ideas, and the strength to make his case to the politburo. He rode that tiger for six years."
For the first three or four years of that ride, Russians considered him a heroic figure, according to Murray. "He brought hope to people. He brought tremendous changes. Those three words-perestroika, democratization, and glasnost-were not just slogans. They were reality. He opened up discussion and put in motion the events that led to the real changes that are now starting to bring results."
But Gorbachev's policies went too far for some, and not far enough for others. He put in place conditions that eroded the Soviet system without offering anything else to replace it. "Living conditions continued to worsen and he didn't have any answers for that," says Murray. "His attempt at reforming the Communist party fell on deaf ears."
On August 19, 1991 while vacationing at his dacha, a group of Communist conservatives at the highest levels attempted a coup. "He didn't know if he was going to live or die," says Murray. "It was terrifying. Here is a man of real depth who enjoyed being on the world stage and now his life was at risk." The coup collapsed, but Gorbachev's political career was over while the one of brusque, populist, and drunk Boris Yeltsin, who emerged a hero for his public resistance to the coup, took off.
After his fall from power, Gorbachev founded Green Cross International and the Gorbachev Foundation. In 1999, Gorbachev lost his wife, Raisa, to leukemia. According to their daughter, Irina, it took him almost three years to recover fully from his grief. Today, he and Irina live in Moscow. "He leads a very private life," says Murray. "He doesn't go out in public very much. I would love to see his reputation rehabilitated, but I don't think it will happen in his lifetime. Certainly, I think the tide is turning in his favor, especially among the young people in Russia. They are beginning to appreciate what he accomplished and they're capitalizing on the opportunity that Gorbachev made possible."
Balashikha has three basic components: training and educating the obstetricians and pediatricians; administration and management; and finally building the facilities themselves. This is a working partnership where Russia will be able to reform the maternity care system throughout the entire country by using the Balashikha facility as the model.
Murray's passionate embrace of Russia and her people goes back almost thirty years, when the governments of the Soviet Union and the United States glared menacingly at each other through their nuclear shields. A lifetime devotee of Russian literature and a student of history, Murray viewed with growing alarm the dangerous and deteriorating relationship between the two countries. What Americans were hearing from the Soviet government did not square with what he had learned, through their literature, about the Russian people.
"I was interested in the Cold War and communism in general," he says, "and became more and more concerned about the runaway arms race. I felt I had to go to the Soviet Union to see for myself what was going on. The more I learned, the more I became overwhelmed with the tragedy that was happening.
"Three early impressions have never left me. The first is that the Soviet communist system was far more oppressive and harmful and destructive of human dignity than I could have imagined before I went over there. The system was truly evil at its roots in the effects it had on people's lives.
"The second was that the primary victims of communism were the Russian people. The system imposed by the Bolsheviks under Lenin and Stalin was really a perversion of western ideas: economics, philosophy, sociology. They had hijacked, co-opted the natural Russian sense of solidarity with other people, of brotherhood, of oneness with the world.
The Russian people deserved our compassion and friendship and, for the most part, were innocent victims of a system they had nothing to do with establishing.
"My final impression was that the system was so flawed, the contradictions within the system were so great, that it was doomed to fail."
Murray learned to speak Russian fluently and traveled there often throughout the 80s and 90s. During that time, he began developing working relationships with officials in the Institute of World Economy and International Relations, or IMEMO, its Cyrillic acronym. IMEMO is one of the most prestigious branches of the Russian Academy of Sciences and played a major role in Gorbachev's efforts to reform the Soviet system.
"I finagled a meeting with their Director and then started developing very good friendships. From them, I got the inside story of what was happening in Russia. I began to sense tremendous possibilities there for real change. Gorbachev, who I had not met at that point, was for real. There was something momentous happening. I came back from an '86 trip with great hopes and expectations, and I began trying to figure out how I might make a contribution to the changes that Gorbachev was trying to bring about."
In the ensuing years, Murray spoke at universities, on radio and television, at rotary clubs, following his passion to share the truth with others and his desire to draw the American and Russian people closer together. "I really felt that I was acting as a trial lawyer, a fact-finder," he says, "and I was trying to meld what I had learned firsthand about communism with the desire of people here to better understand the reality of life there."
The idea and implementation of the Balashikha Project gelled over a period of six months last year, culminating in the launch of the project this past November. It is the capstone to over two decades of Tom Murray's work to help the Russian people emerge from a long nightmare that threatened global security and defiled human dignity.
"They are a warm, earthy, generous, kind people, and unfailingly hospitable to me. They have a wonderful sense of humor, very much like Americans. One of the great tragedies of the cold war period was that our two peoples were kept apart by what had occurred. But now, I'm hopeful."
For more information about the Balashikha Project, contact Maureen DeVito, the Future of Russia Foundation, 440/570-8657, or go to www.futureofrussia.org.