2000s Class Notes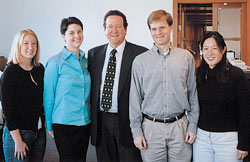 Franklin Scholars Honored
Visiting Law and Darden Professor Laurence Franklin met with four students in November who have been touched by the generosity of the Franklin family. Professor Franklin's father, Dr. Carl M. Franklin '48, established the Carl M. Franklin Prize to recognize the student with the highest grade point average at the end of his or her fi rst year at the Law School. Katie Bagley '05 and David Reid '06 are recipients of the Franklin Prize. In addition to the Franklin Prize, Dr. Franklin established the Carl M. and Carolyn C. Franklin Scholarship on Valentine's Day 1998, in honor of his late wife, Carolyn. Lauren Bates and Vanessa Kwong, members of the Class of 2006, are recipients of the Franklin Scholarship. Dr. Franklin passed away in September at the age of 93.
From left: Lauren Bates '06, Katie Bagley '05, Professor Laurence Franklin, David Reid '06, and Vanessa Kwong '06.
Carlos Cruz-Abrams and his wife Hilary welcomed a new son, Mason Samuel, on December 6. They write that "Mason has already made his way into his big sister, Robin's, heart. We are enjoying being back in New York after a year away to assess our career plans." Cruz-Abrams is now working for the City and finding it to be "even more fascinating than I could have imagined. Where else do you get to deal with crooked politicians released early from jail, a flawed day care legislative scheme, and an errant hang glider over Central Park — all in the same day?"
D. Ryan Farney joined the Division of Enforcement of the Securities and Exchange Commission in Washington, DC, as a staff attorney.
Elizabeth Semancik became engaged this year to Brian White, a fellow associate at King & Spalding LLP. The couple plans to marry on June 11 and will reside in Atlanta, GA.
Kevin J. Smith wrote an article about state anti-takeover laws, with particular relevance for public companies in Virginia, published in the July issue of Mergers & Acquisitions, The Dealmaker's Journal. Smith is a corporate associate at the Northern Virginia office of Wilmer Cutler Pickering Hale and Dorr LLP.
Jason Zuckerman joined Clifford & Garde's Washington, DC, office as an associate after practicing at Shaw Pittman. Zuckerman advises employees and employers on a wide variety of employment law issues, with a particular emphasis on whistleblower retaliation claims. Zuckerman has written several articles on whistleblower protections and co-authored a chapter on "Litigating Whistleblower Cases," which appears in Whistleblowing: The Law of Retaliatory Discharge (BNA Books 2004). In addition, Zuckerman has delivered presentations to numerous organizations on the whistleblower provisions of Sarbanes-Oxley. He serves as chair of the High Technology Employment Division of the DC Bar's Labor and Employment Section and volunteers with the Employment Justice Center
2001
Shahm and Laura Wesley Al-Wir wed on April 12, 2003. On October 10, 2004, the couple's daughter, Alia Shahm Al-Wir, was born. Shahm reports that "mom and baby are doing fine."
Howard W. Chang was named the Phi Delta Kappa Outstanding First Year Teacher in Loudoun County, VA. Chang teaches Latin at Park View High School in Sterling. Chang also received a Miller Fellowship from the National Junior Classical League, which enabled him to attend the National Latin Convention.

L. Dwight Floyd joined Parker, Poe, Adams & Bernstein LLP as an associate in the Columbia, SC, office. As a member of the commercial contracts group, Floyd will concentrate his practice in the area of commercial litigation. Prior to joining the firm, Floyd practiced with McKenna Long & Aldridge LLP in Atlanta.
Melanie Santos Grant married Thomas William Grant (Darden '01) on October 5, 2002, in Philadelphia. The couple was "blessed with the arrival of their daughter, Jacqueline Lucia, on April 13, 2004 — Thomas Jefferson's birthday."
Scott E. Hultstrand left private practice and is now an Assistant Attorney General in the Securities Division of the South Carolina Office of the Attorney General. He and wife Mary Beth happily announce the birth of their son, John "Jack" Gibbes, born October 20, 2003.
W. Stephen Venable, Jr., left Gibson, Dunn & Crutcher LLP in Los Angeles to join the legal department at Dimensional Fund Advisors, Inc. in Santa Monica, CA. Venable writes that he would like to thank his many friends and classmates for their support following the tragic deaths of his father and brother. In June, Venable carried the Olympic torch in their memory in Los Angeles as part of the Athens Olympic global torch relay.

Wendolyn Wrosch Richards joined the Detroit, MI, office of Miller, Canfield, Paddock and Stone, PLC, as an associate in the litigation and dispute resolution group. Prior to joining Miller Canfield, Richards was an associate with Simpson Thacher & Barlett, LLP, in Pal Alto, CA.

Jason Wu Trujillo was named the Director of Admissions and Director of Judicial Clerkships at the Law School. He was previously the Director of Public Service. Trujillo and his wife Lauren live in Stuarts Draft, VA.
2002
Melinda Cupps left Jenner & Block LLP in Chicago in the fall. Cupps moved to Cincinnati for a two-year clerkship with the Honorable Susan J. Diott of the U.S. District Court for the Southern District of Ohio. Marta Joy Borinsky worked in admissions and is now the Director of Career Services at the new Charleston School of Law in Charleston, SC. She reports that "my wonderful experience at UVA Law encouraged me to take part in the founding of this exceptional law school. We are in the first semester of classes, and I am awed by the quality of our students. I would love to connect with any 'Hoos in the Charleston area."
Mark Crooks continues to prosecute petty criminals in front of petit juries in Manhattan. He reports that "it's tons of fun. Having become too familiar with the criminals of the big city, however, I fled to Brooklyn in July, where I now make weekend runs to 'Bed, Bath & Beyond' with my wife."

Colleen D. Hitch joined Bass, Berry & Sims in Memphis, TN, as an associate in the litigation practice area. Prior to joining the firm, Hitch served as a judicial clerk for the Honorable Irene M. Keeley of the U.S. District Court for the Northern District of West Virginia and for the Honorable Samuel H. Mays, Jr. of the U.S. District Court for the Western District of Tennessee.
George "Trey" Jackson III and his wife Audra announce the birth of their first child, Lucas Meyers Jackson, born October 7. The family resides in Charlottesville, where Trey works as an Assistant General Counsel of the University of Virginia Health Services Foundation, and Audra is a member of the UVA Medical School Class of 2006.
James Klingsporn left the legal field to work at Morgan Stanley in New York. He is an associate in Equity Research covering commodity chemicals and reports that "I am enjoying my move into finance tremendously." Klingsporn wed Kim Nguyen on September 3, and the couple resides in Manhattan.
2003

Michael A. Gorokhovich joined Greenbaum, Rowe, Smith, Ravin, Davis & Himmell LLP in Roseland, NJ, as an associate in the litigation department. He concentrates his practice in commercial litigation and product liability. Gorokhovich previously served as a law clerk to the Honorable Stuart Peim, Superior Court of New Jersey, Law Division-Criminal.
Thomas N. Jamerson announces his engagement to Karen Riley of Hanover, PA. The wedding is scheduled to take place in Hanover in July.

Crystal G. Lovett-Tibbs joined Husch & Eppenberger, LLC in St. Louis, MO, as an associate attorney in the firm's environmental & regulatory practice group. Prior to joining Husch, she served as a Judicial Clerk with the Honorable Henry Coke Moran, Jr. LL.M. '98, of the U.S. District Court for the Eastern District of Virginia.

John W. Roeser joined Greenbaum, Rowe, Smith, Ravin, Davis & Himmell LLP in Woodbridge, NJ, as an associate in the litigation department. Roeser previously served as a law clerk for the Honorable Philip S. Carchman, Superior Court of New Jersey, Appellate Division.
2004
Courtney Caprio joined the Miami office of Hunton & Williams LLP. Caprio focuses on bankruptcy and creditors' rights. She lives in Miami Beach.
Elizabeth Chorvat won first place in the American Judges Association 2004 Essay Competition for her paper titled, "Judge Leval and the Post-Texaco Revolution: The Judicial Enforcement of Business Norms." The Honorable J. Harvie Wilkinson III '72 of the U.S. Court of Appeals, 4th Circuit in Charlottesville presented the award to Chorvat, alongside Professor Bob Scott.
Dan Christmas and his wife welcomed a second daughter, Erin Grace, on August 3. He reports that "she and her big sister Abigail Virginia are doing wonderfully!"
Stephanie Dourado joined the Washington, DC, office of Baker Botts LLP as an associate.
Thomas Andrews Harvey wed Leslie Neeland Harvey '05 in May in Montgomery, AL. Harvey reports that many UVA Law students and graduates were in attendance.
Chris Jones joined McGuireWoods LLP in Richmond, where she focuses on mass torts and complex civil litigation.
Leland Miller co-authored an op-ed piece published in The Washington Post on December 9, titled " Darfur : Where is Europe ?" The article deals with the failure of the European Union to intervene in Darfur, western Sudan, to stop the ongoing genocide perpetrated by the Sudanese government and the Janjaweed militias. An extended version of the article was published in the December 2004 issue of The Journal of European Affairs. Miller was interviewed on BBC Newshour alongside NATO Secretary General Jaap de Hoop Scheffer to discuss the issue. He is currently a first-year associate at Sidley Austin Brown & Wood LLP in New York.
Dana P. Palmer joined the staff of Santa Monica BayKeeper in Marina Del Rey, CA, in September. Palmer is the organization's inaugural staff attorney.
Breier W. Scheetz is planning to enter the Navy Judge Advocate General Corps and "will update as events warrant.
Sean Suder married Elisa Hoffman on November 27 in the bride's hometown of Northampton, MA. Classmate Bert Steindorff was a groomsman in the wedding, and Scott Pippin, Russell Bruch, and Pete Simons served as ushers. The couple resides in Cincinnati, where Sean practices real estate, zoning, and land use law at Keating Muething & Klekamp.
Tigerron A. "Tiger" Wells joined Nelson Mullins Riley & Scarborough LLP in Columbia, SC. Wells practices pharmaceutical and medical device defense.
UVA Lawyer Home