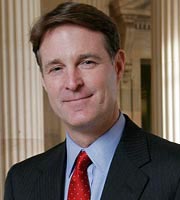 Evan Bayh '81
Moderate Amid the Shouting:
Evan Bayh '81—The Gentleman from Indiana
Cullen Couch
A diminishing number of Americans, most of whom have gray hair or none at all, can remember a United States Senate that was a place of clubby bonhomie, orderly rules, and intellectual tolerance. But today, the extreme partisanship that once was an occasional House plague has spread virulently throughout the Senate. The fevered rhetoric recalls the tempers of 150 years ago when Congressman Preston Brooks, furious at remarks Senator Charles Sumner made during a two-day oration, nearly caned the Senator to death. Enduring a two-day oration could drive anyone mad, but Brooks's actions nevertheless set a new low in congressional etiquette. If another Congress were ever to dive to that level, it might be this one.
Evan Bayh '81, former two-term governor and now two-term Democratic senator from Indiana, is a vanishing phenomenon in Washington: a moderate. The son of Birch Bayh, former three-term senator and presidential hopeful, Bayh occupies a shrinking area of real estate between the Senate's two bickering aisles, often a lonely place. "The center of the common ground has been eroded by politics," he says, "and the irony is that I find a thirst on the part of the American people for more consensus, for greater reconciliation of differences. I don't think the political process is representing their desires as well as it needs to. There are some of us on both sides who try and change that, but it's not as a big a group as I would like."
The common ground that Bayh seeks arises from a fundamental tension between private and public law that he views as quintessentially American. It drives the clash between such conservative concepts as the ownership society and its liberal opposite, economic justice. He sees those controversies as "only the latest chapter in a debate that will exist as long as there is a United States of America. Our ancestors came to this country, those who came of their own free will and volition, because they wanted freedom and independence. That strain of rugged individualism is ingrained in every American's DNA. At the same time, we realized then and still do, that we're not in this by ourselves, that there are some challenges that if we're going to meet we have to come together to address. It's that constant balance between honoring the rights of the individual and working together to provide a safety net for those who have fallen down on their luck or are victims of circumstances beyond their control."
Raised to the Idea of Public Service
Born to a political family who pursued progressive, Democratic policies (as chairman of the Senate Subcommittee on Constitutional Amendments, his father was the principal architect of the Twenty-Sixth Amendment lowering the voting age to 18 and the ill-fated Equal Rights Amendment), Bayh developed his world view and his respect for public service in a family heavily engaged with current events.
"Public service was something we talked about around the dinner table," he recalls. "I admire my parents for trying to help people in big ways and in small ways. It's a value they instilled in me: when you look back on your life, what you've done for other people is the thing you will value most. It was something we talked about and something I became interested in, this process we call public service."
Bayh's first steps in electoral public service began with his father's unsuccessful campaign in 1976 for president. The younger Bayh took off a semester from Indiana University and traveled the primary circuit with his father. He then ran his father's last Senate re-election campaign, which they lost to Dan Quayle. "I visited 90 out of 92 counties in Indiana and fell in love with the people of our state," he says. "Even though my father was unsuccessful, I thought it was an ennobling experience."
Bayh enjoyed the debates about public policy. Reaching out to people with different points of view and trying to find common ground was a formative experience. "It was intellectually stimulating, but more than that, I liked the personal interaction and learning how to help real people in tangible ways. That's what separates politicians from political scientists or editorial writers. At the end of the day, we're accountable for getting things done."
Though Bayh has been very successful in his own gubernatorial and senatorial campaigns, experiencing the sting of electoral defeat as part of his father's two losing campaigns keeps him well grounded. "Losing elections is an occupational hazard," he says. "If you believe in democracy, you believe in the right of the people to choose someone other than you. I think worse than losing an election would be not trying. So I decided to try and the people of Indiana have honored me ever since."
Governor … Senator …
Courteous, gracious, trim, and handsome, Bayh projects the charisma of a man who has easily won elections in Indiana by wide margins. Moreover, he has done so as a Democrat in a "red" state, gaining the support of voters in both parties who appreciate his emphasis on fiscal responsibility, clean environment, effective government, job creation, and low taxes. By the end of his second term as governor, he had an 80 percent approval rating and strong support from state and national media. One year after his second term as governor, he ran for the Senate, receiving the widest victory margin ever by a Democratic senatorial candidate in Indiana. He easily won re-election in 2004.
The roles of governor and senator differ fundamentally. One is a chief executive, and the other is just one of a hundred equals. Bayh prefers the executive role. "They're both an honor and I love being in the Senate in a different way, but as governor I could get more done in practical terms to help the people who'd put their confidence in me. I helped to balance the budgets, expand health care, improve education, attract investment to our state to create jobs, expand college opportunities, a whole variety of things."
Yet the Senate requires a broader perspective about pressing national concerns, which appeals to Bayh's intellectual curiosity. "It's fascinating," he says, "and you deal on a global stage, particularly now. I spend more than half my time with issues involving national security, which in a post-9/11 world is vitally important, and the whole globalization of the world economy and our dependence on foreign petroleum. It's a variety of things you deal with in the Senate that you don't deal with as governor."
As a moderate, he is also frustrated with a political process that is "in some profound way broken. It's not working as well as it needs to. It's not serving the public well. This instrument that we call government should be an engine for opportunity in advancing things that are good for our country. But I find it is all too often an impediment, and it shouldn't be that way. It needs to be changed, but for the time being there's just too much strident partisanship and ideological rigidity for my tastes."
But that doesn't mean that Bayh will avoid the hard issues, especially the ones that the American public has identified as Republican strengths. Two weeks after White House deputy chief of staff Karl Rove claimed national security as the issue that Republicans will run on in the 2006 elections, Bayh responded with a speech at the Center for Strategic and International Studies. Outlining specific steps that he calls both "tough and smart," he said, "And to Mr. Rove, I say we are ready. Ready to have this debate any time, any place, you'd like to have it. Ready to expose the severe failings of this administration's stewardship of America's security. Ready to show the nation that there is a better way."
… President?
Facing perhaps the most daunting challenge that any American could ever undertake, Bayh is actively testing the waters for a presidential run. He approaches the task with a refreshing combination of earnestness, humility, and tranquility.
"There is only one reason [to run] and that is a deep devotion to our country, and with that an understanding of the forces shaping our future, an agenda of ideas to prepare us to meet that future, and the belief that you have the right sort of experiences that have prepared you for it."
At this point, Bayh is a dark horse in what could be a crowded field. Nevertheless, as a Democratic candidate popular in an important Republican Midwestern state, he could likely deliver Indiana's electoral votes for the Democrats and that has piqued the interest of many political handicappers. But it won't be easy for a moderate to finesse a primary system where third-party interest groups funded by the most zealous partisans of both sides build huge war chests to drive wedge issues for short-term political gain. Bayh knows that such tactics may be effective, but he thinks they are "deeply cynical and harmful to the fabric of the country in the longer run." He believes the American people are finally ready for a different kind of approach.
"You have to be who you are and not try and be somebody else. You have to say what you believe and not something else. You have to trust the public. Either you're the right person with the right ideas for this moment in time, or you're not. And you know what? If you're not, life continues. I think that's the only way to go about it. It would be a mistake to try to get all involved in moving this way or that way trying to placate this group or that group. You could lose track of who you are and that would be worse than anything else."
In recalling his time at the Law School, Bayh fondly remembers "the collegiality, and rigorous, but not destructive, competition. It was all within the parameters of friendship. I liked that. There was that feeling that people were very bright but also good, decent human beings and well-rounded."
That is an accurate description of the senator himself. It's how he conducts his public life. The American people might agree and decide that he's just the ticket they were looking for.