2000
Jean-Claude André was one of eight lawyers recently named by Lawyers USA as being on a "Fast track to making a significant impact" on the legal profession.

J.W. Nelson Chandler was recently named partner at Parker Poe Adams & Bernstein in the Charleston office. He concentrates his practice in the area of complex civil litigation, with an emphasis on employment litigation, commercial litigation, and class actions.

Scott C. Holbrook has been named a partner with Baker & Hostetler in the Cleveland office, where he is a member of the litigation group and concentrates on complex commercial litigation.
Tonya Sulia Goodman and her husband, Gregg, welcomed their first child, Gianna Rose Goodman, on October 24.
Jason Zuckerman was recently quoted in the Financial Times and the National Law Journal concerning the whistleblower provision of the Sarbanes-Oxley Act. He is with the Employment Law Group in Washington, D.C.
2001
Christian Atwood has been named partner with Choate, Hall & Stewart in the private equity group in the Boston office. He focuses his practice on the representation of venture capital and private equity funds through all phases of their investment processes, working with institutional investors, portfolio companies, and management teams in negotiating and structuring leveraged buyouts, mergers and acquisitions, equity and debt financing, and recapitalization.
Ryan Coonerty has been elected Mayor of Santa Cruz, California. He teaches constitutional law at University of California Santa Cruz and has recently published Etched in Stone—Enduring Words from our National Monuments with the National Geographic Society. For any alumni who find themselves in Santa Cruz in the next year, Ryan promises to make you "honorary citizens of his city."
James Fajkowski works for K&L Gates in Boston as an intellectual property attorney focusing on corporate transactions, patent prosecution, and patent litigation. He and his wife, Risa Fajkowski, have two children: Wyatt (3) and Eva (9 months).
Steven Geiszler recently joined the Dallas office of Gibson, Dunn & Crutcher. He is an associate in the firm's intellectual property practice group and focuses on patent litigation.
Nestor Gounaris, who is with China Solutions in Shanghai, reunited with fellow alumni at the wedding of Scott Fink '02 and Christine Genaitis '02 in October.
Michael K. Hendershot II has been named a 2008 Illinois Rising Star by Law & Politics. He is with Brinks Hofer Gilson & Lione in Chicago, where his practice focuses on trademark and copyright litigation and Internet-related litigation and counseling.
Sarah Hennigan Ostergaard is a stay-at-home mother of three: Jack (5), Will (4), and Katie (1½). She recently moved from Washington, D.C., to Asheville, N.C.
John K. Henning joined Ogletree Deakins Nash Smoak & Stewart, P.C., in Indianapolis, Ind., where he will focus on employment litigation. Ogletree Deakins specializes in labor and employment law. Prior to this position, John practiced with Baker & Daniels.
Amy H. Pannoni has been named a partner at Davis Wright Tremaine in the Seattle office, where she focuses on employment law.
Celeste Peiffer is in-house corporate and securities counsel for Amedisys, Inc., in Baton Rouge, La. She lives in New Orleans (currently in the French Quarter) with her husband, their dog, Cleo, and cat, Ramona.
Geoff Sigler and Melissa Moore Sigler welcomed their first child, Thomas Moore, on November 13. The family resides in Alexandria, Va.
2002
Meredith Caskey married Andrew Parker on September 29. The couple resides in Washington, D.C., where Meredith recently became a partner at McDermott Will & Emery.
Scott Fink and Christine Genaitis were married in Memorial Church at Harvard University on October 7. Christine's Law School roommate, Lesley Pate, was a bridesmaid, and several members of Section F took part in the festivities as well, including Laura VanDruff, Tom Jeon, Matt Oakes and Adam Tucker. Nestor Gounaris '01 even flew in from China for the big day. Scott and Christine live in Arlington, Mass., and work in Boston, where Christine is a litigation associate at Goodwin Procter and Scott is a litigation associate at Cooley Manion Jones.

Bernd J. Hartmann (LL.M.) has been appointed a young fellow to the Academy of Arts and Science in his home state in Germany. Hartmann is a senior research fellow at Muenster University Law School, where he is writing a book on compensation claims against the government. This will be his second book.

James D. Honaker co-authored an article entitled "Analysis of the 2007 Amendments to the Delaware General Corporation Law" that appeared in Corporation (August 15). Honaker focuses on corporate governance issues involving the Delaware General Corporation Law. He is in the Delaware Corporate Law Counseling Group at Morris Nichols Arsht & Tunnell in Wilmington, Del.
Najwa Nabti Russo recently joined the Office of the Prosecutor, Appeals Unit, of the International Criminal Tribunal for the former Yugoslavia. The ICTY has its office in the Hague, Netherlands.
2003

Jose Rivarola (LL.M.) joined the litigation practice at Payet, Rey, Cauvi in Lima, Peru, in 2006.
Kelly Sutherland and Andrew Pontano were married on December 30 in New Orleans. Fellow UVA Law alumni in attendance were Robert Clarke, Eric Davis, Nathan McGlothlin, Andy Toebben, Carlos Kuri, Cherie Dawson '04, and Michelle Fetterman '04. Andrew is a structured finance associate at Dechert, and Kelly is associate counsel at CKX, Inc., a media and entertainment company. The couple resides in Brooklyn, N.Y.

2004
Dara Kesselheim is one of 15 attorneys selected for the Boston Bar Association's prestigious Public Interest Leadership Program (PILP). The program encourages and supports talented and highly motivated young lawyers who have demonstrated exceptional commitment to pro bono, public service, or organized bar activities. Kesselheim practices with the major commercial litigation and government enforcement and compliance groups at Choate, Hall & Stewart in Boston. She will serve in PILP for one year.
Irina Khanin left Miller, Earle and Shanks in Luray, Va., in February 2006, to spend more time with her daughter. She joined Janney & Janney, also in Luray, six months later. She now works part-time doing mostly research and drafting. The family is expecting another daughter in the summer.
In November, Debra Todd (LL.M.) was elected to the Pennsylvania State Supreme Court, becoming the second woman to be elected to the state's highest court.
2005
Chris Calsyn married Maura Dalton on October 6 at King Family Vineyards near Crozet, Va. He is with Crowell & Moring in Washington, D.C.
Elizabeth Reilly-Hodes is an associate in the commercial litigation department of Pepper Hamilton in Philadelphia.
Daniel V. Shapiro joined Stillman, Friedman & Shechtman in January. He is an associate in the firm's New York City office.
2006
Jason R. Brege has joined Smith Anderson in Raleigh, N.C., and will practice corporate, commercial transactions, and bankruptcy law.
Lindsay Buchanan and Josh Burke were married September 8, 2007, at DelFosse Vineyards near Charlottesville. Many Virginia Law grads were in attendance, in particular representatives from Section I: Mike Buchwald, Tom Lerdal, Andy Spital, James Tysse, Lee Kolber, and Cat Cockerham. In addition, Molly (Cummins) Scott, Jennifer Cleary, Sarah Marks, and Tom Wintner were all part of the wedding.
Tae-Jin Cha (LL.M.) opened his own firm in Seoul, Korea, with other lawyers from major Korean law practices. He previously worked for Yulchon, one of the five largest Korean law firms.
Michael "Jake" Ewart has joined the Seattle firm of Hillis Clark Martin & Peterson as an associate. His practice will emphasize business litigation matters.
James R. Lederer has left Skadden, Arps, Slate, Meagher & Flom, where he had been a corporate finance associate, to become counsel at Diamondback Advisors CT, a Stamford, Conn., based multi-strategy hedge fund. He joins the legal department, working directly with the general counsel and fund managers on fund formation documents, prime brokerage agreements, and swap and derivative agreements, as well as other contract and legal issues. He will commute from his home in New York City to Diamondback's Stamford office.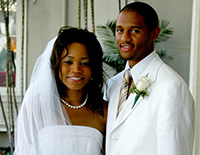 Tiffany Marshall and James Graves III were married on October 13 at theMoana-Surfrider Resort in Honolulu, Hawaii. Chief Justice Ronald T. Y. Moon of the Hawaii Supreme Court presided over their ceremony. Parents and siblings were able to attend the event, after which the couple honeymooned in Maui. Tiffany and James reside in Jackson, Miss., where they practice law with Watkins & Eager and Wise Carter, respectively.
Juan Pinzon (LL.M.) joined Citigroup in January 2007 as corporate lawyer in charge of cash management and custody, both local and international. He is also personally investing in biodiesel businesses in Colombia.
Lars Rueve (LL.M.) transferred from the New York office of Sullivan & Cromwell to the firm's office in Frankfurt, Germany. He advises international clients on securities and on mergers and acquisitions.
Audrey Wagner is a second-year associate in the Washington, D.C., office of Dechert. She represents mutual funds and hedge funds and negotiates swaps on behalf of both. She ran her third marathon in March.
Olivier Winants (LL.M.) joined the Buenos Aires law firm Fortunati & Asociados in January, after volunteering for four months for the Flemish Organization for the Promotion of Educational Human Rights (a Belgian NGO in Antwerp) and taking a nine-month sabbatical in South America.

2007
Deborah A. Kaplan has joined Baker Hostetler in the firm's New York office.

Joseph A. Ponzi has joined Brooks, Pierce, McLendon,Humphrey & Leonard in the firm's Greensboro, N.C., office.
Christopher T. Sukhaphadhana has joined Brinks Hofer Gilson & Lione as associate in the firm's Chicago office. His practice focuses on patent litigation and patent prosecution.