2000s Class Notes
2000
Ryan Clinton has been honored with the Henry Bergh Leadership Award for his work in promoting the goal of no-kill animal sheltering in the Austin, Tex., area. The award was given by the Oakland, Calif.-based group, the No Kill Advocacy Center, which is dedicated to ending euthanization of shelter animals nationwide. As a result of Clinton's work, a no-kill item made its way to the Austin City Council agenda, where elected officials voted unanimously for a establishing a plan for no-kill policies and procedures. Clinton founded FixAustin.org, a grassroots nonprofit dedicated to ending the killing of lost and homeless pets in Austin, and serves as volunteer legal counsel for Austin Pets Alive, a nonprofit pet adoption group. He is an appellate advocate with Hankinson Levinger in the firm's Dallas office.

Scott Dangler is a shareholder at Gunster in Fort Lauderdale, Fla.. He concentrates his practice in intellectual property litigation, computer and Internet law, and antitrust litigation.
Kandice J. Giurintano has been elected member with McNees Wallace & Nurick in Harrisburg, Pa. Giurintano is co-chair of the firm's appellate and post-trial practice group and is also part of the litigation and transportation, distribution, and logistics practice groups. Her practice focuses on representation of corporate clients in business disputes. Giurintano was named among Best Lawyers in America 2010 in the area of appellate law.
Wendy R. McCord and her husband, Dodge McCord, welcomed Amelia Lindsey on February 13, 2009. Amelia joined big brothers Maxwell Ryan (7) and Lucas Elijah (4).Wendy is in-house counsel for Black Hills Corporation in Denver, Colo., and Dodge works in finance for AIMCO in Denver.
Tonya Sulia Goodman and her husband, Gregg, happily welcomed their second child, Gino Louis, on July 8.
Andrew M. Wright is staff director of the Subcommittee on National Security and Foreign Affairs of the House Committee on Oversight and Government Reform. He and his wife, Caprice Roberts, live in the Bloomingdale neighborhood of the District of Columbia.
2001
Brian F. Chandler has co-founded Roeder, Cochran, Parrott, Chandler & Kinsel in Tysons Corner, Va.Joining him in this new firmare twoalumni, James B. Kinsel '98 and William F. Roeder, Jr.'67.Chandler focuses his practice on litigating business and employment disputes.

Christopher Y. Chi has been elected a member with Bass, Berry & Sims in Nashville, Tenn., where his corporate practice includes mergers and acquisitions, financings, and corporate governance. He also advises companies in the health care, entertainment, food and beverage, and technology industries.
Christopher Chorba has been named partner with Gibson Dunn in Los Angeles, Calif. His practice includes appellate, class actions, and complex fraud and civil matters.
James Fajkowski was named partner with K&L Gates in the intellectual property group in Boston, Mass.He focuses his practice on intellectual property transactions, licensing, patent portfolio development, and client counseling.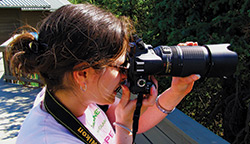 Gunes Hopson is happy to announce that she has launched her own part-time photography business in Richmond, Va., specializing in on-location portrait, pet, and sports photography. Please visit her website for more information www.fotogenicrichmond.com.
Brendan V. Johnson was nominated as U.S. Attorney for the District of South Dakota by President Barack Obama and was confirmed by the U.S. Senate in October.
Beppy Landrum Owen has been recognized by the University of Central Florida's International Services Center and Global Perspectives Office for her commitment to internationalization. She is co-chair of the senior living practice in the Orlando, Fla., office of Akerman Senterfitt and chair of the Orlando area committee on foreign relations. Her practice focuses on transactions that involve corporate acquisitions, private equity financing, multistate debt financing, real estate, and intellectual property matters.

Justice Ericson Lindell has been named a 2010 Rising Star in Minnesota Super Lawyers and a future star by Benchmark Litigation. Lindell is a shareholder at Winthrop & Weinstine in Minneapolis, where he specializes in commercial litigation and civil appellate work. He also represents individual and corporate clients in the areas of intellectual property, antitrust, employment litigation, shareholder disputes, and Indian law.
Lathrop B. Nelson III was named partner in the litigation department at Montgomery, McCracken, Walker & Rhoads in Philadelphia, Pa. Nelson concentrates his practice on complex commercial litigation, antitrust law, and government investigations and white-collar crime.
Geoffrey Sigler has been named partner with Gibson Dunn in the Washington, D.C., office. He is a member of the litigation department, where his practice focuses on class actions and health care litigation.
David Stuckey, a senior consultant with Hudson Legal in Budapest, and the Law School's William S. Potter Professor Michael Dooley met at the LL.M. alumni reunion in Frankfurt, Germany, last summer. Stuckey handles expatriate recruitment throughout Central and Eastern Europe and is spearheading Hudson Legal's presence in Latin America, and he welcomes hearing from current or former LL.M. students in Brazil, Mexico, Turkey, and Central Eastern Europe.
2002
In December Shreve Ariail and Carter Burwell tried a criminal case together in federal court in Brooklyn, N.Y.Both are Assistant U.S. Attorneys in the violent crime and terrorism section of the U.S. Attorney's Office in the eastern district of New York.The case involvedtwo violent armed robberies, and the jury swiftly convicted the defendant on all six counts in the indictment.On a personal note, Shreve was married in September, and Carter and his wife recently celebrated the birth of their second child.

Jason Barclay has been elected partner at Barnes & Thornburg in Indianapolis, Ind., where he is a member of the litigation department. He represents clients in complex white-collar criminal investigations, civil enforcement actions, and administrative proceedings before state and federal regulatory bodies.
Devin C. Dolive was elected to the board of directors of the AlabamaGermany Partnership, an organization established to facilitate collaboration between businesses and individuals with ties to Alabama and Germany and to increase business and foster cultural exchange. Dolive is an associate with Burr & Forman in Birmingham, where he practices in the litigation section.
Scott Fink has opened his own law firm, Fink Law, in the heart of Boston's financial district. The firm's litigation practice encompasses a broad array of corporate and individual matters and also represents clients in employer-employee disputes. Fink is licensed in Massachusetts, California, and Minnesota. Prior to establishing his own firm, Fink was an attorney with Cooley Manion Jones, where he handled complex commercial litigation cases in federal and state court.
Kathleen Hanlon Sinclair and her husband, Bill, welcomed Edward Joseph "Teddy" Sinclair on November 3, 2008, the day before President Obama's historic election. "He is our pride and joy," she writes, "and he finally sleeps at night!"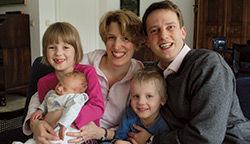 Bernd J. Hartmann LL.M. and his wife, Susanne, are proud to announce the birth of Ella Dorothea on February 10. She joins Tabea (6) and Jakob (4), who are as happy as their parents. Hartmann is a senior research fellow with the Institute for Public Law and Politics at Muenster University in Germany.
Cristina Lucchetti Ryan founded the New Jersey chapter of the National Cervical Cancer Coalition to raise awareness and promote efforts to combat cervical cancer. To help raise awareness and raise funds, the group toured Montclair, N.J., on the night of December 18 dressed as Santa's helpers, singing carols throughout the town. Cristina founded the group in the memory of her best friend, a young mother who lost her life to cervical cancer in 2007.

Nicole M. Murray has been recognized as a 2010 Rising Star in Illinois Super Lawyers, in the area of intellectual property. She is in the Chicago office of Quarles & Brady, where she focuses her practice on intellectual property litigation and trademark and copyright counseling.

Elizabeth A. Ratliff has been recognized in Ohio Super Lawyers as a rising star in the area of business litigation. She is an associate in the Cleveland office of Vorys, Sater, Seymour and Pease.
Elena Parent and her husband, Briley Brisendine, welcomed their first child, a son, Brooks Andrew Brisendine, on February 25. Elena is currently running for the Georgia House of Representatives in an Atlanta-area district. The election will be held on November 2.
Jeremy K. Webb has been promoted to shareholder at GableGotwals in Tulsa, Okla., where his practice focuses on commercial litigation, environmental law, oil and gas law, and labor and employment litigation.
2003

Nathan T. Danielson joined Plunkett Cooney in Indianapolis, Ind. Danielson is a member of the firm's banking, bankruptcy and creditors' rights practice group, where he focuses his practice on banking law, real estate, creditors' rights and business law. Danielson represents clients in matters involving commercial loan workouts, loan restructurings, loan originations, secured transactions, business services, real estate transactions, foreclosures, receiverships, bankruptcy and general civil litigation. Prior to joining Plunkett Cooney, Danielson practiced law in both southern California and northern Indiana, where he also focused his practice on real estate, business and banking transactionsand related litigation. His recent experience includes serving as general counsel for a family of regional banks and financial institutions, as well as for an Indiana-based environmental consulting firm.
Scot H. Fishman received the Legal Aid Society's 2009 Pro Bono Publico Award for Outstanding Pro Bono Counsel.He hasdirected the global pro bono efforts at Dewey & LeBoeuf in the firm's New York office for the past three years.During spring semesters,heco-teaches a pro bono seminar at the Law Schoolwith Kimberly Emery '91, the Law School's assistant dean for pro bono.Before taking his current position, Fishman practiced litigation.
Ali Sarafzadeh Khorassani is the new director of international trade for the state of Vermont. His wife, Berenice, is a professional pastry chef in Stowe, and they live with their children in Montpelier.
Karen D. Stringer was promoted to counsel at WilmerHale in Boston, Mass., where she is in the investigations and criminal litigation and antitrust and competition practice groups. Her practice focuses on government and internal investigations and securities matters.
2004
Elliot A. Hallak is an associate with Fox Rothschild in West Palm Beach, Fla., where he focuses his practice on commercial litigation, including banking litigation, contract disputes, fraud claims, collections, and commercial evictions. He was previously with Ruden McClosky.
Kevin Alden Maxwell and Whitney Ann Tatum were married on September 19 at Peachtree Road United Methodist Church in Atlanta, Ga. Lance Stern, Jackie Schur, Lynne Rhode and Janet Van Cuyk attended. In March, Kevin and Whitney relocated from Washington, D.C., to Atlanta, where Kevin joined the in-house legal department of Mueller Water Products. He is principally responsible for the company's SEC reporting work and securities and mergers and acquisitions transactions. Kevin was previously an associate for five-and-a-half years at Skadden, Arps, Slate, Meagher & Flom in London, England, and Washington, D.C.

Dana P.Palmer has been elected as chair of the California State Bar's Environmental Law Section. His one-year chairmanship began in September.Palmer, who was managing editor of the Virginia Environmental Law Journal from 2003 to 2004, is the most junior attorney to lead the 2,650-member section in its history. His election means that he oversees activities that include MCLE programs, a committee that advises the California Legislature on technical aspects of pending environmental legislation, an annual student negotiations competition, andthe publication of two newsletters.
Palmer and his wife Beverly (Yale Law '04) live in Santa Monica, Calif., with their wonderful two-year-old son Tobin and new baby Emmett, born in late-March.

Sean Suder, a real estate attorney in the Cincinnati, Ohio, office of Keating Muething & Klekamp, is heading an effort to gather local and regional support for locating the U.S. Public Service Academy in Cincinnati. The academy will be America's first public service college devoted to developing civic leaders. Suder is working with business and civic leaders to identify possible 100-200 acre sites for the school. Other cities, including Kansas City, Philadelphia, and Washington, D.C., are competing for selection as well.
Suder practices in all aspects of real estate, land use, and zoning law. He has wide experience in negotiating retail, industrial, and office leases for clients and has assisted clients in taking projects from concept to construction.
Billy Wynne is senior vice president and principal at Health Policy Source, Inc., a health care consulting firm that focuses on policy, strategy, and advocacy.While he frequently commutes to D.C. for work, Billy, his wife Christy, and their daughter, Eleanor (3), now live in Denver, Colo., and are enjoying the good life out West.
2005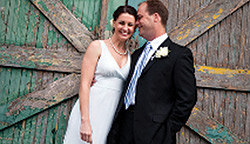 Katie Bagley married John Glenn on August 14, in Spokane, Wash. Jeremy Thompson and Michi Ware '04 were in attendance. Katie is an appellate attorney at the U.S. Department of Justice, Tax Division, handling appeals from criminal tax prosecutions. The couple lives in Washington, D.C.
Marcus D. Brown recently joined Winstead as an associate in the firm's labor, employment and immigration group in Dallas, Tex.
Andrew Thomas Foy was married to Kay Hill in Staunton, Va., on August 29. Foy is an associate with Fish & Richardson, where his practice focuses on intellectual property litigation, patents, and patent litigation in the Washington, D.C., office. Kay is an attorney in the Washington, D.C., office of Finnegan Henderson.

Joshua C. Johnson and Kristin Braggins Johnson welcomed their first child, Alexander McDaniel, on May 4, 2009. He weighed 6 lbs., 12 oz., and was 19.75 inches long. They currently reside in Roanoke, Va.
2006
Matthew Bostick joined Farella Braun + Martel's environmental law department in San Francisco, Calif. Bostick brings experience in environmental litigation and compliance matters, including contaminated property under CERCLA and RCRA; food safety and chemical exposure; and pesticides and antimicrobials under FIFRA and FFDCA. Additionally, he has experience defending individuals in civil and criminal securities fraud investigations.
Eben C. Hansel joined the Baltimore office of the law firm of Ballard Spahr. Hansel is an associate in the real estate department and a member of the real estate development and real estate finance groups. Hansel has a diverse practice focused primarily on commercial real estate law and transactions, with additional experience in corporate transactions, bankruptcy, and litigation. His real estate practice covers all aspects of commercial real estate law and transactions, including permitting, title, zoning and environmental issues, acquisitions and dispositions, site development and construction, project financing, loan workouts and acquisition of distressed assets, and leasing. Hansel is a former associate in the Boston office of Wilmer Cutler Pickering Hale and Dorr.
Tiffany Marshall Graves and her work with underserved children in Mississippi were featured in a recent article in Mississippi Business Journal. Graves came to Mississippi as a UVA Law Powell Fellowship in Legal Services honoree, which enables a graduating student to work in public interest law and to provide better legal service to the poor. She is an associate with Watkins & Eager in Jackson, where she handles corporate employer issues including labor and employment, product liability, and insurance defense. Through her pro bono work, Graves also continues to serve children in juvenile detention facilities and those suffering from mental illness.
James R. Lederer was honored at the Sanctuary for Families Above & Beyond Pro Bono Awards and Benefit in November, where he was recognized for going "above and beyond" in providing outstanding pro bono representation and advocacy on behalf of victims of domestic violence. Sanctuary for Families is the largest not-for-profit agency in New York State dedicated solely to helping victims of trafficking and domestic violence and their children. Lederer is assistant general counsel at Diamondback Capital Management in the firm's Stamford, Conn., office.
Read Mortimer has joined Mesa West Capital as an associate on the originations team. Mesa West Capital is a privately held, institutional commercial real estate lender based in Los Angeles, Calif.
John Sherman married Mary Hobson Williams Sherman on April 18, 2009.
2007

Catherine Bernard is a public defender in a small town in rural Georgia. "It's fantastic," she writes. "I've already done several trials, and I love being in the courtroom. The pervasiveness of official misconduct is disheartening, though."
U.S. Air Force Capt.
Jamieson L. Greer
deployed with the JAG Corps to Iraq from August 2009 to February 2010.He served as the chief of military justice with jurisdiction over all Air Force personnel in Iraq and managed/prosecuted all Air Force criminal cases. He also advised on criminal investigations with the International Contract Corruption Task Force. After returning to McConnell Air Force Base, Kansas, for several months, he will be stationed at Incirlik Air Base, Turkey this summer.
2008
Elizabeth Blase is an associate in the San Francisco office of Latham & Watkins, pursuing a career in renewable energy and corporate law. She alsovolunteers as development director ofa nonprofit organization, Wokai (www.wokai.org), that isdedicated to alleviating poverty in rural China through microloans.
Michael Hollander's article, "Gay Rights in Uganda: Seeking to Overturn Uganda's Anti-Sodomy Laws," recently appeared in the 50th anniversary issue of the Virginia Journal of International Law. Hollander traveled to Uganda and wrote the original paper as a student research project while working in the Cowan Fellows Human Rights Study Project at the Law School.
Devin (Donaghy) Huseby has been selected for the honors attorney program at the Oregon Department of Justice. The two-year program taps recent law school graduates and judicial clerks with an interest in public service. By working in several areas within the Department of Justice, honors attorneys obtain a range of experience and often advance to leadership positions. Huseby clerked with Judge Ancer L. Haggerty in the U.S. District court for the District of Oregon after being admitted to the Oregon State Bar in 2008.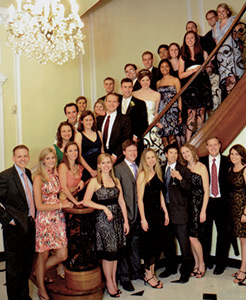 On June 20, Kelly Lynch married Trevor McFadden '06 at The Falls Church in Falls Church, Va. In attendance were (from top to bottom) Maggie McPherson '10, Collin Dretsch '07, Rachel and Greg Walker '06, Bethany '08 and Alan Wong '08, Prisca '08 and Colin LeCroy '09, Reed Smith '08, Amy and Jeremy Graves '07, Jon Mureen '07, Walt Walker '08, Josh '07 and Lindsay Simmons '07, Andrea Surratt '08, Millie (Grinstead) Goldsmith '08, Laura Holland '08, James Baehr '08, Dawn Crowell '08, Kyle Amborn '08, Alexa Hahn '08, Jessica and Stephen Ng '06; and Laura and Tim Mattson '05.
2009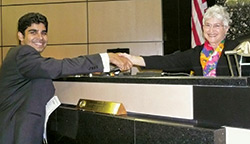 Anthony Arash Arsali was sworn in as a member of the Florida bar by Circuit Judge Lucy Chernow Brown. The ceremony had special meaning for Judge Brown and Arsali, who have known each other since Arsali volunteered as a trial attorney in a juvenile diversion program for middle schoolers run by the Palm Beach County School District's police department. As a youth court attorney, Arsali tried a number of cases before Judge Brown as both defense counsel and as prosecuting attorney, and in doing so found his career path. Arsali is an associate with Boies, Schiller and Flexner in Fort Lauderdale.
Filipe de Aguiar Vasconcelos Carneiro LL.M. recently joined Machado, Meyer, Sendacz e Opice Advogados in Sao Paulo, Brazil. He is involved in infrastructure projects aimed to fulfill the projected demand of hosting the Soccer World Cup in 2014, the Olympic Games in 2016, and the demands brought on by the discovery of Brazil's offshore oil and gas reserves. MMSO is one of the largest Brazilian law firms, with six offices in Brazil and one in New York City. The firm is highly regarded for its corporate, administrative law, and infrastructure practices.

James R. Cass has joined Robinson, Bradshaw & Hinson as an associate in Charlotte, N.C.

Lewis C. Foster III has joined Robinson, Bradshaw & Hinson as an associate in Charlotte, N.C.
Christopher Frankenfield received the 2009 Sidney M. Perlstadt Memorial Award for his paper entitled "The Relationship Between ERISA, State and Local Health Care Experimentation, and the Need for National Health Care Reform." The award, presented in Washington, D.C., in November, was granted by the American College of Employee Benefits Counsel in its fifth annual employee benefits writing competition.

Adelaida M. Hernandez has joined Jones Walker in the Baton Rouge, La., office, where she is an associate in the corporate and securities practice group.

Kelly A. Koeninger has joined Robinson, Bradshaw & Hinson as an associate in Charlotte, N.C.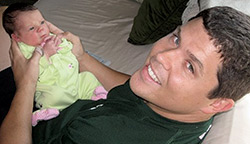 Bryan Starrett and his wife, Lauren, are happy to announce the birth of their daughter, Caroline Trathen, 7 lbs. and 20.5 inches, on October 5.

Joseph Warden has joined Fish & Richardson as an associate in the intellectual property group in the firm's Wilmington, Del., office, where he will focus his practice on intellectual property litigation and chancery and corporate governance.