The Class of 2014 is a diverse and accomplished group of students coming from across the country and around the globe. The 357 students come from 41 states, the District of Columbia and four foreign countries, and attended 172 undergraduate institutions.
MEDIAN LSAT: 170
25%-75% LSAT: 165-171
MEDIAN GPA: 3.86
25%-75% GPA: 3.49-3.94
AVERAGE AGE: 24 (range is 18 to 46)
357 students enrolled from among 7,410 applicants
55% men, 45% women
25% identify themselves as minority students
70% have work experience after college
2 years on average of post-college experience
14% have graduate degrees
Geographic Representation
Students come from 41 states, the District of Columbia, and four foreign countries. In addition to Virginia, the following states are represented by five or more students:
| | | | |
| --- | --- | --- | --- |
| New York | 31 | Ohio | 9 |
| California | 30 | New Jersey | 6 |
| Texas | 19 | North Carolina | 6 |
| Maryland | 16 | Colorado | 5 |
| Georgia | 14 | Connecticut | 5 |
| Florida | 13 | Illinois | 5 |
| Pennsylvania | 13 | Missouri | 5 |
| Massachusetts | 12 | South Carolina | 5 |
Foreign Students
International students come from China, New Zealand, South Korea and the United Kingdom.
Academic Backgrounds
Class members have undergraduate and graduate degrees in accounting, American civilization, anthropology, art history, biology, biomedical engineering, business administration, chemistry, chemical engineering, civil engineering, classics, communication and media studies, computer programming, computer science, criminal justice, criminology, economics, education administration, electrical engineering, elementary education, English, environmental sciences, film production, finance, fine arts, French, German, government, health systems management, history, industrial relations, information systems management, international relations, journalism, linguistics, literature, marketing, mathematics, mechanical engineering, music, nuclear engineering, philosophy, physics, policy studies, political science, pre-law, psychology, public affairs/public policy, real estate finance, religion/ religious studies, restorative justice, sociology, Spanish and theology.
Members of the  Class of 2014 come from 172 undergraduate schools.
Schools with five or more alumni include:
| | | | |
| --- | --- | --- | --- |
| University of Virginia | 35 | Georgetown University | 5 |
| Brigham Young University | 12 | University of California-Berkeley | 5 |
| College of William and Mary | 12 | University of Florida | 5 |
| University of Georgia | 8 | University of Maryland | 5 |
| George Washington University | 7 | University of Miami | 5 |
| Princeton University | 7 | University of Michigan | 5 |
| University of North Carolina | 7 | Virginia Tech | 5 |
| Duke University | 5 |   |   |
Life Before Law School
TESTING THE LEGAL WATERS
Many members of the class worked in the legal profession as paralegals, litigation assistants, secretaries, interns and clerks for private law and lobbying firms, general counsels' offices, legal aid offices, the American Bar Association, the American Civil Liberties Union, and prosecutors' and public defenders' offices.
FEDERAL PUBLIC SERVICE
Class members worked as speechwriters, aides, advisers, analysts and interns in offices and committees across Capitol Hill and in state legislatures; in federal and state judges' chambers; in embassies and parliaments; and in federal, state and local executive offices. They worked for the U.S. departments of Justice, Energy, Commerce, Agriculture, Treasury, State and Homeland Security, as well as the Food and Drug Administration, Environmental Protection Agency, Securities and Exchange Commission, Equal Employment Opportunity Commission, National Oceanic and Atmospheric Administration, Transportation Security Administration, Patent and Trademark Office, International Trade Administration, National Institutes of Health, Nuclear Security Administration, the White House, the U.S. Supreme Court and the World Bank. Some have served in the military, including students who had tours in Iraq and Afghanistan. Several others have served in AmeriCorps, the Peace Corps and Teach For America.
LOCAL PUBLIC SERVICE
A number of the Class of 2014 served at the state and local level, including with the Bronx Borough President's Office, the Massachusetts Attorney General's Office, the California State Controller, the New York Public Library, Onandaga (N.Y.) County Lead Poisoning Control, the New York City mayor's office, the San Diego County Assessor's Office and the North Carolina Administrative Office of the Courts.
PRIVATE INDUSTRY
Many members of the class have been analysts, consultants or researchers with privatesector firms, think tanks, institutes and foundations. They have held jobs with companies such as Clear Channel Communications, Capital One, Merrill Lynch, Lockheed Martin, Paramount Pictures, Citigroup, Fox Sports, Deutsche Bank, Warner Bros., USA Today and Bank of America. One worked as a nuclear submarine radiation safety officer, while others had jobs as an information technology manager for the Scottish National Parliament, a model, a park ranger, an independent film producer, a casino pit boss, a mental health specialist, a philharmonic orchestra cellist, an energy trader and a self-employed farm equipment dealer.
INTERNATIONAL EXPERIENCE
Some of the Class of 2014 have taught in countries such as Belize, the Czech Republic, Germany, Ghana, Guatemala, India, Jamaica, Morocco, Russia and South Africa. They have undertaken mission and service trips to a range of countries, including Estonia, Peru, Tanzania, Uganda, Nicaragua, Spain, Mexico, New Zealand, Japan, Ghana, the Dominican Republic and the Ukraine. Class members have worked in China, Bangladesh, Kenya, Costa Rica, Luxembourg, Taiwan, Latvia, Mongolia, Haiti, Sweden, the United Kingdom, Iraq, Madagascar and South Korea, and have studied abroad in many more. One member of the class has served with the Israeli army and another served as an intelligence analyst for the South Korean army. A number of members of the Class of 2014 are proficient in foreign languages.
In Their Spare Time
VOLUNTEERS
Outside of their academic and professional work, members of the class have volunteered with organizations including churches, youth sports leagues, recycling clubs, orphanages, hospitals, soup kitchens, libraries, Habitat for Humanity, Relay for Life, Mothers Against Drunk Driving, domestic violence shelters, legal aid centers, the I Have A Dream Foundation, zoos and aquariums, animal shelters, veterans assistance groups, the Special Olympics, Boys & Girls Clubs of America, Meals on Wheels, the YMCA, Amnesty International, the Appalachian Service Project, a hospice, Autism Institutes, NARAL Pro- Choice America, Just Neighbors, the International Rescue Committee, America Reads and for voter registration drives.
FOR FUN
In their free time, members of the Class of 2014 have a wide range of hobbies and interests. Among them are a Civil War re-enactor, a former artistic advisor for a film director at the Cannes Film Festival and the director of an improv comedy troupe. There are a number of accomplished athletes, including the nation's former No. 12 ranked tennis player in the under-18 category, Florida's former No. 1 junior golfer, a champion badminton player and a rock climber who has scaled five of Colorado's mountains with peaks of 14,000 feet or higher. One member of the class has learned to solve the Rubik's Cube in less than 40 seconds. There is at least one ultramarathon runner, in addition to others who have competed in marathons. One member of the class was a past participant on CBS' "The Amazing Race," another is a certified pilot, and yet another is a film critic and screenwriter. A few played professionally in indie rock bands. One is a ballroom dance competitor, and yet another is certified by the Memphis Barbecue Network as a barbecue judge.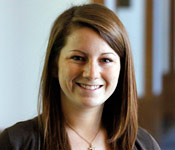 "WHEN I VISITED UVA, the experience was very personable. I could tell that the Law School creates well-rounded lawyers who are not only able to express ideas about the law, but who are also able to build relationships and interact effectively in the legal work force. I found students who are encouraged to be well-balanced in their profession — developing the whole person, not just somebody who knows the law."
—GRACE BIELAWSKI, an Oklahoma native, was student government president at the University of Texas, Dallas, and a nationally ranked moot court contender.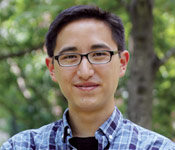 "I SOUGHT A SCHOOL THAT HAD RICH HISTORY, outstanding academics and leading programs in animal and environmental law, and UVA excelled in all areas."
—ANDREW LEE lived out of a car for much of his childhood and received little formal education, but recently graduated with honors from the University of California, Los Angeles.