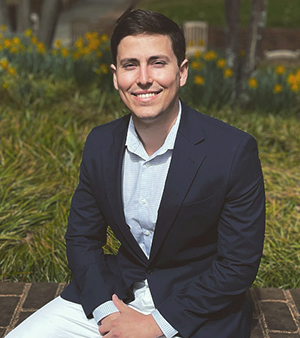 My name is Niko Orfanedes, and I am the president of the Student Bar Association at the University of Virginia School of Law. On behalf of our student government, it is my pleasure to welcome you to the Virginia Law community! Your decision to join the Class of 2025 will be one that you cherish for the rest of your life, and I speak for the entire student body when I say that we are thrilled to have you here.
Undoubtedly, you are beginning your law school careers on the heels of a uniquely challenging period. You should be proud to know, however, that this community has only grown stronger with each obstacle overcome. In addition to maintaining our sense of collegiality during a pandemic full of adversity and division, our students found countless ways to uplift those around them. Whether by pioneering programs to support local businesses, raising money for Law School support staff, or orchestrating food and clothing drives for our community members most in need, Virginia Law students used their platforms to make the world a better place — all the while maintaining outstanding records of academic achievement and participating in extracurricular and social endeavors.
Over the course of the next three years, you will learn from some of the most respected and renowned professors in the country. You will intern for a government agency, summer at a world-class law firm in a major city or clerk for a federal judge. Most important, however, will be the relationships you develop with one another. From the moment you arrive on North Grounds, look for opportunities to get involved and connect with your classmates. Join one of our incredible student organizations or affinity groups. Attend an SBA Social in Spies Garden. And, of course, be prepared to showcase your skills as a member of your 1L section softball team.
This is a really special place. Ask any second- or third-year student and they will tell you as much. When you graduate from Virginia Law, your dream job in your dream city will await. Yet, if you are anything like me and all of those before me, you will be sad to leave. It is an honor to welcome you to the Virginia Law community, and the sky is the limit as to what you will accomplish in the days ahead.
Sincerely,
Niko Orfanedes '22
Student Bar Association President
njo8fm@virginia.edu