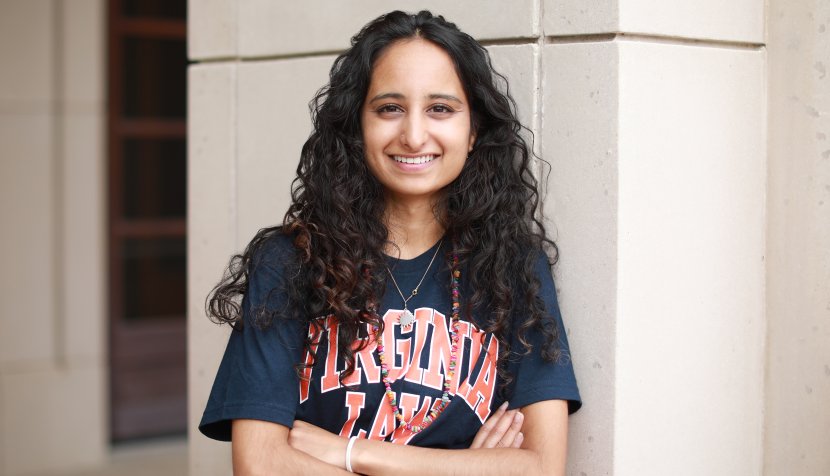 My name is Juhi Desai, and I am the president of the Student Bar Association at the University of Virginia School of Law. Congratulations on your admission to the University of Virginia School of Law. We are so thrilled that you are considering joining us in Charlottesville for your legal education. 
Choosing where to go to law school can be a challenging decision. I remember trying to find the perfect balance of factors like location, cost of living, professional opportunities and general vibe of the school. While I'll never know whether I did indeed strike that "perfect balance," I do know nearly three years after my decision to come to Charlottesville, I can't picture being anywhere besides UVA.
Virginia Law is a dynamic and diverse community to invest yourself in. Our student body has a range of perspectives that are informed by each person's unique individual story — come to Charlottesville with an open mind and an open heart! If you are willing, you will learn so much from your peers and many of those lessons will impact both your life and legal practice. 
You've probably heard by now that law school is rigorous. You will be asked to juggle a heavy academic load, professional development and social networking. You will be thrust into unparalleled leadership positions and entrusted with cases that shape a client's entire life! These experiences will stretch you. It helps in these hard moments to have a warm community to fall back on. Over these last few years, I have found safety in my classmates as well as in the faculty, staff and administration, at some of the most challenging times. If you are looking for a law school community that will encourage you to take risks, support your growth, and pick you up when you fall, this is the place for you. 
Your studies here will enable you to make change in the world. The law school boasts courses on everything from race and the law to the philosophy of law. These interdisciplinary studies will deepen your understanding of things like business and markets, government, society, and the definition of justice. Whether you work as a corporate transactional lawyer or a public defender, your legal practice is likely to help shape society. At UVA, you will be equipped with the tools to act out that responsibility.
Now, in between the serious business of learning the law, you will find that you need time to rest and unwind. Please believe me when I say Virginia Law is, without a doubt, the most fun place to go to law school. Between the Libel Show, softball games, PILA Auction and SBA Spies Garden socials, there is no shortage of social events designed to keep some levity in your life. Whether you are looking forward to silently trekking through Shenandoah or getting groovy with your section mates, there are folks here that will be willing to join you. It's in these light moments that you will find some of your best friends, many of whom will be a part of your life for years to come.
All of this to say — no matter your interests, passions, identities and commitments, there is a place here for you to thrive here. Come to Charlottesville ready to grow and learn, with conviction in your beliefs, and confidence in your abilities. You will do great things! 
Congratulations again and we hope to see you in the Class of 2026. If you have any questions about what it's like to be a law student here, please don't hesitate to reach out to the admissions office, faculty or current students. Best of luck as you make this big decision, and we are so looking forward to the possibility of seeing you on Grounds next August! 
Sincerely,
Juhi Desai '23
Student Bar Association President
jd5ua@virginia.edu