Most law students are hard-pressed to name just one thing they love about going to school in Charlottesville. This world-class city has a downtown pedestrian mall, an abundance of parks and natural beauty, and restaurants to suit every taste. Steeped in history and tradition, Charlottesville was home to two U.S. presidents (Thomas Jefferson and James Monroe), but it's a city that lives very much in the now. "C'ville," as it's often called by locals, draws nationally known bands and touring acts, and is still home to more than a few famous names in the world of art, music and literature.
10 More Great Things Every Law Student Should Know About C'ville
1. The Downtown Mall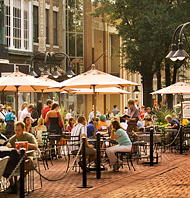 "I love going to the Downtown Mall. From eating, to watching concerts, to listening to civil rights leaders, to having photo shoots with my friends, some of my most fun memories from my time in law school were made on the downtown mall." 
Keyawna Griffith '18
---

"In just a few charming blocks, Charlottesville's family-, foodie- and doggie-friendly Downtown Mall has everything a law student could desire: bookstores and breweries, cafes and concert venues, and restaurants for date night and late night. Visit on a weekend, and you're bound to see at least one of your professors in this political, historical and cultural heart of Charlottesville."
Liam O'Connor '19
---

"The Downtown Mall is the cultural hub of Charlottesville and really showcases all the city has to offer in terms of food, art and music. I was pretty surprised to learn that so many of the bands and artists I love come through Charlottesville on tour, and I've been lucky to catch some incredible shows at the Jefferson Theatre and the Sprint Pavilion, which are both on the mall. Another one of my personal favorite things to do is go on Saturday mornings to the farmer's market downtown and pick up groceries from local farms and vendors."
Gabbi Feldman '19
2. The Dining Scene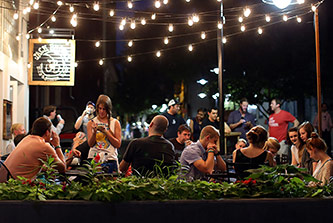 "Charlottesville has an amazing food scene. Everyone talks about places on The Corner or the Downtown Mall, and rightfully so! I have a few gems in other parts of town that I love to go to as well. Ace Biscuit & Barbecue and MarieBette are both in the Rose Hill area and excellent for breakfast. Any restaurant in the Belmont neighborhood, such as The Local or Lampo, is great for dinner with friends or when family comes to town."
Jasmine Lee '20
---

"The Charlottesville dining scene is incredible and likely unmatched relative to any town of this size. With restaurants at every price point, you really can't go wrong with simple exploring and trying new things out. Relative newcomer Lampo has quickly become a go-to favorite for my girlfriend and me, and we recommend it to everyone who hasn't been. For a quick breakfast, grabbing a fresh breakfast pie from The Pie Chest on the Downtown Mall really can't be beat!"
Herminio Rivera-Sink '19
---
"Charlottesville has restaurants featuring cuisines from many different cultures, from burgers to biryani. Some of my favorites are Milan for Indian food, Poke Sushi Bowl on Barracks Road, Monsoon Siam for Thai noodles, The Bebedero for fantastic margaritas and Peter Chang's for authentic Chinese food."  
Trina Rizzo '19
---
"Charlottesville is undoubtedly a 'foodie' town. The best part is, law firms and other organizations oftentimes provide a way for you to experience these restaurants for free. I frequent Belmont, which is just past the Downtown Mall and home to The Local, Mas Tapas and Tavola. The Downtown Mall is home to the Draft Tap Room and C&O."
Drew Cypher '20 
3. The Corner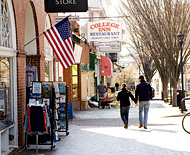 "The Corner is a great place. Law students consistently make The Biltmore their bar. With so many bars and food places in proximity to each other, you can easily have a fun time and then grab a piece of pizza from Christian's, which is always a great decision."
Peter Dragna '20
---

"One of the best things about Charlottesville is that as a city, it manages to have all the college town charm you could ever want with the amenities of a larger city. That college town charm is never more present than on The Corner. It is full of bars, restaurants and boutiques that are uniquely UVA. I know my friends and I love going to the corner to grab a beer or catch a football game on the big screen at Boylan or The Virginian." 
Gabbi Feldman '19
---

"The Corner offers students a variety of restaurants, shops and bars for every occasion, from Bar Review on Thursday nights to brunch on Sunday mornings. The dining options are diverse and unique. If you are craving an inexpensive, delicious meal from a Charlottesville institution, look no further than Bodo's Bagels. You might also consider swinging by Basil for Mediterranean food or Lemongrass for Thai cuisine, or even grabbing a sandwich from Take It Away to enjoy on The Lawn with the picturesque Rotunda as your backdrop." 
Jessica Rennert '20
4. Hiking, Jogging and Recreation 

"My family and I love the outdoors, and we've spent hours hiking the trail networks around the Saunders-Monticello Trail and in Ragged Mountain Natural Area. The areas surrounding Charlottesville are beautiful, and it's restorative to spend time in nature."
Katie Montoya '18
---

"The areas surrounding Charlottesville are gorgeous. Whether it be a trip to Shenandoah National Park, the Blue Ridge Parkway or just the local Rivanna Trail, there is no shortage of outdoor activities. UVA Law even has an Outdoors at Virginia Law organization, for which I [served as] co-president — so I am clearly unbiased when I say that it is one of the most enjoyable student groups!"
Shruthi Prabhu '19
---

"For anyone that enjoys working out, North Grounds has pretty much everything you could possibly want to satisfy your fitness needs! We have our own University gym just steps from the Law School, which is free for all students and has tons of machines, basketball courts, squash courts and even an indoor swimming pool. If you prefer niche studios like me, there are several within an easy walking distance of the school, including indoor cycling at Zoom Cycle, hot yoga and barre at Fly Dog Yoga, and interval training at Orangetheory Charlottesville. I love having these studios so close to the school, because it makes it easy to fit my workouts in when I'm otherwise busy with studying."
Natalie Affinito '18
---
"Charlottesville and the area surrounding it is beautiful, so I love any opportunity to spend time outside, whether it be having a picnic at Carter Mountain's sunset series with live music playing, or going for a hike, or making a visit to one of the vineyards close to the school."
Jennifer Davidson '18
---

"Charlottesville is just an active place. Everywhere you look there are people jogging, hiking or just generally enjoying the outdoors. Shenandoah National Park is a great place to go on a quick hike without having to go too far. The proximity of North Grounds Recreation Center means that you can get a quick workout in between classes or studying. Of course, the endless opportunity to play softball is an awesome way to get a mental break and bond with classmates."
Herminio Rivera-Sink '19
5. Historical Attractions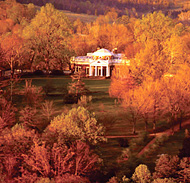 "I love history, and there is no shortage of attractions to explore in Central Virginia. The UVA Grounds are worth a tour on their own, as UVA is the only U.S. university designated a UNESCO World Heritage site. Within a couple of hours, you can find Civil War battlefields and presidential homes. Mr. Jefferson's Monticello is a must-see, as is Montpelier, the home of James Madison."
Alexander Hoffarth '18
---

"One of the coolest things about going to UVA is that you are surrounded by history at all times. The Grounds were designed by Thomas Jefferson to foster a sense of community and academic curiosity, and you can feel that just by walking around. My favorite historical space is the Lawn and the surrounding Academical Village. There is something impactful about knowing you've shared a space with people like Woodrow Wilson and Edgar Allan Poe."
Gabbi Feldman '19
---

"The homes of two of our Founding Fathers — Thomas Jefferson's Monticello and James Madison's Montpelier — are located within a short drive of Charlottesville. Students are strongly encouraged to visit during this pivotal moment when the University of Virginia and Charlottesville communities are having long-overdue conversations about these men's flaws and their legacies. Those especially interested should take Professor [A. E. Dick] Howard's January course on Virginia and the Constitution."
Liam O'Connor '19
6. Entertainment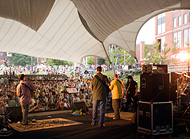 "I love the plethora of music venues in town, from giant arenas to smaller club venues. I've probably seen a dozen shows and there are a ton more I wish I had made time for."
Joe Charlet '18
---

"I am a big fan of UVA sports and try to take it to as many games as I can. Luckily, games are free with your student ID. The sports complex is in the Law School area, so it's possible to watch part of a field hockey or baseball game as a study break on the weekends. I also found a friend group to go to UVA basketball games and watch together when the team was away. You quickly learn that UVA sports, but especially basketball, are big deals in Charlottesville."
Jasmine Lee '20
---

"There are a wide variety of options for entertainment in Charlottesville. Fridays after Five is a great way to catch some music outside on the Downtown Mall while celebrating the coming of the weekend. First Fridays is a great way to check out the various art galleries while enjoying some wine with friends. The annual Virginia Film Festival consistently brings intriguing and compelling films with many options to hear director and actor panels as part of the experience."
Herminio Rivera-Sink '19
---

"Charlottesville has a really vibrant music scene. JPJ (the John Paul Jones Arena, our basketball arena) is one of the largest venues in the state of Virginia, so we often host a lot of big national tours. And smaller venues, like the Jefferson and the Sprint Pavilion downtown are popular for many artists as well. I've seen everyone from Twenty One Pilots to Young the Giant to Bruce Springsteen to Lady Gaga at venues in Charlottesville."
Natalie Affinito '18
---
"Finding entertainment options isn't the difficult part of living in C-ville, it's discerning which to attend and which to skip. Many of my classmates faced this dilemma [in 2017] when Foxfield (horse racing) and the Unity Concert (Dave Matthews, Stevie Wonder, Justin Timberlake, Chris Stapleton, etc.) fell on the same day. We had the No. 1 basketball team last year and the tickets were free. Orchard Mountain has a sunset series where you can watch the sunset overlooking Charlottesville while listening to live music and drinking Bold Rock Cider. I could go on, but you get the point." 
Drew Cypher '20
7. Proximity to Washington, D.C.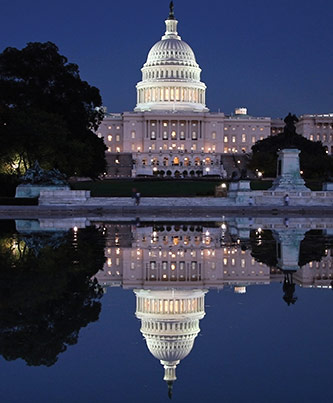 "I have made the trip to Washington, D.C., a number of times during my years in Charlottesville for interviews, class trips and just to get away for a weekend. One of the great aspects of attending UVA is how close it is to the nation's capital. The drive up Route 29 is scenic, and there is also an Amtrak that will drop you off right at Union Station in just about two-and-a-half hours." 
Alexander Hoffarth '18
---
"Washington, D.C., is a quick two-hour drive or two-and-half hour train ride from Charlottesville. Though most students, myself included, never want to leave C'ville, it's convenient to have a major city and all its resources so close by. It takes a lot of stress out of traveling for job interviews, but also provides lots of opportunities for fun and leisure over the weekends."
Trina Rizzo '19
---
"To be honest, I rarely made it up to D.C. during the year because there's plenty to do down here in C-ville (most D.C. people come here, not the other way around). But there are a couple of things of note: D.C. is a 'lawyers town' and, thus, the city provides a network to which we have ready access as law students. Practitioners come to speak on panels on a daily basis. And during OGI season, you'll find that UVA is the place to be if you want to end up in the capital."
Drew Cypher '20 
8. Diversity and a Sense of Community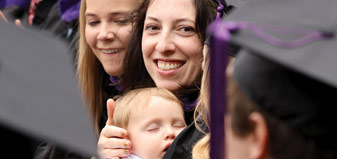 "In my experience the UVA community has lived up to its reputation for being supportive, inclusive and collegial. I was especially heartened the way the community responded after the events of Aug. 11 and 12, 2017. In the face of hatred and violence, the students, faculty and administration did everything possible to protect the ideals of diversity and equality."
Gabbi Feldman '19
---

"If you ask any UVA Law student why they decided to attend this law school, chances are that they will talk about our amazing community. One of my favorite things about this school is that our students come from a variety of different backgrounds and experiences, but we all share the same commitment to collegiality. UVA Law students do not treat each other as adversaries or competitors, but rather as allies and teammates, working together to navigate the pressures and excitement of law school."
Jessica Rennert '20
9. Traditions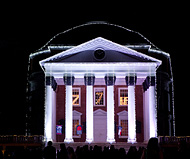 "Every December the whole University gets together for the Lighting of the Lawn. It's a great way to come together and hear music by the various a cappella groups (if you haven't noticed the Hullabahoos in 'Pitch Perfect' or 'The Office,' now is your chance!) and drink plenty of hot chocolate outside with friends before the real finals studying season begins. Then, after all of the groups perform, there is a light show to actually 'light the lawn.' Every year it's always different and always exciting. It's also one of the events that brings the whole university and the larger community together."
Jasmine Lee '20
---

"There are so many great UVA Law traditions to choose from, but I'll highlight one of my favorites: softball. Softball is as much a part of your experience at UVA Law as case briefs and cold calls, and it is a great way to bond with your section outside the classroom. In the spring, there is a softball tournament where law schools all around the country send teams. I had the chance to play in (and win!) the tournament one year, and it was a blast showing off what makes UVA so special to our peers." 
Alexander Hoffarth '18
---

"My favorite tradition at the Law School is the Libel Show. Having produced its 110th show in 2018, the Libel Show is one of the oldest traditions at UVA Law. Every year, a team of talented students write, produce and perform an incredibly witty and hilarious sketch comedy show of skits and parody songs that poke fun at law school culture and the legal profession (think of it as 'Saturday Night Live' for lawyers). The professors even get involved and perform their own rebuttal performance, making fun of the students!"
Natalie Affinito '18
---

"When you arrive on grounds, you are immediately aware of the impact softball has on the Law School. It may seem odd that softball is a tradition at the Law School, but once you experience a game, you'll understand why. Whether you have never thrown a softball before in your life or you are an ex-Division One baseball player, everyone has a great time, and it brings your section and the school together."
Peter Dragna '20
10. Vineyards and Breweries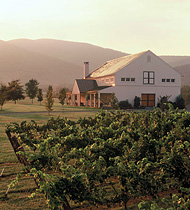 "Being a Double 'Hoo, I have had plenty of time to take advantage of the many wineries and breweries around town. A favorite memory of mine was going to King Family with a sectionmate to celebrate the end of our 1L finals. The area has so many wineries, it's hard to pick favorites, but Veritas, DelFosse, and Glass House are three I really enjoy. I would also recommend going to Bold Rock Cidery. The views of the mountains in the distance are gorgeous! There's really no better way to spend an afternoon than being outside with friends sharing some local wine and food."
Jasmine Lee '20
---

"All of the vineyards and breweries around Charlottesville make for a perfect spring or fall Saturday of exploring. For a special occasion or romantic dinner, the Farmhouse Dinners at Veritas offer an incredible multiple-course dining experience with wine pairing in a breathtaking setting. For a relaxing evening during the week, head out to King Family Vineyards on the first Wednesday of the month to drink some wine on their lawn while eating some food from the local food trucks that park out front."
Herminio Rivera-Sink '19
---

"The Monticello Wine Trail boasts around 35 vineyards, and is still growing! Every vineyard is different, and is a favorite pastime of many students in Charlottesville. The breweries also have great beers, ciders and food."
Shruthi Prabhu '19
---
"I never thought that I'd become a huge wine guy. But it happened. Charlottesville and the surrounding areas have more wineries than you'll ever be able to get to in your three years here, but the spectacular mountain views, unbelievable wine and sunsets provide a welcome retreat from the busyness of law school."
Drew Cypher '20


More Great Things Every Law Student Should Know About C'ville
Charlottesville Lady Arm Wrestlers (CLAW) is a group of local women who arm wrestle for charity. Their popular matches are hosted every few months at Champion Brewing Co.
The Lighting of the Lawn each December gathers all UVA students for a night of singing, music and good cheer when holiday lighting is turned on around the Rotunda and Lawn.
The Foxfield Races are held in the spring and fall. This popular tailgating event brings together locals and college students for a day of steeplechase-style horse racing.
The Kluge-Ruhe Aboriginal Art Collection of the University of Virginia is home to one of the world's finest collections of Australian Aboriginal art and is the only museum in the United States dedicated to the study and interpretation of it.
The nearby Wintergreen and Massanutten resorts offer skiing, snowboarding, snow tubing and more to students looking for a winter-sports fix.
UVA's Arts$ offers students free tickets to a range of University programs, including most drama, music and Virginia Film Festival events.
The Virginia Festival of the Book, held annually in March, is the largest book festival in the Mid-Atlantic Region and plays host to a wide variety of authors. The mostly free literary events are open to the public.
The Virginia Film Festival, with major support from the University of Virginia, attracts a wide slate of new films and talented filmmakers to Charlottesville each fall.