Most law students are hard-pressed to name just one thing they love about going to school in Charlottesville. This world-class city has a downtown pedestrian mall, an abundance of parks and natural beauty, and restaurants to suit every taste. Steeped in history and tradition, Charlottesville was home to two U.S. presidents (Thomas Jefferson and James Monroe), but it's a city that lives very much in the now. "C'ville," as it's often called by locals, draws the nationally known bands and touring acts, and is still home to more than a few famous names in the world of art, music and literature.
10 More Great Things Every Law Student Should Know About C'ville
1. The Downtown Mall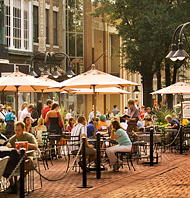 "The Downtown Mall is a gem of Charlottesville. Just a 15-minute walk from Central Grounds and The Corner, it is full of shops, restaurants, coffee houses, bookstores and more, all situated in a charming, historic setting. (Three U.S. presidents practiced law in the courthouse on the north side of the mall.) Visit the outdoor city market every Saturday in the fall and spring for local foods and gifts."
Mark Gruetzmacher '17
---

"For the most part, law students stick to the bars and restaurants on The Corner, but there is a lot more to Charlottesville. There are many good restaurants and bars on the Downtown Mall, and I have really enjoyed trying them out this past year."
Sedi Asem '16
---

"I love heading to the Downtown Mall during the semester for a perfect break that's nearby. From great local shops or the occasional festival, to some of the city's best restaurants, it offers a great variety of experiences all year round." 
Hillary Taylor '16
---

"The city is dedicated to the arts, and I enjoyed going to the Downtown Mall to hear live music or check out local boutiques and bookstores." 
Sarah Pelham '16
2. The Dining Scene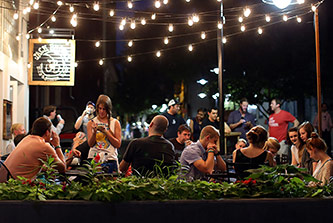 "One of my favorite things about Charlottesville is the excellent food scene. Despite coming from a big city, I never feel like I lack for interesting new food places to try and enjoy. We have restaurants at many different price points, and representing many diverse cultures." 
Kevin Benedicto '15 
---

"I'm an unabashed foodie, and I was nervous about what the restaurant scene would be here in Charlottesville. I have been blown away by the variety and the quality. Whether it's the enchiladas at Continental Divide, brunch at Bluegrass or Ace Barbecue, a fancy dinner at Fossett's (Keswick Hall at Monticello), or something in between, Charlottesville's dining scene is as surprising as it is fantastic." 
Pradip Chandrasoma '15
---

"Charlottesville is chock full of wonderful restaurants on both ends of the price spectrum. Enjoy high-end favorites like C&O, Mas, the Ivy Inn, or Duner's, or drop by timeless diners like The Virginian and Blue Moon. Grab a sandwich at Take-it-Away, Bodo's, Littlejohn's, Feast! or Bellair Market. Oh, and of course, be sure to get a late night Gus Burger at The White Spot."
Mark Gruetzmacher '17
---

"Two words: CITIZEN. BURGER. Just go; it's awesome."
Charis Redmond '17
 
 
---

"For a small Virginia town, Charlottesville has an AMAZING food scene. Breakfast, coffee, lunch, dinner, tapas, brunch, you name it, C'ville has it, and it's beyond delicious! I especially enjoy brunch at La Taza, dinner at Maya and Bellair Market sandwiches. (Yes, they're sold at an Exxon station, but trust me, they're amazing!)" 
McKinley Haskin '16
---

"Charlottesville's restaurant scene is incredible, and the city ranks 14th in most restaurants per capita in the U.S. In addition to popular favorites like Feast!, Duner's, Commonwealth, and Continental Divide, there are some true hidden gems. The Shebeen offers South African fancy pub fare. Riverside Lunch is a local, small and cheap burger joint with killer fried cheese balls. Last, my personal favorite is La Michoacana, an authentic take-out and award-winning taqueria."
Annalise Peters Lisson '14 
---

"One of the things I was surprised and pleased to find out about C'ville was its big food scene! Many of the local restaurants really encourage local food production, and provide modern menus with top-tier ingredients. A big favorite is also when C'ville hosts its Restaurant Week. It's a fun way to go out and try new places (and three-course meals!) without breaking the bank." 
Hillary Taylor '16
---

"One of my favorite things about C'ville is the dining scene. There are dozens of quality restaurants to choose from. Some personal favorites are Duner's, Mas, Belmont BBQ, Littlejohn's, Continental Divide and Lemongrass. I also love Charlottesville's restaurant week, in which many local restaurants set a three-course fixed menu. It's absolutely delicious." 
Eleanor Moran '17
---

"C'ville also has plenty of quirky little coffee shops where I would go to study or just settle in to read a good book. The food scene here is very much farm-to-table, and this charming mountain town offers an impressive restaurant selection with anything from BBQ to tapas." 
Sarah Pelham '16
3. The Corner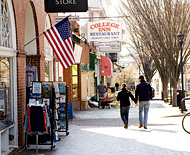 "The Corner is a staple of UVA life — a quintessential college-town strip of restaurants, bars and shops located directly adjacent to the Rotunda. Whether it's 'Bar Review' on a Thursday night, weekend brunch or a visit to The Virginian before walking the Lawn at graduation, The Corner is a classic collegial setting for law students to connect with each other and the larger University community." 
Mark Gruetzmacher '17
---

"The Corner is one of the focal points of the law school social scene. Trinity, The Biltmore and The Virginian are great for a lively night out. Poe's (now Eddy's Tavern), too, is a nice place to gather a few friends for dinner or drinks. For a more relaxing evening, try a beer at Michael's."
Ryan Caira '17
---

"I love heading to The Corner on weekends with friends. You'll always find fellow law students at The Biltmore, hanging out at the outdoor bar area (complete with two cornhole sets and twinkling lights). Or, head to some of the other great bars and restaurants to meet and mingle with students from other schools within UVA!" 
McKinley Haskin '16
---

"I think that the Law School single-handedly keeps The Biltmore in business. Also, you can play Mario Kart on Nintendo 64 upstairs. Personally, that's my favorite part of Bilt. The rest of the Corner gets pretty lively during the semester too, so it's a good place to go if you just want to be in the mix of things. Most importantly, when the night is over, there's Qdoba, Christian's and a couple other food places right there to make sure you don't go home hungry." 
Charis Redmond '17
4. Hiking, Jogging and Recreation 

"UVA has a great intramural program, and playing intramural sports is one of my favorite things to do during the school year. Even as a law student, you are competing against undergrads and students from UVA's other grad schools. And if you are getting a little up there in age like myself and many other grad students, you can walk around grounds in your championship T-shirt with pride knowing you beat some spry young chickens for the gold." 
Sedi Asem '16
---

"I love all the opportunities to get outside and enjoy the beautiful weather and nature in Charlottesville. Shenandoah National Park is a popular draw for outdoor enthusiasts, but there are also great local trails like Ivy Creek Natural Area, located less than a 10-minute drive from the Law School, where you can take a leisurely hike and learn about some of Charlottesville's history in the process."
Harrison Reback '15
---

"There's no better way to celebrate beautiful weather in Charlottesville than a hike in the mountains. Twenty-five minutes and you can be riding along Skyline Drive, and from there it's only a short drive to the trailheads. The views over the valley are literally spectacular; and the quiet beauty of the park offers the perfect counterpoint to the hum and bustle of the small-city life back in town." 
Ryan Caira '17
---

"There are a ton of opportunities to get involved with athletics in Charlottesville through the broader UVA community. The North Grounds gym down the street from the Law School was recently remodeled and now has a pool. UVA also has multiple sports, recreation and fitness facilities where undergraduate and grad students can get involved in all kinds of intramural sports (including softball, pickup basketball, flag football, etc.). Students can also head to nearby Washington Park for ultimate frisbee and pickup soccer games. All of these opportunities make the campus more accessible and help to bring folks together as a community."
Alexander Matthews '15
---

"[I like] being outside – whether that's hiking in the mountains, running the Rivanna Trail or sipping wine at nearby vineyards. One of my favorite things about Charlottesville is its proximity to Shenandoah National Park, and there's nothing quite like watching the sunrise over the Blue Ridge Mountains. ... A hobby I've had since high school is taking pictures since it encourages me to approach things I see with a new perspective, and there is no shortage of beautiful mountain views to explore or subjects to photograph here." 
Sarah Pelham '16
---
"There are so many incredible hikes in and around Charlottesville, so you definitely have to make sure to explore the surrounding area in your time here. Even if you're not outdoorsy, the short hike up humpback rock can really lend perspective, especially when you can leave behind any of the stresses of law school. (Plus you can hit a winery, or two, on the way back.) I also regularly play racquetball at the North Grounds gym, a great way to relieve some stress and unwind."
Tyler Badgley '16
---

"I always enjoyed being outside — whether it was running on the Rivanna Trail behind the Law School, hiking near Charlottesville, or sitting outside at a local brewery or winery."
William Jordan '16
5. Historical Attractions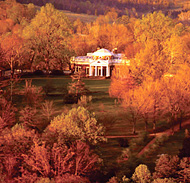 "One of the ways in which I found myself drawn to UVA was the ability to live in and near history. It's incredible to walk past Jeffersonian architecture on grounds, and to visit friends who live on the Lawn, surrounded by Jefferson's academical village." 
Hillary Taylor '16
---

"Although three presidents made their home in the area, Charlottesville's most famous historical site is undoubtedly Monticello. The grounds, along with academical village on main campus, have been designated a UNESCO World Heritage Site, and the site draws visitors from all over the world. A visit to the presidential home is inspiring, but one need not venture any farther than the University's campus to feel the presence of C'ville's history. And as a law student, there is no better avatar for hard work, justice and freedom of thought than the University's founder — Thomas Jefferson." 
Ryan Caira '17
6. Entertainment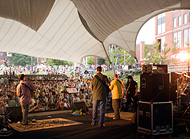 "When I saw Phoenix for free on the Downtown Mall (at the Charlottesville Pavilion) as a 1L, I had a good feeling about the music scene here. Since then, C'ville has impressed me time and again by attracting big-name acts. (Yes, besides Dave Matthews.) Icing on the cake? Some of my favorite indie groups — Frightened Rabbit and Lord Huron, to name a couple — come through town too. It's a great place to be a music lover." 
Pradip Chandrasoma '15
---

"The John Paul Jones Arena, as well as the Jefferson Theater, have excellent concert selections. They are both convenient venues — walking distance from most law school apartments — and they draw big names like Eric Church."
Hannah Dunham '17
---

"I personally love the art scene in Charlottesville. The Fralin Museum of Art has a fantastic permanent collection. Final Fridays, with wine and cheese, at the museum are always a treat. The Kluge-Ruhe also has a great collection of aboriginal art. The Downtown Mall hosts First Fridays year-round. Miller's on the Downtown Mall hosts a jazz night every Thursday. It was at Miller's (a long time ago) that my parents first heard Dave Matthews play. Dave, a native Virginian, used to man the bar on the weekends. Fellini's, a block off the Downtown Mall, also has live music (generally jazz) every Sunday." 
Eleanor Moran '17
---

"I've really appreciated the wide range of dramatic productions and music series provided at discount to students. The Virginia Film Festival always has an interesting array of screenings and special guests. Also, the UVA Arts Box Office always has a full calendar of events to choose from — I can always plan on finding some program to attend in any given semester!" 
Hillary Taylor '16
7. Proximity to Washington, D.C.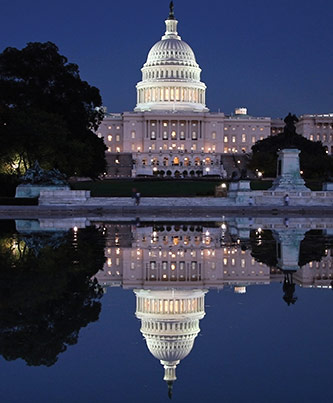 "Whether it's to hear oral arguments at the Supreme Court, catch a Nationals game, or just grab dinner at Rose's Luxury and do a midnight monument walk, being this close to D.C. is a huge boon. Plus, it makes interviewing at all those D.C. firms a snap." 
Pradip Chandrasoma '15
---

"You can hop in your car after a morning class and make it to D.C. by lunch. You can go to D.C. in the middle of the week for an interview, game or concert and make it back before class the next day. Not that anyone recommends doing that often, but it's still possible. If you don't drive, the train takes about the same amount of time." 
Charis Redmond '17
 
 
8. Diversity and a Sense of Community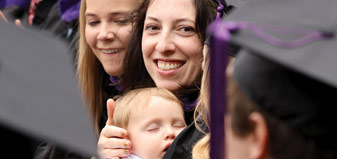 "The UVA Law community has been incredibly supportive. I had a family tragedy in the middle of my first semester, and everyone in the community was incredible. My section helped me stay on top of my work, my professors were understanding, and the rest of my friends in the school checked in often and helped keep my spirits up. I don't think I would have made it through my first semester at any other law school — I feel like I belong here and am so thankful for this community."
Hannah Dunham '17
---

"UVA Law has a reputation for being a warm, collegial environment, and it holds true. Whether it's the North Grounds Softball League, 'Bar Review,' or the dozens of student clubs that bring people together around common causes or interests, the Law School and its students place a great emphasis on creating a friendly, inclusive community. When juggling the pressures and responsibilities of law school, this has made all the difference." 
Mark Gruetzmacher '17
---

"A great part of UVA and C'ville is strength of the community, which I think is grounded in the welcoming of diverse voices and backgrounds. I have been impressed with the number of opportunities for students to get involved in certain outreaches, including the ability to hold leadership positions or to create a large movement." 
Hillary Taylor '16
9. Traditions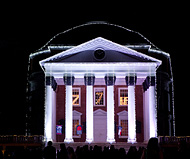 "From Dandelion (just wait) to softball to the Libel Show, Virginia Law is big on traditions, and they make this a fantastic place to go to school. Add to that some of our other traditions — academic excellence, amazing employment placement and collegiality — and there honestly is no better place in the world to be a law student, no matter how you slice it." 
Pradip Chandrasoma '15
---

"Softball is one of my favorite traditions at UVA Law. Playing with my section helped bring us together, and I met so many 2Ls and 3Ls by playing on different teams. There's nothing better than getting outside and playing a game with friends." 
Hannah Dunham '17
---

"The Peer Advisor Program is an incredible tradition at UVA Law. It was extremely helpful to have a group of 2Ls and 3Ls as 'law school Sherpas,' helping my section through our first year. Now, I get the chance to be a part of the program as a PA this year, and love every opportunity I get to support my section along during their first year!" 
Hillary Taylor '16
10. Vineyards and Breweries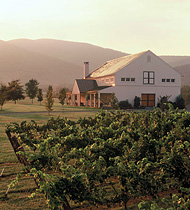 "Sunday afternoons in Charlottesville are best spent at the vineyards. My friends and I love to grab lunch at Bellair Market and head over to Grace Estate Winery or the Glass House Winery. You can do a tasting and then enjoy a picnic with a chilled bottle of wine." 
Lyndsay Elaine Medlin '15


 More Great Things Every Law Student Should Know About C'ville
Charlottesville Lady Arm Wrestlers (CLAW) is a group of local women who arm wrestle for charity. Their popular matches are hosted every few months at the Blue Moon Diner.
The Lighting of the Lawn each December gathers all UVA students for a night of singing, music and good cheer when holiday lighting is turned on around the Rotunda and Lawn.
The Foxfield Races are held in the spring and fall. This popular tailgating event brings together locals and college students for a day of steeplechase-style horse racing.
The Kluge-Ruhe Aboriginal Art Collection of the University of Virginia is home to one of the world's finest collections of Australian Aboriginal art and is the only museum in the United States dedicated to the study and interpretation of it.
The nearby Wintergreen and Massanutten resorts offer skiing, snowboarding, snow tubing and more to students looking for a winter-sports fix.
UVA's Arts$ offers students free tickets to a range of University programs, including most drama, music and Virginia Film Festival events.
The Virginia Festival of the Book, held annually in March, is the largest book festival in the Mid-Atlantic Region and plays host to a wide variety of authors. The mostly free literary events are open to the public.
The Virginia Film Festival, with major support from the University of Virginia, attracts a wide slate of new films and talented filmmakers to Charlottesville each fall.