Supreme Court Litigation Clinic
This yearlong clinic introduces third-year students to all aspects of current U.S. Supreme Court practice through live cases.
This yearlong clinic will introduce third-year students to all aspects of current U.S. Supreme Court practice through live cases.  Students earn eight credits (four credits graded on a CR/NC basis awarded in the fall for work done in the fall and possibly the summer and four credits graded on a graded basis for work done in the spring).  The graded credits, although awarded for work in the spring, will reflect each student's performance over the whole year.  Working in teams, students will handle actual cases from the seeking of Supreme Court review to briefing on the merits.  Classes will meet every week to discuss research memos, drafts of briefs, and other papers students have prepared for submission to the Court.  Students will be expected to help identify candidates for Supreme Court review; draft petitions for certiorari, briefs in opposition, amicus briefs, and party merits briefs; and attend mootings and Supreme Court arguments. 
Students interested in the clinic should consider attending the public information session on Monday, March 21, at 4 p.m. in SL 258. 
Those who wish to enroll must complete an application form, attach the requested documents, and submit them via e-mail to sclcapp@law.virginia.edu no later than Monday, April 4, 2022 at noon.  Applications received much after this time will be placed on a wait list; these students will be eligible for consideration only if openings arise.  Once those admitted accept their invitation to enroll, NO drops will be permitted.  Admitted students may be required to complete a little work over the summer before the clinic begins.
PREREQUISITE: Third-year status, Constitutional Law
Skills Taught
Research, brief-writing, appellate litigation, mooting argument
Course Length
Grading
CR/NC (fall); letter grade (spring)
Course Credits
Application?
Instructors
In the News
Jones v. Hendrix
Cert Granted May 16, 2022
Related News
10.26.22 Clinic To Argue Habeas Case at Supreme Court on Tuesday
5.17.22 Supreme Court Takes Clinic Case on Challenges to Convictions
Georgia v. Public.Resource.Org, Inc.
Cert Granted June 24, 2019
Related News
11.26.19 Clinic Returns to Supreme Court To Argue Copyright Case
6.24.19 Supreme Court Takes Clinic Case Testing 19th-Century Copyright Doctrine
 
Quarles v. United States
Cert Granted Jan. 11, 2019
Related News
4.23.19 Clinic Returns to Supreme Court for Sentencing Enhancement Case
1.11.19 Supreme Court To Hear Clinic Case on Sentencing Enhancement
 
Culbertson v. Berryhill
Cert Granted May 21, 2018
Related News
1.9.19 Clinic Wins Attorneys' Fees Case at U.S. Supreme Court
10.29.18 Clinic to Argue Attorneys' Fees Case Before the Supreme Court Next Week
5.21.18 Clinic Brings Attorney's Fees Case to Supreme Court
 
City of Hays v. Vogt 
Cert Granted Sept. 28, 2017
Related News
2.22.18 Supreme Court Clinic's Efforts Culminate as Heytens Argues City of Hays
2.14.18 Clinic Returns to Supreme Court on Tuesday With Case Testing Fifth Amendment's Limits
9.28.17 Clinic Headed to Supreme Court Again With City of Hays v. Vogt
 
Epic Systems Corp. v. Lewis
Cert Granted Jan. 13, 2017
Related News
5.21.18 Clinic Loses Epic Supreme Court Case in Squeaker Decision
9.26.17 Law Clinic Director Preparing for 'Epic' Labor Law Showdown
1.14.17 Clinic Brings Epic Case to Supreme Court
 
Henderson v. United States
Cert Granted Oct. 20, 2014
Petitioner's Opening Merits Brief | Cert Petition | Brief in Opposition | Petitioner's Cert-Stage Reply | Brief for the U.S. | Supreme Court Opinion
Related News
5.18.15 UVA Law Supreme Court Litigation Clinic Gains Unanimous Win With Henderson
2.25.15 Inside the Oral Arguments for Henderson: A Supreme Court Litigation Clinic Student Reports
2.20.15 Supreme Court Will Hear UVA Law Clinic Case Involving Felons and Firearms Tuesday
10.21.14 Supreme Court Will Hear UVA Law Clinic Case Involving Gun, Property Rights
Anthony D. Elonis v. United States
Cert Granted June 16, 2014
Petitioner's Opening Merits Brief | Cert Petition | Brief in Opposition | Petitioner's Cert-Stage Reply | Brief for the U.S. | Merits Reply Brief
Related News
6.1.15 UVA Law Supreme Court Litigation Clinic Wins Facebook Threat Case
12.4.14 UVA Law Clinic Argues Elonis v. United States
11.19.14 UVA Law Clinic Brings 'True Threats' Facebook Case to Supreme Court
6.16.14 UVA Law Clinic Headed to Supreme Court Again with Elonis Facebook Threat Case
 
Rosemond v. United States (2013)
Brief for the U.S. | Reply Brief for Petitioner | Petitioner's Opening Merits Brief | Cert Petition | Brief in Opposition | Petitioner's Cert-Stage Reply | Supreme Court Opinion
Related News
3.7.14 Supreme Court Litigation Clinic Wins SCOTUS Firearms Conviction Case
5.29.13 Supreme Court to Hear Federal Gun Law Case from UVA Law School Clinic
 
Vance v. Ball State University (2012)
Brief for Respondent | Reply Brief for Petitioner | Petitioner's Opening Merits Brief | Cert Petition | Brief in Opposition | Petitioner's Cert-Stage Reply | Supreme Court Opinion
Related News
6.24.13 Ortiz Reacts to Supreme Court's Decision in Employment Discrimination Case
11.27.12 For Workplace Harassment Lawsuits, Court Asks Who Qualifies as a Supervisor in Case Argued by UVA Law Professor
11.26.12 UVA Law Professor Argues Workplace Harassment Case Before Supreme Court
7.9.12 Supreme Court to Hear Workplace Harassment Case from University of Virginia Law School Clinic
 
Borough of Duryea v. Guarnieri (2011)
Brief for Respondent | Reply Brief for Petitioner | Petitioner's Opening Merits Brief | Cert Petition | Cert Reply | Brief in Opposition | Supreme Court Opinion
Related News
6.20.11 Supreme Court Rules for Clinic in Borough of Duryea v. Guarnieri
3.23.11 Inside the Supreme Court: Instructors Argue Two Cases on Same Day
1.3.11 Supreme Court to Hear Two Clinic Cases on Same Day
10.18.10 Supreme Court Agrees to Hear Clinic Case
 
Nevada Commission on Ethics v. Carrigan (2011)
Brief for Respondent | Reply Brief for Petitioner | Petitioner's Opening Merits Brief | Cert Petition | Brief in Opposition | Petitioner's Cert-Stage Reply | Supreme Court Opinion
Related News
6.13.11 Supreme Court Rules for Clinic's Client in First Amendment Case
1.31.11 Supreme Court to Hear Fourth Clinic Case of Term
 
Fox v. Vice (2011)
Petitioner's Opening Merits Brief | Supreme Court Opinion
Related News
6.6.11 Supreme Court Rules in Clinic Case
3.23.11 Inside the Supreme Court: Instructors Argue Two Cases on Same Day
1.3.11 Supreme Court to Hear Two Clinic Cases on Same Day
 
Kevin Abbott v. United States (2010)
Petitioner's Opening Merits Brief | Petitioner's Cert-Stage Reply | Supreme Court Opinion
Related News
3.8.10 Supreme Court Litigation Clinic Gets Third Win
2.2.10 Supreme Court Agrees to Hear Clinic Case
 
Bloate v. United States (2010)
Petitioner's Opening Merits Brief | Petitioner's Cert-Stage Reply | Supreme Court Opinion
Related News
04.21.09 Supreme Court to Hear Law School Clinic Case
 
Vaden v. Discover Bank (2009)
Petitioner's Opening Merits Brief | Petitioner's Cert-Stage Reply | Supreme Court Opinion
Related News
3.9.09 Supreme Court Earns Second Win with Vaden
 
Indiana v. Edwards (2008)
Petitioner's Opening Merits Brief | Supreme Court Opinion
Related News
3.31.08 U.S. Supreme Court Hears Law School Clinic Case
 
Watson v. United States (2007)
Petitioner's Opening Merits Brief | Petitioner's Cert-Stage Reply | Supreme Court Opinion
Related News
12.13.07 Supreme Court Clinic Celebrates First Win with Watson
3.26.07 Supreme Court to Hear Law School Clinic Case Watson
 
Merits Amicus Briefs
In December 2014, the clinic and Professor Douglas Laycock filed an amicus brief on behalf of the American Jewish Committee and other civil rights and civil liberties organizations in the Abercrombie & Fitch employment discrimination case:
Equal Employment Opportunity Commission v. Abercrombie & Fitch Stores, Inc. (2014)
Clinic Amicus Brief | Supreme Court Opinion
The clinic filed an amicus brief in a case the Supreme Court ruled on (affirming the clinic's side) in 2012:
Taniguchi v. Kan Pacific Saipan, Ltd. (2011)
Clinic Amicus Brief | Supreme Court Opinion
 
Clinic Stories (By Date):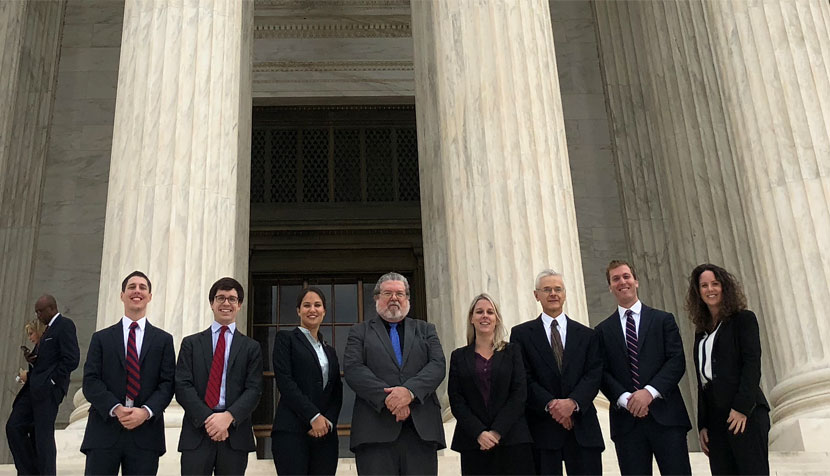 Justices Agree Unanimously on Suit Over Statute's Guidelines
Clinics