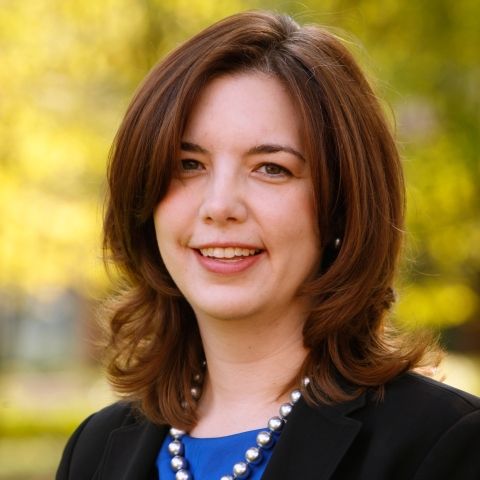 Jessica Lowe specializes in 18th- and 19th-century American legal history. She received her J.D. with honors from Harvard Law School, and clerked in the District of Connecticut and on the U.S. Court of Appeals for the Fourth Circuit. Lowe also practiced litigation and appellate law at Jones Day in Washington, D.C., where she worked on a number of cases before the U.S. Supreme Court. She is admitted to practice in Virginia and the District of Columbia.
Lowe received her B.A. with high honors from the University of Virginia (political and social thought, economics) and won the Sorensen Prize for best thesis. She then studied at Yale Divinity School, where she was a Marquand Scholar. Lowe received her Ph.D. in American history from Princeton University; her dissertation was awarded the St. George Tucker Society's Bradford Dissertation Prize for best Southern history dissertation.
Lowe has held fellowships from, among others, the Andrew W. Mellon Foundation, the Princeton University Center for Human Values and the Center of Theological Inquiry (a Templeton Foundation grant), and participated in the Hurst Institute for Legal History at the University of Wisconsin. While a graduate student at Princeton University, she received the Association of Princeton Graduate Alumni's Award for Excellence in Teaching, the highest award for graduate teaching.
At Virginia, Lowe has taught legal history, constitutional history, and classes in crime and punishment. She is the founder of the interdisciplinary Legal History Writing Group, and co-coordinates the Law School's Legal History Workshop series. In 2013, she co-organized a conference commemorating the 100th anniversary of Charles Beard's An Economic Interpretation of the Constitution (1913). Lowe has also served as a fellow at Brown College, the undergraduate residential college, and is a member of the Early American Studies Colloquium at the International Center for Jefferson Studies.
Lowe's first book, Murder in the Shenandoah: Making Law Sovereign in Revolutionary Virginia, was published by Cambridge University Press in early 2019, and was a finalist for the 2019 David J. Langum, Sr. Prize in American Legal History.
Lowe is currently on leave.