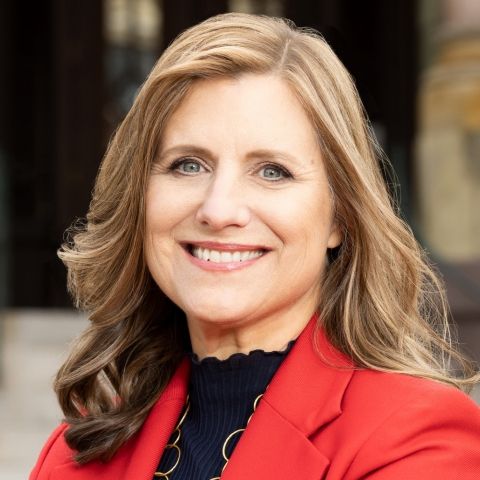 M. Elizabeth Magill
David and Mary Harrison Distinguished Professor of Law Emeritus
President, University of Pennsylvania
M. Elizabeth "Liz" Magill became president of the University of Pennsylvania on July 1, 2022. As executive vice president and provost of the University of Virginia from 2019-22, Magill oversaw the University's teaching and research activities. She directed the academic administration of the 11 schools, the library, art museums, public service activities, numerous University centers and foreign study programs. 
Before becoming provost, Magill served seven years as the Richard E. Lang Professor of Law and dean of Stanford Law School. Before joining Stanford, she was on the faculty at the University of Virginia School of Law for 15 years, serving as vice dean, the Joseph Weintraub–Bank of America Distinguished Professor of Law, and Elizabeth D. and Richard A. Merrill Professor. 
Magill is a distinguished scholar and teacher of administrative and constitutional law. A fellow of the American Academy of Arts and Sciences and a member of the American Law Institute, she has been a visiting professor at Harvard Law School, held a fellowship in the Law and Public Affairs Program at Princeton University, and was the Thomas Jefferson visiting professor at Downing College, Cambridge University. Her scholarly articles have been published in leading law reviews, and she has won several awards for her scholarly contributions.
At Stanford, Magill established an innovative Law and Policy Lab, a set of classes designed to teach policymaking by tackling real-life policy challenges for actual clients. She also launched the Global Initiative, which established a foundational course, "Going Global: Advising Clients in a Global Economy," along with classes taking students and faculty to China, Latin America, India and Europe, and funded by the Stanford Law School's largest alumni gift ever. She expanded and redesigned student life initiatives, with a strong emphasis on diversity and inclusion; and oversaw the expansion of Stanford Law's public service commitments in the local community and beyond. Magill also presided over the largest faculty revitalization at the law school in decades, hiring nearly 30 percent of the present faculty.
After completing her B.A. in history at Yale University in 1988, Magill served as a senior legislative assistant for energy and natural resources for U.S. Senator Kent Conrad, a position she held for four years. She left the Hill to attend the University of Virginia School of Law, where she was articles development editor of the Virginia Law Review and received several awards for academic and scholarly achievement. After graduating in 1995, Magill clerked for Judge J. Harvie Wilkinson III of the U.S. Court of Appeals for the Fourth Circuit and then for U.S. Supreme Court Justice Ruth Bader Ginsburg. Magill is the first woman to serve as provost at UVA.