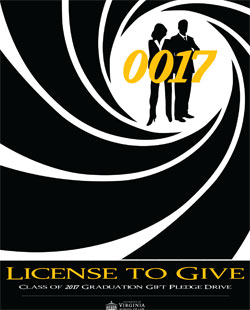 The Class of 2017 successfully concluded its graduation gift pledge drive, 0017 License to Give, with 271 members of the class making a pledge, for a 90% participation rate.
This year marks the 13th consecutive year that 80% or more of the graduating class, and the highest since the Class of 2011, has committed to future support of the Law School.
Class Committee Co-Chairs
Alexander C. Haden
Charis A. Redmond
Sami K. Al-Marzoog
Class Agents
Zachary Alvarez
Christina Aylward 
Ajani Brown 
Michelle Butler
Caroline Catchpole 
A.J. Collins 
Danielle Desaulniers 
Hannah Dunham 
Jonathan Elsasser
Jasmine Esmailbegui
Diego Flores
Joshua Freda
Daniel Friel 
Nate Freeman
Eli Heller
Suzy Lee 
Amanda Leon
Madison Marcus
Nicole Marschean
Will McManus
Brady Mickelsen 
Alison Mulry
Lauren Nevidomsky
Nihar Patel 
Shannon Rice
Gannam Rifkah
Adam Stempel
Nick Suellentrop
Christine Sun
A.J. Swartwood
Mark Thaler 
Monica Trueba
Phoebe Willis
For information contact Jasmine Yoon '06, Assistant Director of Annual Giving, Law School Foundation, (434) 924-7506.