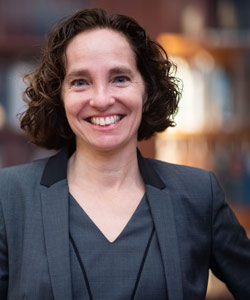 It's a momentous time in the life of UVA Law School. Over the next two years, we will observe the bicentennial of our founding and the centennial of coeducation. These two milestones highlight both continuity and change. Our purpose from the start was to train exceptional lawyers for the practice of law, and to serve and lead a then-new democracy. That is our mission still.
At the same time, evidence of how much has changed at UVA Law School over the past two centuries is all around us. Most fundamentally, who we educate has broadened in every conceivable way from our founding. Today, our community of students, faculty, and staff is as diverse in backgrounds, experiences, beliefs, and passions as we are unified in our commitment to the importance of the law and the legal education that supports it.
Over the past two centuries, we have become an institution whose greatest strength is its people.
President Jim Ryan's call for UVA to be both "great and good" was surely influenced by our way of life here at the Law School. We are dedicated to training lawyers to be great—by excelling in their careers and serving their clients with the utmost expertise and professionalism—and good—by embracing the public trust they hold to serve and lead by virtue of their training.
We live these institutional values every day through an academic program that is more than 250 courses and nearly 20 clinics deep, stocked with some of the nation's leading legal thinkers, and supported by a vibrant intellectual culture that boasts hundreds of lectures, debates, workshops, symposia, and other events each year.
We support students entering public service careers through fellowships, mentoring programs, and loan forgiveness, and we encourage all students, no matter their career paths, to make service a part of their lives.
At the center of it all is the sense of community we foster by connecting our students with one another and with the wider world. Our community is both personally supportive and intellectually challenging. It is the reason our students cherish their time here and leave ready to build new communities wherever they go, remain connected with each other and engaged with us across lifetimes and continents, and become lawyers with empathy, integrity, humanity, and an openness to the ideas of others.
Given that we've come so far, it might be easy to say, 'Mission accomplished.' But we have more work to do. Technology is disrupting the practice of law. New legal problems and their solutions are increasingly global in scope. The difficulties facing our democracy and public institutions are escalating in urgency and complexity. How we meet these challenges is critically important.
More than ever, the world needs lawyers and leaders taught to analyze with rigor the law as it is and to contemplate with creativity and perspective the law as it should be. In order to generate the truly breakthrough solutions to seemingly intractable challenges, the world needs lawyers and leaders who are not only well educated but trained at a school that facilitates intellectual exchange, collaboration, and a sense of community across our differences.
More than ever, the world needs UVA lawyers.
This, then, is my wish for the historic capital campaign before us. Let us be both great and good. Let us secure our promises to produce lawyers of purpose and distinction, to increase our understanding of the law and better the legal system through research and leadership, to provide broad access to legal education and an ever more diverse profession, and to take pride in our alumni and earn their pride in us.
What happens in the next six years will shape our third century and beyond. To enable our faculty to forge the future of the law and prepare our students for the future that awaits them, we must redouble the investments we make in this unique institution.
We have set an ambitious goal of $400 million over the next six years. As are our custom and our values, we will measure success not only by that goal but also by your participation. An extraordinary 72% of alumni contributed to the last campaign, and it is my hope that we will exceed that number in this campaign. We need your help to meet these goals.
You are the people who have made this place special, and you are the ones who can help us grow the power of UVA Law. We hope you'll join us.
 
Dean Risa Goluboff
MORE: