What kind of LL.M. degree does Virginia Law Offer?
Virginia Law's LL.M. program leads to a general LL.M. degree. While the Law School does not offer designated majors or award specialized degrees or certificates, students are free to concentrate their studies in one or more specialized areas of law.
What is required for the degree?
See Academic Policies.
Can students attend the LL.M. program on a part-time basis? Can students begin the program in January?
Students cannot attend Virginia Law's LL.M. program on a part-time basis. The program begins in the fall and students cannot commence their studies during the spring semester.
Virginia Law does not offer a long-distance learning program, nor does it offer online courses.
How large is the program?
Virginia Law receives several hundred applications each year for a class of about 50 students.
How do students choose courses?
In coordination with the chair of the Graduate Program Committee and the assistant dean for graduate studies, students design their individual schedules. The program will provide both a broad introduction to American law and legal theory, as well as advanced training in specialized areas of the law that are relevant to the individual student's planned career and interests.
Will I be able to take a U.S. bar exam after I complete my LL.M. degree?
The LL.M. degree alone does not qualify foreign lawyers to practice law in the United States. Each of the 50 states has its own criteria and procedures for admitting lawyers to practice, and requirements vary. Lawyers from abroad seeking information on these requirements should contact the bar examiners in the state in which they wish to practice.
For further information, please consult the following websites:
Who is eligible to apply to the LL.M. program?
An applicant must hold the academic degree regarded as his or her country's first professional degree in law (equivalent to a U.S. J.D. degree).  More
Will I have to take the TOEFL exam?
International applicants who do not meet the very limited exceptions listed under the How to Apply section of this website are required to demonstrate proficiency in English by completing the Test of English as a Foreign Language (TOEFL).  Please see the full description of the TOEFL requirement under How to Apply.
Minimum scores:
Paper Based TOEFL (PBT):
Writing: 60 
Listening: 60
Reading: 60
TWE: 4
Internet-Based TOEFL (iBT):
Writing: 24
Speaking: 22
Reading: 26
Listening: 26
When registering for the TOEFL exam, please note that the University of Virginia's Institution Code is 5820. The Law School Department Code is 03.
The University of Virginia will also accept the IELTS exam. The minimum score required on each section of the IELTS exam is 7.5.
What if I think I should be exempt from the TOEFL exam?
There are very limited exceptions to the TOEFL requirement. A detailed explanation of the TOEFL requirement and exceptions can be found in How to Apply. 
Is the LSAT or are other tests (besides the TOEFL) required?
No, unless the applicant is a graduate of a U.S. or Canadian law school.
How do you apply?
Potential applicants can apply through LSAC starting Sept. 1. See How to Apply. If you cannot access the application, please contact LSAC at LLMINFO@LSAC.org.
What does an application consist of?
See How to Apply.
Can the application fee be waived? Can the deposit fee (required upon acceptance of an offer of admission) be waived?
Please contact the Graduate Studies Office about the possibility of an application fee waiver. The seat deposit cannot be waived but will be credited against a student's fall term tuition.
When are applications due?
Completed applications are due in the Graduate Studies Office of the Law School by February 1. All components of the application are due by that date.
When are admissions decisions made?
Virginia Law follows a "rolling admissions" policy, so offers of admission may be made before February 1, and there is some advantage in applying early. Admissions decisions continue through April.
What does Virginia Law look for in an applicant?
Demonstrated excellence in prior law study is essential. The Graduate Committee also considers evidence of an applicant's personality, accomplishments, and potential for professional achievement as revealed through letters of recommendation, extracurricular activities, personal interests, and prior legal (or law-related) experience.
The principal criterion for admission is the closeness of the fit between the applicant's professional interests and the Law School's resources. For that reason, the Committee places special weight on an applicant's stated reasons for wanting to pursue graduate legal studies and his/her principal intellectual interests and career plans.
Does Virginia Law offer financial aid?
A limited amount of financial assistance is available from the Law School. If you do receive a financial aid grant, it will not cover your tuition and living expenses. Generally, our financial aid grants, when given, cover less than one-third of the cost of tuition. University regulations do not permit "waivers" of tuition.
Admissions decisions are made without regard to requests for financial assistance. Financial aid decisions are based on need and merit. Awards are generally made only after an applicant has been offered admission and has expressed continued, strong interest in attending Virginia Law.
What is the tuition at Virginia Law?
Tuition and fees are listed here.
How does the visa process work?
International students at the University of Virginia are subject to U.S. Department of Homeland Security (DHS) regulations. Prospective non-immigrant students applying to enter this institution from abroad, or who are already in the U.S.A., are personally responsible for complying with DHS regulations. University policy states: "To enroll at the University a foreign national student must be lawfully present in the United States based on U.S. federal immigration law and any visa status held must not prohibit the desired University enrollment." Most international students attending the University of Virginia use either the F-1 or J-1 visa.
Evidence of financial capability in support of a visa application will be requested only after an offer of admission is made to the applicant. After receipt of acceptable financial affidavits, the International Student & Scholar Programs Office of the University of Virginia will send the applicant a form I-20 (required for the F visa) or a form DS-2019 (required for the J visa). Most students apply for an F-1 visa stamp at a U.S. consulate abroad. In general, only after receiving an F-1 visa stamp may these students apply to enter the U.S. in F-1 status.
What are Virginia Law's computer requirements?
Given the importance of access to networked information, the Law School's reliance on electronic communications, and the requirement that students take exams on computers, the Law School requires that all entering students have a laptop computer.
Can LL.M. students transfer into the J.D. program?
See the LL.M. to J.D. Transfer Program page.
How do I contact the Graduate Studies Office?
Inquiries should be directed to:
GRADUATE STUDIES OFFICE
University of Virginia School of Law
580 Massie Road
Charlottesville, Virginia 22903-1738
Telephone: (434) 924-3154
Fax: (434) 982-6682
email: graduatestudies@law.virginia.edu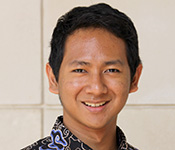 "Highly qualified faculty members, supported by a wide collection of legal resources, are exactly what UVA Law provides. In the classroom, not only are LL.M. students mixed with J.D. students, but the low number of students per class in the upper-level courses provides a more effective learning process because students can be involved more in discussion with the professor and classmates."
—Haryo Nugroho LL.M. '10 S.J.D. '13, Indonesia