International students at the University of Virginia are subject to U.S. Department of Homeland Security (DHS) regulations. Prospective non-immigrant students applying to enter this institution from abroad, or who are already in the U.S.A., are personally responsible for complying with DHS regulations. University policy states: "To enroll at the University a foreign national student must be lawfully present in the United States based on U.S. federal immigration law and any visa status held must not prohibit the desired University enrollment." Most international students attending the University of Virginia use either the F-1 or J-1 visa. Evidence of financial capability in support of a visa application will be requested only after an offer of admission is made to the applicant. After receipt of acceptable financial affidavits, the International Student & Scholar Programs Office of the University of Virginia will send the applicant a form I-20 (required for the F visa) or a form DS-2019 (required for the J visa). Most students apply for an F-1 visa stamp at a U.S. consulate abroad. In general, only after receiving an F-1 visa stamp may these students apply to enter the U.S. in F-1 status. Students receiving Fulbright awards must work directly with their home country's binational or Fulbright commissions to receive a form DS-2019, the document necessary for the J-1 entry visa.
Questions related to entry visa matters should be directed to:
International Student & Scholar Programs
208 Minor Hall
University of Virginia
Charlottesville, Virginia 22903
Phone: (434) 982-3010
Fax: (434) 982-3011
E-mail: issp@virginia.edu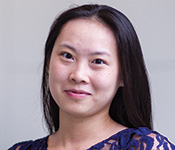 "The UVA LL.M. program is a diversified, small group full of elites of the legal industry, which makes it distinguished from others. As a student coming straight from college, I enjoy talking with and learning from my peer students, and more so from my professional fellow students from all over the world in different legal practice areas that I haven't had a full chance to explore.
—Yinuo Zhang '13, China