Taking Flight While Staying Grounded
Taking Flight While Staying Grounded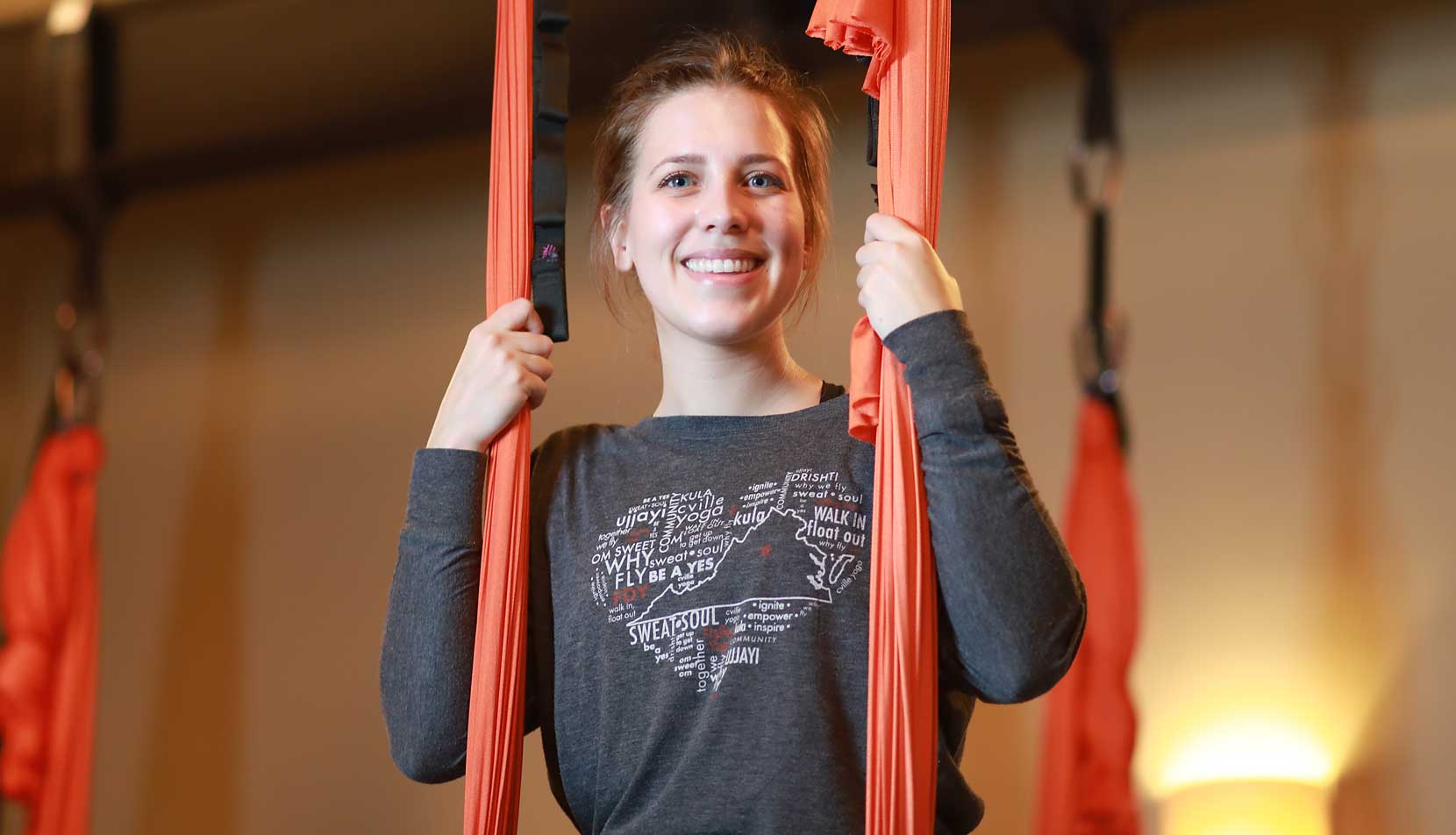 Lena Welch leads a busy life at the University of Virginia School of Law. She's a Program in Law and Public Service fellow, director of the PILA Auction, head Peer Advisor for the LL.M. program, former student co-director of the Shaping Justice conference, a chair of the American Sign Language student organization Amici Signatae Linguae, and an editor for the Virginia Law Weekly.
Despite all the activities, the third-year law student says she's remained grounded in her work-life balance, thanks to her aerial yoga practice.
Welch stumbled across aerial yoga in her 1L year at FlyDog Yoga, a studio located a few minutes away from North Grounds.
"I was really nervous to try it, but I thought it might be fun," Welch said. "I wanted to take advantage of my introductory membership by trying everything, and I ended up really enjoying aerial."
Today Welch leads Introduction to Aerial Yoga every Saturday as a level 2 certified aerial yoga instructor.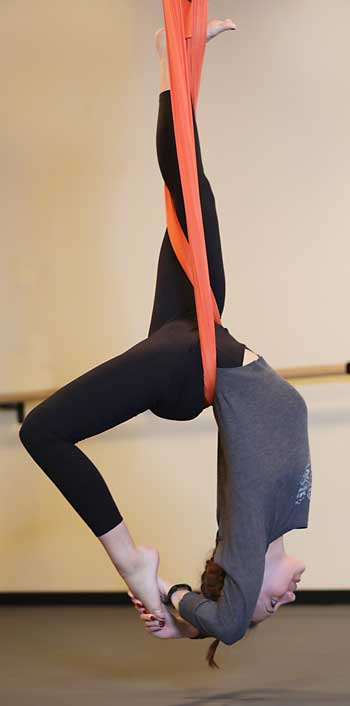 Aerial yoga uses a hammock suspended from the ceiling to assist in zero-gravity yoga poses and tricks. While it may seem like another fitness craze, aerial yoga doesn't just make for cool Instagram photos. The fabric supports actually help provide a high-intensity, low-impact workout, Welch explains.
"I almost never let my students leave without doing multiple planks and strength challenges," she said.
Welch also appreciates the technical aspects of aerial yoga.
"I really enjoy figuring out new tricks," she said. "It feels like solving a puzzle, and then there's the challenge of finding easier or more difficult ways to do the trick so people at multiple levels can enjoy it."
While many law students practice at FlyDog, teaching gives Welch the opportunity to interact with people throughout the Charlottesville community. She has taught students ages 13 to 68.
"I think it's easy for it to feel like law school is all there is, but I have some friends three minutes from my apartment for whom law school is a footnote to my identity, and certainly most of my students don't know that I'm a law student," she said.
Welch was able to continue her workout over the summer while she clerked for Disability Rights Advocates in Berkeley, California. She has also tried other aerial apparatuses including lyra, trapeze and silks.
After graduation in May, Welch will pursue a career in public service and hopes to continue practicing yoga.
"Just as I've really enjoyed being a part of the UVA Law community, especially the public service community, I've developed a group of close friends at FlyDog in my fellow aerial teachers. I'll really miss both when I graduate."