Land Conservation Easements May Prove Misguided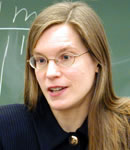 Prof. Julia Mahoney said conservation easements may conflict with traditional understandings of property law.

A record number of acres in the United States are now set aside in preservation easements, ostensibly preventing future owners from altering them from their current uses. Considered innovative, conservation easements are winning public applause, but they may backfire, according to Associate Professor of Law Julia Mahoney, who sees the easements heading for conflict with traditional understandings of property law.

"Conservation easements may fail to generate the results they are being put in place for," Mahoney said March 25 to students gathered for another in the Student Scholarly Lunch Series, a program sponsored by the Olin Foundation that encourages students to be involved in faculty members' scholarly work-in-progress. Mahoney's talk was titled "Perpetual Restrictions on Land and the Problem of the Future."

With conservation easements, private owners transfer development rights to the government or non-profit organizations who enforce the easement. Land held by the government or non-profit organizations is typically considered preserved, Mahoney said, but land being held privately, even in undeveloped states, is not generally regarded as "saved." Traditional land use policies have tried to preserve land in undeveloped condition for future generations to decide the use of, but have not gone so far as to purport to constrain their land use options.

"Why do we want to do this?" asked Mahoney, who recalled George Orwell's observation that each generation "imagines itself to be more intelligent than the one before it and wiser than the one that comes after it."

She predicted that "significant changes in scientific knowledge, cultural attitudes and nature itself will change how we decide to manage land." Marin County, California, for example, just north of San Francisco, is using easements to maintain its dairy farm landscape. Mahoney noted that dairy farms were a new use at some point and as the city expands, leapfrogging over the farms to reach available land may impose unwelcome transportation costs. "Future generations may not think farm life is as wonderful as we think it is," she suggested. She also cited "preserved" farms west of Charlottesville that make local growth planning more difficult.

"Future generations will, in all likelihood, reject the aims of a substantial number of conservation easements," Mahoney said. "People 100 years from now will laugh at the idea of what we wanted. Do we care about King George wanted when he gave away land grants along the James River?"

But future generations may face significant legal hurdles when the time comes to undo the easements. "Removing these restrictions will impose costs on the future," she said.

Mahoney agreed with a student observation that many conservation easements are motivated by what amount to aesthetic judgments and that aesthetic preferences change. She also agreed that easements are a reaction to suburban sprawl and reflect owners' worry that they can't trust the land use decisions of local government officials. But even the Nature Conservancy, whose commitment to land preservation is unimpeachable, will sell from its holdings to finance purchases of land it considers more important, she said. She acknowledged too that easements are overridden by eminent domain, a possible tool against them in the future. She said it was a mistake to think that once land is developed it is "lost forever." What about all those things Rome built?" she asked.

Traditional "command and control" regulatory approaches may work better than easements, she observed. "The best strategy may well be for the present generation to make sensible land use decisions with the hope and expectation that future decision-makers will do the same."




Founded in 1819, the University of Virginia School of Law is the second-oldest continuously operating law school in the nation. Consistently ranked among the top law schools, Virginia is a world-renowned training ground for distinguished lawyers and public servants, instilling in them a commitment to leadership, integrity and community service.