For the Post-Sept. 11 FAA, Haste Makes Safety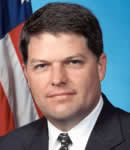 FAA Chief Counsel David Leitch said the FAA now has more flexibility in making rules.

The glacial climate around Federal Aviation Agency rulemaking went through a meltdown after the Sept. 11 terrorist attacks, according to FAA Chief Counsel David Leitch. Rules that ordinarily would take at least a year to promulgate were in effect promptly in response to air travel safety demands. In fact, by noon of Sept. 11 the FAA helped enact an unprecedented complete shutdown of U.S. airspace.

"What's gone unnoticed about that is that the order to shut down was verbal and not written down. No planes were in the air in the afternoon," said Leitch, who spoke at the Law School Feb. 21. The FAA is concerned with the safety of the aviation industry. It certifies airplanes, regulates pilot licensing and provides air traffic control. It is not directly involved in the economic regulation of airlines.

Before the terrorist attacks, the agency was preoccupied with airport congestion and delays. "We had an acute crisis in runway shortage and cries of 'more concrete, more concrete,'" said Leitch, a 1985 Virginia Law graduate who was on the job at the FAA for just three months on Sept. 11. His eventful career there has included not just the shutdown, but the creation of a new federal agency, the Transportation Security Administration, and a legal authority change for the FAA. "It's been quite an exciting run of things," he said.

The FAA typically uses its "Notices to Airmen," commonly called Notams, to issue instructions to pilots. Pilots are expected to check for the latest notices before taking off. Notams usually concern airspace restrictions, such as those over Camp David or Salt Lake City during the Winter Olympics.

The Notam system was used widely after Sept. 11, Leitch said. "We eventually issued what was called the 'Big Notam' that closed large areas of airspace, most of which has gradually been reopened."

Meanwhile the FAA promptly issued other security directives banning knives on airplanes and parking in certain areas of airports. And in short order, "by the fourth of December, we got airport workers subjected to fingerprint tests. The FBI now checks prints against 27 disqualifying crimes," he said, explaining that the expeditiousness of the step "shows that the 'good cause' provision allowing an exemption from the notice and comment phase for rulemaking is not limited to known threats."

Within a week of Sept. 11, insurance companies cancelled war risk insurance for airline companies, Leitch said, a development that threatened to shut down the industry. The FAA can issue this insurance, but needed a congressional order to extend it to domestic flights. Congress gave it, another sign that lawmakers want the FAA to have greater flexibility, and the commercial market for war risk insurance has yet to return.

In the debate over passing the Aviation and Transportation Security Act, which also created the Transportation Security Administration to screen people and cargo, lawmakers disagreed over whether airport screeners would be federal or contracted employees. The decision to make them government employees means the TSA will have more employees than the State Department.

After Sept. 11 the FAA helped beef up the air marshal program, which only had about 36 officers at the time of the attacks, Leitch said. The FAA immediately sought law enforcement employees in other agencies who could commit to the air marshal service for 18 months. "There are now hundreds of plainclothes federal air marshals on domestic flights," he said, adding that it would take 40,000 officers to provide complete coverage.

"By November of 2002, all passenger and cargo screening will be by federal employees. Every piece of baggage will be tested for explosive content by the end of the year. The Explosive Detection System will require between 2,000 and 5,000 scanning machines, at a price tag of $1 million each, in about 490 locations," Leitch said. Passengers and others will be selected for closer examination according to a "prescreening" system. "The Justice Department says it's not a profiling system," he asserted. "In two months the legal basis of screening was completely changed to include the federal government."

In the ATS Act, Congress gave the FAA additional flexibility in rulemaking to allow directives necessary for security to be enacted without prior notice and comment.

"There has been liberal use of FAA legal tools since 9/11 but only one lawsuit against a new rule," Leitch said.

"I'd like to say we hit the nail perfectly on the head every time. But our community is heavily used to being regulated, some might say resigned. The aviation industry did not want the public to think it was against safety improvements," he said. The single lawsuit was filed by a company that tows aerial advertising banners. So far there has been no challenge to the fingerprinting rule from the ALCU, said Leitch, who, as the FAA's chief legal officer, oversees 211 lawyers in 11 offices around the country.

"Rulemaking in the real world is cumbersome," he said, holding up a three-inch thick folder of papers. "We get five or six of these a week that need legal analysis. There are many required types of analysis, such as for international, environmental, energy impacts or whether the rule amounts to an unfounded mandate." Notice and comment periods on proposed rules can draw out for a decade. "Even a very simple rule takes not less than a year, " he said.

Since Sept. 11, the FAA has been able to change the rules regarding cockpit security as well. Previous security analysis had been focused on explosives, a case of "still fighting the last battle," Leitch observed. The possibility of a bomb made pilots want to be able to get out of the cockpit easily. Another consideration in not separating the compartments was cabin pressurization. Different pressures in different areas could cause an airplane to break apart, "which was the reason we had weak cockpit doors," Leitch said. Now even a lock that obstructs entry for as little as 30 seconds has an advantage. Exemption from the rule on plane design changes allowed locks to be installed quickly. The rule originally mandated that no extra keys for the door be given to flight attendants. The FAA later issued a supplemental directive allowing attendants to have the keys because it was discovered that the same keys opened safety equipment.

"It's a concrete example of the give and take of rulemaking," Leitch said. The timeliness of the step was borne out by a recent attack on a Brazilian airliner in which a cockpit door lock installed after 9/11 frustrated the attacker long enough so that he could be struck with an ax and subdued.

That example nonetheless reaffirms the fundamental benefit of notice and comment procedure, Leitch argued. "The FAA needs to be cautious not to exercise their powers to circumvent these procedures. By being fast, agencies can make policies that don't work in the real world or have unintended consequences.

"We spend a lot of time afraid to be efficient. We think we have to comment in response to every comment. We have lots of offices that are intended to improve efficiency that actually contribute to inefficiency. A rule goes to the technical writing department and from there it goes to the plain writing department."

He asserted that security systems "didn't fail on 9/11 because the terrorists knew they had to bypass the system with a threat it wasn't looking for. Until then, the paradigm for hijackings was that you would sit on a runway until you were let go."

Asked why El Al, the Israeli airline that surely faces as high a threat, has had no hijacking in 20 years, Leitch said El Al has only 40 airplanes and conducts extensive interviews of passengers for hours before flights depart. "Not all their procedures are practical for the number of flights we have-35,000 per day-but some measures are."

Meanwhile the FAA continues to work on the congestion problem through making the system more efficient, adding more air traffic controllers and enhancing airports. A new runway has opened in Detroit since Sept. 11, Leitch noted. "We're getting a bit of a breather here that will let us catch up," he said.




Founded in 1819, the University of Virginia School of Law is the second-oldest continuously operating law school in the nation. Consistently ranked among the top law schools, Virginia is a world-renowned training ground for distinguished lawyers and public servants, instilling in them a commitment to leadership, integrity and community service.