Terrorism Must Not Be Fought at the Expense of Civil Liberties, Feingold Insists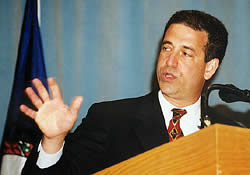 Sen. Russell Feingold said the USA Patriot Act had "very troubling language" in it.

Fighting terrorism would be easier if America was a police state, but then it wouldn't be America anymore, U.S. Sen. Russell Feingold (D-WI) told a packed house at Caplin Auditorium April 14. Feingold cast the single opposing vote in the Senate against the USA Patriot Act, a package of antiterrorism legislation that expanded police powers in the wake of the 9/11 attacks. Feingold said he supported 90 percent of the bill but voted against it over provisions allowing computer trespassing and unrestrained police searches.

"We need to preserve liberty while heightening security. My first reaction to 9/11 was a solemn resolve to get the terrorists," he said, but the original USA Patriot Act bill had "very troubling language" in it. He strongly condemned both Republican and Democratic Party leaders in Congress for preventing a revised bill with wide support from coming up for consideration. Instead the provisions first drafted by the Justice Department were ramrodded through.

"We have to protect both the people and their freedoms," Feingold said. "The USA Patriot Act does not strike the right balance between law enforcement and civil liberties. The Bush administration's demand for haste was inappropriate."

Feingold said he worried over the country's "loss of our traditional attachment to civil liberties over the last seven months. We must continue to respect our Constitution. This is a different time, but we must examine every response [to terrorism] to make sure we are not rewarding the terrorists by giving up our cherished liberties."

He said Americans must guard against racism and ethnic discrimination, especially toward Arab-Americans, and he praised national leaders, including President Bush, for publicly condemning the scattered reprisals against those presumed to be of Arab decent immediately after the New York and Pentagon attacks.

"Racial profiling offends whole communities and undermines their willingness to cooperate with police," he said.

The new law "threatens to make all records open without there being a reasonable suspicion first to need to see them. Secret searches by the police are made easy. This is a permanent rule that is NOT sunsetted. [The police] can search your house while you're not there and they don't even need to tell you they've been there. There has been an enormous expansion of authority to law enforcement without judicial oversight." The FBI has also been given the power to make secret searches of records, he said.

He expressed satisfaction that Democrats had successfully assured that the act conformed with standards of proof contained in the War Powers Act, which limits the president's authority to engage U.S. armed forces in combat without congressional approval.

Furthermore, Justice Department detentions are "questionable," he said, for their failure to provide the prisoners with access to counsel. "I'm not talking about those being held in Guantanamo. I mean the ones in New Jersey."

While the internment of Japanese-Americans on the West Coast during World War II is well-known, wartime prejudice against Americans of German ancestry is not. Feingold sponsored a bill to investigate the treatment of German-Americans on the home front after some of his constituents approached him to tell stories they had kept to themselves for decades. It is not widely known, for example, that German-American citizens were exchanged for U.S. prisoners of war held by the Nazis, he said.

Feingold said the U.S. must not allow its determination to root out terrorists to blind it to human rights issues in countries that have joined its war on terrorism. One lesson from America's new sense of vulnerability to attack is that it must broaden its engagement with the rest of the world. "Your generation has to be devoted to being connected with all the world, especially the Islamic and African nations," he said. "Who knew, for example, that the Sierra Leone diamond trade was a way that al Qaeda laundered money?" America must be more aggressive against AIDS in Africa, he added.

But a new international emphasis should not distract us from needs at home. "We can't ignore the domestic agenda during the war on terror," said Feingold, co-sponsor with Sen. John McCain (R-AZ) of the campaign finance reform bill recently signed into law by President Bush. "John McCain and I never talked once from 9/11 until the passage of the bill," he noted. While he is pleased by the progress toward reform, "the best thing is if campaigns are publicly financed at the federal and state level," he asserted. He has not accepted soft money contributions for his election campaigns.

Feingold, who holds town meetings in each of Wisconsin's 72 counties every year, said health care remains a very high domestic issue. "People are full of anxiety about the health care system and drug prices. I've never seen it worse." He declared that he is against the death penalty in all cases, noting that the day before had seen the release of the 100th person wrongly sentenced to death.

In response to questions Feingold said he opposes proposals to open the Arctic National Wildlife Refuge for oil drilling, that Homeland Security chief Tom Ridge should submit to questioning from Congress, that he doubted whether President Bush has the authority to abrogate the 1972 anti-ballistic missile treaty, that the president should nominate only moderates to any vacancies on the U.S. Supreme Court (and ideally someone Hispanic), and that he opposed decriminalizing drug offenses but that sentences should be made much less severe.

Feingold's speech was sponsored by the Student Legal Forum and U.Va.'s Center for Governmental Studies as part of its National Symposium on Wartime Politics. Center director and government professor Larry Sabato, a fellow Rhodes Scholar with Feingold at Oxford University from 1974 to '76, praised Feingold warmly and suggested that he is a possible Democratic presidential candidate for 2004 or 2008.




Founded in 1819, the University of Virginia School of Law is the second-oldest continuously operating law school in the nation. Consistently ranked among the top law schools, Virginia is a world-renowned training ground for distinguished lawyers and public servants, instilling in them a commitment to leadership, integrity and community service.