Graduates Urged to Adhere to Honor I AWARDS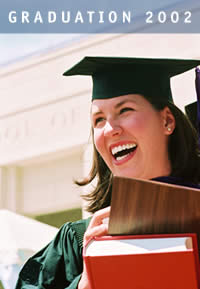 Kit Lasher, winner of the Powell Fellowship.

The scene was postcard-perfect and the weather ideal as the School of Law conferred 403 degrees in its 173rd graduation ceremony Sunday May 19. The number includes 364 J.D.s, 41 Masters of Laws and one doctorate. Commencement speaker Bob Wright, vice chairman and executive officer of General Electric and chairman and CEO of the National Broadcasting Company, a 1968 alumnus, told the crowd of around 4,000 that the public's tarnished view of lawyers, exacerbated by the Enron scandal, means that young lawyers must inflexibly uphold the ideals of the profession.

Law School Dean John C. Jeffries Jr. congratulated the graduates for being "the most public-spirited class ever" and for achieving the highest number of post-graduate judicial clerkships—83—in the history of the school. The Class of 2002 doubled the pro bono service hours volunteered by any previous class, Jeffries said.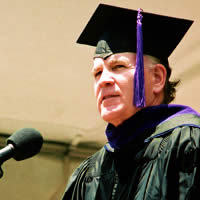 NBC chairman and CEO Bob Wright urged graduates to uphold the ideals of the profession.

Student Bar Association President Kendall Day announced the class gift, a permanent exhibit tracing the development of the law school's facilities since the University's founding, which he said is meant to remind future students of the traditions of excellence and service they are expected to carry on. Day noted that 51 percent of the class has already pledged financial support for the school, the highest percentage ever for a class at its graduation.

Wright, whose fondness for his alma mater was plain, lamented the sullied reputation of the profession and the seemingly endless supply of lawyer jokes. American Bar Association research shows that 75 percent of Americans believe lawyers are more interested in winning than in serving justice and that lawyers are greedy and manipulative, he said. Confronted with evidence that Enron cynically exploited the California energy crisis, the public naturally asks, "Where were the lawyers?," he said. "Were they complicit in supporting, justifying and condoning trading tactics that are at best unethical and at worst illegal?"

The burden of this question falls on new graduates, too, he said. "You pay the price in having a public that thinks they don't want or need your services and a public that doesn't trust your honesty or your ethics."

But for all the failures getting press attention there are other lawyers who are devoting "countless hours to pro bono work to make sure that the wrongly accused are not jailed, that innocent lives are not ruined, that the weak are not preyed upon."

Quoting Thomas Jefferson, Wright urged the graduates to "lay down true principles and adhere to them inflexibly." Jefferson understood "what the Enron lawyers apparently forgot: once you become flexible with your principles, as an individual or a society, your moorings are lost and allegiance to liberty and justice is impossible," he said.

Repeating Jefferson's admonition as a leitmotif, he predicted the graduates would soon face ethical tests. "The real bottom line is the one you draw, not necessarily the one advocated by associates who don't have your training and your obligations."

As members of the bar, lawyers accept ethical standards "above and apart from the rest of society," he asserted. "Years from now you will be judged … on your scars. The questions asked will be these: How hard did you fight? How much did you risk? How willingly did you suffer so that others might overcome?"

During the ceremonies Jeffries also gratefully acknowledged the many contributions of Admissions Dean Al Turnbull and Prof. Walter Wadlington, both of whom are retiring this year after decades of service to the Law School.

Amid the festive conferring of individual degrees, Jonathan Elliot made a cell phone call as he crossed the stage to accept his diploma and then held the phone aloft to the crowd. His 84-year-old father, too ill to travel, was proudly listening to the applause.



Margaret G. Hyde Award:

Michael Kendall Day

James C. Slaughter Honor Award:

Jennifer Loraine Swize

Thomas Marshall Miller Prize:

Terrica Lashun Redfield

Law School Alumni Association Award for Academic Excellence:

Daniel Nicholas Lovejoy

Law School Alumni Association Best Note Award:

Matthew Christian Schruers

Robert E. Goldsten Award for Distinction in the Classroom:

Daniel Nicholas Lovejoy, Kelley Brooke Snyder

Roger and Madeleine Traynor Prize:

Matthew Adams Axtell, Jennifer Loraine Swize

Herbert Kramer/Herbert Bangel Community Service Award:

Kerry Elizabeth Kornblatt

Mortimer Caplin Public Service Award:

Laura Kristen Everitt

Jennifer Tink

Robert F. Kennedy Award for Public Service:

Abra Elizabeth Edwards

Edwin S. Cohen Tax Prize:

Matthew Scott Houser

Earle K. Shawe Labor Relations Award:

Jeffrey Darren Kessler

John M. Olin Prize in Law and Economics:

Matthew Christian Schruers

Eppa Hunton IV Memorial Book Award:

Brian Thomas Stansbury

Virginia Trial Lawyers Trial Advocacy Award:

Mark Travis Baker

Charles J. Frankel Award in Health Law:

Elizabeth Catherine Scott

Z Society Shannon Award:

Ruth Amy Payne

Virginia State Bar Family Law Book Award:

Katherine Rose Lasher

Stephen Pierre Traynor Award:

James Frederick Van Doren
Founded in 1819, the University of Virginia School of Law is the second-oldest continuously operating law school in the nation. Consistently ranked among the top law schools, Virginia is a world-renowned training ground for distinguished lawyers and public servants, instilling in them a commitment to leadership, integrity and community service.