Combating Terrorism Demands Citizen Vigilance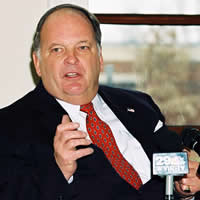 Former Lt. Gov John Hager outlined steps the state is taking to improve readiness to terrorist threats. Photo by Alison Perine.

The defense of the United States against terrorism will happen at the state and local level where firemen, policemen and emergency health care providers are on the frontline, former Lt. Gov. John Hager told the audience at the Combating Terrorism conference sponsored by the J.B. Moore Society of International Law March 2.

"Combating terrorism is all our responsibility," said Hager, who carries the title Assistant to the Governor for Commonwealth Preparedness since being tabbed for the role by Gov. Mark Warner in his first days in office.

"As Homeland Security chief Tom Ridge recently said at the National Governors' Conference, a 'national' response is not a 'federal' one. It is a state responsibility to defend its citizens. That is where defense will happen, " Hager said. "This war will be won through the eyes and ears of citizens. Everyone must be engaged and reporting activity that you don't think is right."

State officials are especially concerned about several threat categories, including bioterrorism, critical facilities and cyber security (electronic communications systems).

"There is a lot of activity related to expanding lab facilities and getting mass quantities of vaccines and medicines," Hager said. "Besides that we have two major airports; Hampton Roads is the second largest port on the East Coast; two major railroads are headquartered in Virginia [CSX and Norfolk Southern]; two nuclear power plants; and two locations in Northern Virginia controlling 60 percent of the world's internet traffic."

He called for more sharing of intelligence information. Neither he nor the governor currently have access to intelligence updates on potential threats, but they do expect to get security clearances allowing them to know more.

Only 2 percent of cargo containers entering Hampton Roads are being examined, but new detection devices are being installed on harbor cranes that will improve surveillance, Hager said.

He credited Albemarle County Sheriff Ed Robb with taking the lead in setting up sheriff's offices to do counterterrorist intelligence-gathering in cooperation with the State Police.

The state government is also setting up the Secure Virginia Panel, a military advisory council, and changing the state's Freedom of Information Act to encourage private industries to supply information to the government that for propriety reasons businesses do not wish made available to the public. The Virginia Defense Force, a little-known volunteer militia, met with Hager recently to discuss its role as a "reserve for the reserve." VDF volunteers would take up jobs now done by the Virginia National Guard, such as patrolling airports, if the Guard units were called up to active duty.

He said that federal guidelines about when to issue public warnings of an imminent terrorist attack are being drafted by Ridge's office. They will have four steps, the first of which would be a public alert, Hager said.

Meanwhile, state agencies are preparing emergency operations plans and the state is adding policemen and investigators and is improving radio and electronic communications systems. "Most of all we have to overcome our fear and communicate with our citizens that we are improving our odds," Hager said.




Founded in 1819, the University of Virginia School of Law is the second-oldest continuously operating law school in the nation. Consistently ranked among the top law schools, Virginia is a world-renowned training ground for distinguished lawyers and public servants, instilling in them a commitment to leadership, integrity and community service.