Students Help Holocaust Victims Recover Funds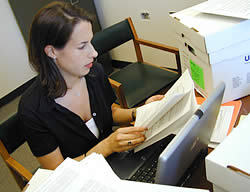 First-year law student Robin Zimmerly trained and coordinated volunteers for the project.

In an empty office now used by the Public Service Center for storage, first-year law student Robin Zimmerly shuffles through a mass of paperwork that she has volunteered to help process. There are 2000 forms in all, some of which Zimmerly will enter into an online database; the work can be tedious, but the content of the forms rarely is. The papers are questionnaires filled in by Holocaust survivors, and they represent the latest step in the settlement of several class action lawsuits first filed against Swiss banks in late 1996 and early 1997 in an effort to recover victims' assets. The Holocaust Reparations Pro Bono Project, as students and Public Service Center staff have dubbed the local pro bono effort, has given students a chance to work on a case that has international and historical implications.

"When you learn about something like the Holocaust, six million people is kind of hard to get your mind around." said first-year law student Jen Linker, a volunteer who estimates that she has entered information from 250 forms into the database so far. "It's definitely a more personal look at the Holocaust."

The lawsuits alleged that Swiss banks knowingly retained and concealed assets of Holocaust victims and helped the Nazis by accepting and laundering illegally obtained loot and slave labor profits. The banks agreed to settle the lawsuit in 1998, guaranteeing $1.25 billion for the plaintiffs and class members in exchange for waiving future legal claims against Swiss banks and most Swiss business and government entities. Since then, lawyers and firms involved in the case have advertised the result of the suits and have gathered information from Holocaust survivors now living in the United States through initial questionnaires.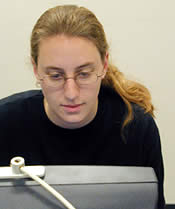 "It's not something you can compensate them for—it's so much more traumatic than assets in a bank," said first-year law student Jen Linker, a volunteer for the project. Linker said the project offered students flexibility because volunteers could work on it whenever they had access to a computer.

Close to 600,000 questionnaires were filled in by survivors or their heirs, 2000 of which made their way to the Law School after Zimmerly saw the project listed on a Public Service Center email. In February, she contacted Deborah Sturman, who was appointed Special Liaison Counsel by the Court. Sturman asked Zimmerly to train and coordinate students at Virginia to work on the project; first, Zimmerly made a trip to Washington D.C. in February to pick up the eight boxes of paperwork. Once she and other students started working on the project, they realized the forms often told dramatic tales of Holocaust survivors.

"These are people that are sharing stories that otherwise you'd never hear," Zimmerly said. "It's almost like reading history."

While many questionnaires include survivors' narratives of their experiences during the Holocaust or descriptions of their stolen assets; other forms have little information because the survivors were too young to remember the years in question. Linker called the forms a "testimony to what happened. It's a dying generation that went through it."

One survivor's questionnaire made an impact on first-year law student Doug Plante. The woman grew up in Poland, where her father owned a shoe store. He and her brother were killed by the Nazis, and the family's possessions were stolen.

"What made the most impact was that she included copies of pictures of her family from when she was a little girl," Plante said. "It's difficult to see the pictures of the happy family before the war, and to know that their life would be torn apart just a few years later. The narrative was much more vivid and unsettling by the inclusion of the pictures, and it made something so incomprehensible seem more real."

Students working on the project review the questionnaires to determine what category a survivor belongs in: Deposited Assets, for those who have unrecovered funds or valuables in Swiss banks; Slave Labor Class I, for those who worked involuntarily for little or no pay under the Nazi regime; Slave Labor Class II, for those who worked involuntarily for little or no pay for Swiss-owned or controlled companies; Refugees, for those who attempted to flee Nazi persecution but were denied entry to Switzerland or were admitted but abused or mistreated; or Looted Assets, for those whose assets were stolen by Nazis and later transacted through Switzerland. Victims or targets of the Nazis who have insurance claims against some Swiss entities are also included in the claim. In addition to categorizing each form's claim, students also enter any information that could help verify the survivors' assets or accounts. Those with verifiable accounts will receive money from the settlement first. About $800 million of the settlement has been allocated to account-holders.

"There's a sense of satisfaction in knowing that people who deserve money are getting compensated for some of their losses," Zimmerly said.

Sturman said 30 law schools are or were involved in processing the forms, in addition to a number of individual law students and attorneys. At least four law firms, NYU Professor Burt Neuborne and several others have been deeply involved in the case, she said. All worked pro bono.

Sturman expects that the entire project will not be finished by the end of the year; about 50,000 forms have been entered into the database so far. Students at the Law School have devoted over 80 hours to the project, but Zimmerly expects she alone will devote 50 to 70 more hours after exam finals, when her schedule clears.

First-year Law student Rina Kushner said working on the case has helped her realize the scope of what lawyers working on the case have accomplished.

"It's giving these people a voice who might not necessarily have had a voice on their own," she said.




Founded in 1819, the University of Virginia School of Law is the second-oldest continuously operating law school in the nation. Consistently ranked among the top law schools, Virginia is a world-renowned training ground for distinguished lawyers and public servants, instilling in them a commitment to leadership, integrity and community service.