E Pluribus Unum
At a Feb. 5th Student Bar Association diversity program, Professor Rosa Ehrenreich Brooks recalled what happened when she spoke as an undergraduate at a campus rally to support troops during the Gulf War: although she said she supported the troops, any dissenting opinion she expressed about the war was drowned out by other students' chants of "U.S.A." Brooks and other participants in the program's panel expressed concern that such pressures to conform to patriotic mood could stifle the freedom to dissent in the current war on terrorism as well. "We don't want to overemphasize our differences," Brooks added, but "precisely what makes this country strong is that we have these different points of view."

The program began with a discussion led by moderator and third-year law student Nicole Valentine about how September 11 impacted views of diversity. Panelist Roger Clegg, vice president of the Center for Equal Opportunity, called the ensuing unity after the attacks "one of the few silver linings of the events that day," and said the emphasis on unity is not a threat to diversity.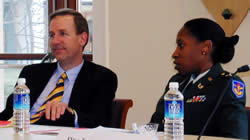 Roger Clegg and Lt. Col. Tia Johnson participated as panelists.

Valentine's question about the use of racial profiling in stopping terrorism drew a variety of responses from the panelists.

"It's hard to imagine a more compelling reason the government has [to profile]-it's stopping mass murder," Clegg said in defense of making race or religion one marker in an overall terrorist profile. Panelist Lt. Col. Tia Johnson, a JAG school professor and department chair, agreed that searching for terrorists may require profiling to protect national security. "To safeguard our people, then maybe we do need a slightly different standard," she said.

Panelist and Professor George K. Yin, who has traveled extensively by plane in recent months, admitted that he wondered whether he was being judged in part by the way he looked when he was subjected to a number of inspections, but said he would hate it if concerns about "overly sensitive people" let a terrorist slip through the cracks, adding that "people who will object can object."

Several audience members responded strongly to the panelists' statements about racial profiling.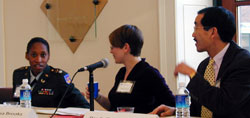 (L-R) Lt. Col. Johnson, Prof. Rosa Ehrenreich Brooks, and Prof. George K. Yin.

"Just because Americans might feel that way doesn't make it right," one student said. "If the entire country celebrated diversity … I don't think this would be as much of a problem." Another student said that any kind of racial profiling was wrong, noting that some of the terrorists "looked just like Caucasian males." The student's sister was attacked for wearing a veil for religious reasons while riding the New York City subway. "Even though this is a time of war … what the public is doing, whether it's advertised or not, it's not ok."

In light of the attacks, Brooks said, "We need to try to understand why so many people are anti-American." The question is not why evil people do evil, she said, but "how do people like us … come to think such an act is not so bad after all."




Founded in 1819, the University of Virginia School of Law is the second-oldest continuously operating law school in the nation. Consistently ranked among the top law schools, Virginia is a world-renowned training ground for distinguished lawyers and public servants, instilling in them a commitment to leadership, integrity and community service.