Human Trafficking Presents Worldwide Problem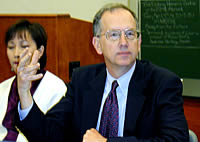 Martin outlined the changes in immigration law as a result of the El Monte workers' case.

Victims of human trafficking may wash dishes at your favorite restaurant, pick fruit on a farm, or work at a strip club. In August 1995, law enforcement officers found them in an El Monte, Calif., sweatshop. The 72 Thai nationals made clothing 17 hours a day every day for less than $2 an hour, living in conditions that shocked the officers and the public. The El Monte workers represent a hidden, but growing number of people forced into modern-day slavery-or something close to it.

"The victims of trafficking are all around us," said Prof. Rosa Ehrenreich Brooks, a participant in "Trafficking Women's Bodies in the U.S. and Abroad," a panel discussion sponsored by Women of Color at Virginia Law and held at the Law School April 9. Brooks added that while the public may view trafficking as a means of making women work in sex trades such as prostitution, "there are many many other kinds of trafficking that tend to be overlooked."

The State Department estimates that 50,000 women, men and children are smuggled as captives into the United States each year, sometimes on the way to other destinations; the United Nations estimates that 4 million people are trafficked worldwide yearly, which amounts to $4-7 billion in profits for traffickers, according to panelist Aiko Joshi, who works in the Division of Civil Rights at the Department of Justice.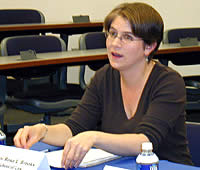 Brooks said human trafficking involves some form of deception or coercion.

Trafficking victims, unlike people who are smuggled across borders voluntarily, are deceived, coerced, or tricked into moving from one place to another, Brooks said. That distinction in the El Monte case made Congress reconsider immigration laws that could have forced the victims out of the country. As a result, legislators provided for new kinds of visas in the Victims of Trafficking and Violence Protection Act, signed in 2000.

Panelist Prof. David A. Martin said victims of human trafficking can now apply for the T visa (for victims of trafficking who want to testify against their traffickers) or for the U visa (for victims of general abuses that may be related to trafficking who want to testify or help in an investigation). Because those visas were not available in 1995, the El Monte workers' lawyer, Julie Su, applied for S visas—commonly known as the "snitch visa"—for her clients. The visa had a ceiling of 200 per year and was difficult to obtain; T and U visas have higher ceilings of 5,000 and 10,000 per year, respectively, and allow the visa holders to eventually apply for a green card.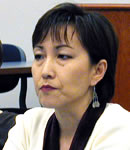 Joshi said many young women in North America are susceptible to traffickers on the Internet.

Joshi, who is president of the board of Captive Daughters, said there are a number of reasons why human trafficking has grown so pervasive. The devaluation of females in a number of societies allows some to view women as servants or commodities. Young girls can be considered valuable sexual slaves because they are perceived as safe from AIDS. Poverty in many countries encourages the view that children are also responsible for earning money for families, making young people more susceptible to scheming traffickers who offer high-paying jobs, but who actually deliver servitude or slavery. "Many of the women in particular believe the man is their boyfriend," only to find their "boyfriend" intends to sell them as sex slaves, Joshi said. Some traffickers "chat up young girls with promises of modeling jobs in New York or L.A," either in malls or on the Internet.

Traffickers can "reuse that human being over and over," Joshi said, creating profits for the traffickers and "imaginary debt" for the victim, who believes she must pay for her passage each time.

Joshi said the civil rights division of the Justice Department now has a helpline for victims in America. After contacting the helpline, victims may be certified by Health and Human Services through the Office of Refuge and Resettlement in order to be eligible for the T or U visa. "They are assured of protection in exchange for helping in the investigation and cooperating with government authorities," Joshi said.

Joshi said the biggest problem the government faces in helping victims is housing. "Both [nongovernmental organizations] and the government have to scramble around to find housing," she said.

In some cases, traffickers try to find and silence the victim who is cooperating in an investigation, possibly also endangering good Samaritans who take victims into their homes. Some organizations, such as the west coast-based CAST (Coalition Against Slavery and Trafficking) help trafficking victims find housing, legal aid and counseling.

Although the United States can ask countries to tighten their laws concerning trafficking, government corruption in some nations can be an obstacle to reducing such crimes. "Anti-smuggling efforts are going to be key to combating trafficking," Martin said, as well as tightening immigration laws. He said the INS recently opened 40 offices abroad to help train foreign law enforcement or airline personnel in detecting false documents.

Martin pressed students to get involved in immigration law, noting that the El Monte workers had a happier ending because of their lawyer, Julie Su, who was one year out of law school when she took their case. In addition to helping the workers remain in America, Su filed a civil lawsuit for backpay, charging that the manufacturers who purchased clothing made by her clients must have known the workers had substandard conditions because of the products' low price. When a judge refused to dismiss the case, the manufacturers settled for $4 million. Su was awarded a MacArthur "genius" fellowship for her efforts.




Founded in 1819, the University of Virginia School of Law is the second-oldest continuously operating law school in the nation. Consistently ranked among the top law schools, Virginia is a world-renowned training ground for distinguished lawyers and public servants, instilling in them a commitment to leadership, integrity and community service.