School Vouchers Expected To Survive Court Test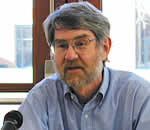 Prof. Vincent Blasi expressed doubts about the long-term effects of a publicly funded voucher system.

Private schools that might teach forms of intolerance or aggression—values that run counter to traditionally American ideals of equality and diversity—could receive public funding if school vouchers prove to be a popular alternative to public schools, Law School Dean John C. Jeffries, Jr. said during a panel discussion at the Law School April 1. Jeffries joined professors Barbara Armacost, Vincent Blasi and John Harrison in debating the validity of school vouchers and the potential consequences of a publicly funded voucher system during the program, "The Constitutionality of School Vouchers and the Zelman v. Simmons-Harris Case," sponsored by the Virginia Law Democrats .

"Imagine a series of private institutions that are saying illiberal things with public money," Jeffries said. In time, the potential drawbacks of school vouchers will show how committed or not Americans are to a common education rather than to a publicly funded private education, Jeffries said.


The program opened with comments from panelists about the Zelman v. Simmons-Harris case, heard by the Supreme Court in February (a decision is due in July). The case concerns children in the Cleveland public school district who can obtain vouchers of about $2500 per year to use towards private school tuition. Because of the low amount of the voucher, most of the participating schools in the program are religious; unlike other private schools, they have more funds through their parent church or through donations—and they have lower overhead costs. Of the schools participating in the program, 82 percent are religious, and between 88 and 96 percent of students participating in the program are enrolled in religious schools, according to the brief filed by the Anti-Defamation League in support of Harris-Simmons. All panelists predicted that the court would uphold the Cleveland voucher system.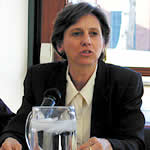 Prof. Barbara Armacost said she doubted that the public school system would end as a result of vouchers.

The case raises questions about the division of church and state, Blasi said. "Is a voucher system an instance of using a religious means to serve civil ends?" he asked. Blasi said religious schools could grow dependent on what would amount to a government subsidy. Because religious institutions in the past have offered sharp criticism of the government, such as during the abolition movement, civil rights movement, and currently in the abortion debate, many fear that religious institutions could lose their edge as vessels of political discourse. Furthermore, Blasi said many wonder about the long-term effect vouchers will have on public schools. How much of our ability to get along and interact, for example, depends on mutual elementary and secondary education, he conjectured. "Is it dangerous to our civil society to think of education as a private good rather than a public good?" he asked.

"We do have values that are broadly defined," Armacost said. "We also have a huge and increasing diversity" that may have trouble subscribing to one worldview. "One alternative is to say maybe we can't have education as a lowest common denominator," she said. But if private schools take on increasing numbers of students "we may lose exposure to people who think different things."

Armacost said parents' ability to choose among private schools is paramount for the endorsement of Justice Sandra Day O'Connor, who is the swing vote in close cases. In the Cleveland voucher system, Armacost said, parents "don't really have a meaningful choice" of schools because usually only religious schools have tuition that low.

Other issues that once clouded the outlook for vouchers have fallen by the wayside. "The claims of the taxpayer once loomed large in the debate," Blasi said, but Americans have grown used to subsidizing programs they don't agree with in the "welfare state."

While the issues surrounding funding voucher systems have shifted, so too has the focus of the Supreme Court, Harrison said. In the 1960s, the Court was more interested in effects; now it is more interested in purpose, Harrison said. "It's now become very important for the justices, for example, whether the program is open to everybody."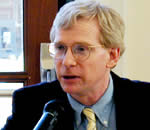 Prof. John Harrison said the public school system might benefit from competition.

Harrison said your stance on vouchers depends on if you view them as private property or as choices of the state. If you take the latter stance, you will probably view vouchers as problematic. "Should parents or the larger society have control over what is taught to children is about a hot button issue as you can get," he said.

Part of the reason Americans even consider vouchers as an alternative now is because the public's view of schools has changed dramatically in the last 50 years, Jeffries said. "There's been a loss of confidence in public education," he said.

Because providing equal dollars for all students has not shown a dramatic effect in inner city schools, many feel that introducing competition will help public schools rise to the challenge. Part of the momentum for vouchers, Armacost said, is that some kids are stuck in failing schools and have no alternatives. But even with vouchers, she said, "It would surprise me if it meant the end of public schools." Harrison noted that the U.S. Postal Service improved once competing companies like FedEx were introduced; the same could hold true for schools.

However, Blasi maintained that vouchers could affect public schools negatively. "The worry is that something like a cherry-picking effect will take place," he said.

Jeffries predicted that most Americans will come to accept the idea of providing vouchers for schools that have some kind of religious instruction. But he said private schools may end up competing with public schools in ways Americans may be less willing to accept—"by offering very different products indeed."


Founded in 1819, the University of Virginia School of Law is the second-oldest continuously operating law school in the nation. Consistently ranked among the top law schools, Virginia is a world-renowned training ground for distinguished lawyers and public servants, instilling in them a commitment to leadership, integrity and community service.