African-Americans Find Success, Obstacles in Sports and Entertainment Industries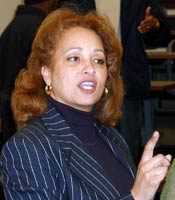 New Millennium film studio owner Daphne Maxwell Reid spoke about her experiences as an African-American entertainment company owner.
When Vice-Provost Alex M. Johnson, Jr., taught sports law, his class would talk about why African-Americans are so successful in sports. Sports are a vehicle into American society for all ethnic groups, Johnson argued, especially because athletes' accomplishments are measured objectively, so they can win according to the rules of the game. But now, perhaps because of pervasive media images of successful African-American athletes, "poor blacks view sports as a vehicle to escape poverty; poor whites don't," Johnson said. "It's kind of troubling to me that young black men see the only way out is a profession that is only one in a million." He added, "We need to really focus on that success and the cost of that success and what it's really doing to black males and to a lesser extent black females."
Johnson joined panelists Daphne Maxwell Reid and Professor Leonard Baynes February 7 in sharing their experiences and studies during "Winning in Overtime? The Strides and Struggles of African-Americans in Sports and Entertainment Law," a program sponsored by the Black Law Students' Association and the Virginia Journal of Sports and Entertainment and moderated by Professor Kim Forde-Mazrui. The speakers discussed why African-Americans had succeeded in the sports and entertainment industries and what blacks could do to increase the variety and quality of images of African-Americans in the media by getting involved in management and ownership of sports teams and entertainment companies.
The most frequent images Americans see of blacks, Johnson said, are as an athlete or other kind of entertainer. "It becomes a cultural thing that you just internalize and accept," he said.
Maxwell Reid, who starred as Aunt Viv on "The Fresh Prince of Bel Air," now owns New Millennium Studios, the first full-service film studio in Virginia and the first black-owned studio in the country. She emphasized the importance of African-Americans creating and owning the content of black entertainment.
"We are the runaway slaves who are not dependent on the system to produce our work," she said of her company. Maxwell Reid noted that broadcasters like CNN in their early years often portrayed welfare recipients as being solely black, creating or reinforcing the stereotype that all or most African-Americans were on welfare. To combat these kinds of stereotypes, her company wants to "expand the view of images of African-American people."
"Images for us are very important because they shape people's minds," she said. "We have to take control of making our own images… Shape them the way you want to shape them."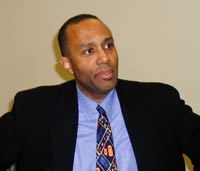 Professor Leonard Baynes discussed the lack of minority ownership of broadcasting licenses and the pervasiveness of negative images of African-Americans.
To show the prevalence of negative images of African-Americans in the media, Baynes pointed to the results of a Discovery channel experiment. In the experiment, children were shown two identical pictures, where only the race of those pictured differed. In one photo, two whites were shown on the stairs, one higher than the other; in the other photo, the child on top was black. The children said that it looked like the child on top was helping the other child when both were white, but in the other picture the black child looked like he was pushing the white child down the stairs. The parents of the children in the study insisted that they did not know how the kids picked up this perception, Baynes said. "The common meeting ground [for blacks and whites] is very often the TV," he said. Television "normalizes a particular viewpoint." When this viewpoint is negative, it affects viewers' perceptions.
Baynes argued that negative images of African-Americans affect government policy as well. If people see violent blacks on TV, they may be more likely to jail them, for example. If welfare recipients are shown as being primarily black, whites may want to end welfare, he said.
Despite the continuing use of negative stereotypes, Baynes said, "things have gotten somewhat better." In the 1950s, only .5 percent of the actors were African-American: in the 1990s, that figure rose to 15 percent.
Baynes, who once worked as a scholar-in-residence at the FCC, noted that many of the policies the regulating commission previously enforced that enhanced minority involvement in broadcasting have changed in recent years. The FCC eliminated affirmative action programs and replaced them with programs to help new or small businesses instead. Additionally, applicants with more than 50 percent minority ownership often are not favored to get licenses over companies that employ a larger number of minorities, he said, thus minority ownership is more rare: only 2.8 percent of broadcast stations are owned by African-Americans. This FCC policy "was helping those using minorities in their application when they didn't care about minorities." Baynes argued that TV should reflect African-Americans in reality. "The only way you may actually do that is to have ownership," he said. "That is one of the best ways to influence content."
Maxwell-Reid added that the best way to influence images of African-Americans—besides through ownership—is to question where you spend your dollar. "They're selling you an image of yourself," she said. "Find out who's behind the curtain and make a discriminatory decision about what you buy and watch."
Founded in 1819, the University of Virginia School of Law is the second-oldest continuously operating law school in the nation. Consistently ranked among the top law schools, Virginia is a world-renowned training ground for distinguished lawyers and public servants, instilling in them a commitment to leadership, integrity and community service.