Panelists Discuss Progress of Women in Legal Academia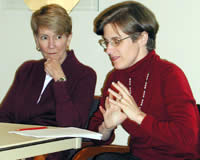 Prof. Liz Magill (right) and Prof. Lillian BeVier discussed the progress of women in law school faculty.

When Law School Professor Lillian BeVier began her job search after graduating from Stanford Law School in 1965, she found a lot of closed doors. At some law firms she interviewed with she heard statements like "We had a woman once and she didn't work out," apparently because, as BeVier later learned, the woman lawyer allowed the secretary to call her by her first name.

"My own view was I was going to get a job," she said. "And I did get a job eventually." BeVier and others reflected on the progress of women in law schools during a panel, "Women in Legal Academia: Past, Present and Future," held March 26 at the Law School.

BeVier, the first tenured woman on the Virginia Law School faculty and the first to hold a professorship, represented the boom of women who attended law school in the 1960s and '70s. Previously, scant numbers of women attended law school-less than 3 percent of law students were women up until 1965, moderator and Professor Liz Magill said. But the steadily increasing numbers of female students have now translated to greater female involvement in legal academia. In 1999, 10 percent of law school deans were women and 22 percent of tenure-track law professors were women, Magill said. Nearly half of other law professors are women.

In the late 1960s, the U.S. government ended students' ability to defer going to Vietnam by going to graduate schools. As a result, law schools began enrolling women.


"The law schools were looking at having very empty classrooms and they didn't want to have empty classrooms," BeVier said. "As more [women] went, law school became much less a 'weird' thing to do."

BeVier said that law schools to some extent have made efforts to accommodate women and their family needs, but that law teaching has become a much more demanding career. BeVier noted a shift in law schools during the 1980s: they began to view themselves more as a part of the academic community and the demands on faculty to produce legal scholarship and get published have consequently increased. Still, she finds that the law school's calendar offers women who are mothers advantages.

"You can organize your work and your schedule so you can do more of those things [holidays, vacation] with your family and your children," BeVier said.

Professor Rosa Ehrenreich Brooks, who joined the faculty as an associate professor last fall, agreed that the Law School's environment encourages a balanced schedule. "It's not easy … but as jobs go it doesn't get any better than this," Brooks said. "The Law School in particular is a fabulous place to be."

Brooks said the challenges facing women law faculty today have less to do with asserting formal equality and more to do with drawing attention to the ways "seemingly neutral structures" may disadvantage some groups.

"The ability to speak confidently and assertively in public is prized" among faculty and students, Brooks said. She said she has noticed that some women are less aggressive than men when speaking publicly, perhaps because of their upbringing. She said male students are more likely than female students to seek her out after class or during her office hours. Networking-talking to professors and making contacts-is important to getting a job in legal academia, she said, in addition to writing legal scholarship and teaching well.

BeVier echoed Brooks' concerns about female students' assertiveness, calling it a "double-bind."

"[Women] very much want to be called on and treated as equals, but they also don't want to be pushed too hard because it's stressful," she said.

Brooks said she's also noticed that scholarship written by men is more often described as brilliant by other professors. "You very rarely see a woman's work in legal journals described as 'brilliant or path-breaking,'" she said. More often women legal scholars' work is described as "thorough, comprehensive, [or a] valuable contribution." Brooks said while some may feel that women don't do brilliant work or can't because of obligations outside work, a third argument is that women do write brilliant papers, but the majority of men reviewing women's articles have a subconscious bias or preconception about women's scholarship.

Third-year Law student Elizabeth Polzin, who already has four working papers under her belt, also participated in the panel, urging students to make contact with professors and seek their advice about becoming a law teacher. "My experience has been that everyone I've talked to has been extremely encouraging," she said. "I haven't found a single person on the faculty who isn't willing to help you become a legal academic."

Although one student in the audience noted that is possible to graduate from the Law School without having more than one female teacher, BeVier responded that she has been on many panels to find new faculty members and has seen the school's recruitment efforts first-hand. "It does seem to me that the faculty itself really wants more women," she said.




Founded in 1819, the University of Virginia School of Law is the second-oldest continuously operating law school in the nation. Consistently ranked among the top law schools, Virginia is a world-renowned training ground for distinguished lawyers and public servants, instilling in them a commitment to leadership, integrity and community service.