Law School Grad Directs Center to Aid Farm and Immigrant Workers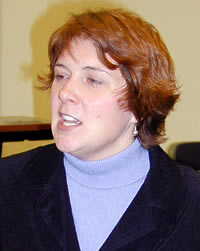 Class of 1990 Law School graduate Mary Bauer now works with migrant farmers and other low-wage workers.

While the Osborn Hotel charged $400 a month for renting a hotel room, migrant workers—who came to Independence, Virginia, to work on the area's Christmas tree farms—were not allowed to rent there. Instead, the elderly couple who owned the hotel rented the workers rooms across the street, some in a building supply office "basically set for demolition," Mary Bauer told an audience at the Law School on February 11. The Osborns didn't buy mattresses for these apartments—they got them from garbage dumpsters; raw sewage ran through the residences and they were infested with rats, according to Bauer, who is the Director of the Virginia Justice Center for Farm and Immigrant Workers. Even though the apartments offered comparably worse living conditions than the hotel, the workers and their families were charged about $900 to $1200 a month to live there. Bauer sued the Osborns and won a substantial judgment on behalf of the workers, but the elderly couple fled to Florida, and Bauer and her clients have yet to receive their award. They probably will collect from selling some of the Osborns' more habitable properties, but Bauer's story reveals some of the challenges facing both migrant workers and the lawyers who aid them.

Although Bauer has not collected from the Osborns, her office has recorded close to $700,000 in judgments from other cases, all of which goes to the workers who sue, unless lawyer fees are part of the judge's award. Bauer, the Virginia Legal Aid Lawyer of the Year in 2001, is one of three lawyers at the center who serve 400,000 low-wage workers in Virginia (including 42,000 migrant farm workers).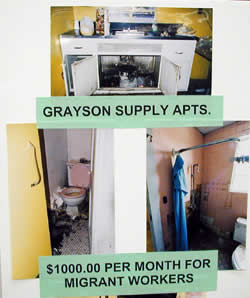 Displays Bauer used in the Osborn case to reveal the conditions of the apartments.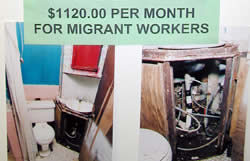 Despite the workload, the center has never lost a case. Bauer, who was invited to speak by the Law School's Migrant Farmworker Project and the National Lawyers Guild, said she represent clients who make less than minimum wage and often "are subjected to conditions that could be characterized as involuntary servitude." A typical migrant farm worker family of four makes about $6,000 a year, Bauer said.

"We've represented workers who have lived in migrant housing where open containers of pesticides were being stored," she said. In northern Virginia, where immigrant workers often gather on corners to be picked up by employers looking for laborers, workers may be paid with a bad check or may be abandoned at the end of the day. "We routinely represent day laborers who are not paid," she added.

Fifty percent of migrant farm workers are undocumented, Bauer said. Those who can get visas to the U.S. often borrow $300 to $3,000 from loan sharks to pay for them. Her clients, who are mostly Mexican or Latino, bring to the table "extreme political powerlessness," creating a potential for employer abuse. "There is no one that sees themselves as an advocate for farm workers," she said, in contrast to the political support farmers receive.

Bauer said she feels rewarded working for clients who stand up for their rights in the face of possible job loss or deportation. "It is not a sacrifice to do work that gives one's life a sense of meaning and purpose," she said.

Bauer is now working on a class-action lawsuit that involves migrant forestry workers in the southeast who plant trees for a number of large private businesses and who are hired through intermediary employers. The workers were paid $15 to $20 for every 1,000 trees they planted. The workers could plant 2,000 to 4,000 trees a day, and often worked 80 to 90 hours a week without overtime, which Bauer said forestry workers were entitled to under the law, unlike farm workers. Additionally, the intermediaries would take deductions from their paychecks for work-related tools, boots, and chainsaws. One worker had to pay for a chainsaw three times because he was working in different locations and could not take the chainsaw with him. Bauer is challenging the presumption that the parent company is not responsible for the contracted forestry workers.

"We've been enforcing very basic minimum wage and overtime laws for people who are not getting it," Bauer said. "The mere existence of our office is a deterrent to the worst employers."

Bauer said she found out how threatened some farmers felt by her office when the Virginia Farm Bureau pushed for the Virginia legislature to increase restrictions on offices that help immigrants; firms that receive federal money cannot work with visa workers or immigrants, Bauer said, and the Bureau wanted to restrict state money in Virginia as well. The Bureau withdrew its push for restrictions because legislators agreed to cut off funding for Bauer's center, she said. Bauer's office is now funded through grants from such organizations as the Virginia Law Foundation.

Bauer has found warmer political waters in northern Virginia, where she recently opened a new office that has been a fair source of income for the center. She said northern Virginia politicians appear more interested in helping workers there because of the larger population of immigrants.

While Bauer has helped many workers, there is no shortage of cases that highlight some employers' willingness to take advantage of immigrant labor.

"What I find increasingly depressing is the universality of a client's experiences," Bauer said. "We just can't rely on government to enforce the law for these workers."




Founded in 1819, the University of Virginia School of Law is the second-oldest continuously operating law school in the nation. Consistently ranked among the top law schools, Virginia is a world-renowned training ground for distinguished lawyers and public servants, instilling in them a commitment to leadership, integrity and community service.