McCurdy Wins Coif Triennial Book Award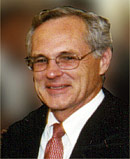 Professor of History and Law Charles W. McCurdy has been selected to receive the Order of the Coif Triennial Book Award from the Association of American Law Schools (AALS) for his book, The Anti-Rent Era in New York Law and Politics, 1839-1865. Also recognized with the award is Edward A. Purcell of New York University Law School, author of Brandeis and the Progressive Constitution: Erie , the Judicial Power, and the Politics of the Federal Courts in Twentieth-Century America. The award recognizes works published during the designated three-year period that evidence creative talent of the highest order.
"It's the highest scholarly honor conferred in legal academia. Just look at the list of past recipients. Each of them is a giant in the field. It's the pantheon. It's Cooperstown," said law professor Barry Cushman, director of the Law School's Program in Legal and Constitutional History.
Previous recipients include Law School professor G. Edward White (for Oliver Wendell Holmes: Law and the Inner Self), Gerald Gunther, Robert Ellickson, Ronald Dworkin, Guido Calabresi, Lawrence Tribe, James Willard Hurst, John Rawls, Grant Gilmore, Brainerd Currie, and John Hart Ely. "It is hard to imagine more prestigious company," noted Law School Dean John C. Jeffries Jr.
McCurdy's book recounts the violent 25-year tenant rebellion in rural eastern New York that sought to end prevailing land-tenure policies and stop the enforcement of landlord and contract rights. He analyzes the interplay of legal and political forces as lawyers tried to reconcile legal doctrine with party ideology and devise land-reform programs. The book narrates the frustrating failure of repeated attempts to end the crisis as personalities and events shaped the early possibilities of American democracy.
The award will be presented at the AALS Annual Meeting in January. McCurdy's book was published by the University of North Carolina Press in 2001. He also currently serves as chair of U.Va.'s Corcoran Department of History.
The Order of the Coif is a national scholastic honorary society formed in 1902 at the University of Illinois to encourage excellence in legal education. Its fifth chapter was formed at U.Va. in 1909. There are now 75 chapters at law schools nationwide. The book award was instituted in 1964 and first bestowed on Brainerd Currie.
Founded in 1819, the University of Virginia School of Law is the second-oldest continuously operating law school in the nation. Consistently ranked among the top law schools, Virginia is a world-renowned training ground for distinguished lawyers and public servants, instilling in them a commitment to leadership, integrity and community service.