Summer School Revitalizes Judges' Passion for Law
The legal history of substantive due process, intricacies of the 14th Amendment, the incorporation doctrine — law professor Pamela Karlan zipped through her material in a recent Constitutional Law class, but her students weren't left in her chalkboard dust. As federal and state judges participating in the Judges Program, they're well-equipped to bring their own insight and experiences to the classroom.
Having been 20 years or more out of law school, students in the Judges Program relish the chance to challenge their intellectual muscles in different ways and reinvigorate their knowledge of and passion for law. Students in the program reside in Charlottesville for two six-week summer sessions over two years and graduate with a Masters of Laws of the Judicial Process. This summer courses have focused on European Union Law, Courts and Social Science, International Law in American Courts, Issues in Scientific and Expert Evidence, and Environmental Federalism.
"It really does present an opportunity for judges that write decisions to be more thoughtful, to take an expansive view and to challenge themselves intellectually in a way they haven't previously," said Judge Connie Callahan of the United States Court of Appeals for the Ninth Circuit. "And the bottom line is, I think we do better work."
With their broad array of experiences from across the country and from a variety of courts, the distinguished judges in the program offer a glimpse at the people who, during their "day job," make important decisions affecting the country's legal landscape.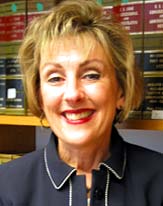 Despite the recent backlog in federal judicial appointments, Callahan's recent confirmation went through fairly quickly. "When the opportunity presented itself I thought, 'they're probably not going to ask me again,'" she said of the chance to jump to the federal circuit. She joked to two other federal judges in her class that they had given her a "federal virus."
Callahan was on California's Third District Court of Appeal since 1996 before being tapped for the Ninth Circuit judgeship, which she officially began in May. She started her career as a deputy city attorney in Stockton, Calif. in 1975 and later was deputy district attorney and supervising district attorney in San Joaquin County, where she established her office's first specialized prosecution unit on child abuse and sexual assault cases — at a time when convicted rapists might only be sentenced to probation. In 1992 she became the first female and the first Hispanic to serve as a judge of the Superior Court of San Joaquin County.
She was intrigued by two colleagues' praise of the Judges Program, and since they had recommended her to the Law School, she received an application and decided to apply.
"It appeared to me that this was the kind of presentation that would have a strong impact on your judging," she said. "I think I consider things I didn't consider before. I think it just took me to another level of analysis.
"The classrooms here and the discussions in some ways are a replication of what judges do and what they should be doing," she said. Depending on the courts and the volume of work, much of it may be done through memos and writing, she said, but putting your own words in writing can have a convincing effect on yourself. "Conferencing is a good way to have this exchange before you form the opinion …I think this [program] is a good reminder why conferencing is an important part of the process."
Callahan also appreciated that students in the program have the experience necessary to truly benefit from the course. "These are the kinds of cases we do," she said. The students have "reached a readiness level in education and practical experience, and they have the means to go back and practice it."
Furthermore, the exchanges between students and professors enlighten both, and make for a different power dynamic than that of law school. "The way that this is approached, I think it's fun for the professors and fun for the judges," she said, calling the professors "fabulous." "We're the ones writing the cases they're analyzing." Professors explain to students what they find problematic in opinions, and judges can point out practical aspects and pressures the scholars may not consider when analyzing a case. She appreciates that the program selects classes in areas that have grown more important since students attended law school. "It's really an exciting exchange of ideas and I think both the professors and the judges leave better informed about the work we are doing."
She praised the program's pass/fail system not because judges work less to succeed, but because of the teamwork it fosters among students who don't have to worry about class standing. "Judges are used to being in control, so coming back to the classroom and taking midterms and exams is not necessarily comfortable," she laughed.
Callahan herself has played a role in educating students through a community outreach program in which her Third District Court participated. "We were the first court of appeals to take oral arguments out to the high schools," she said. Her court took two-day trips to counties in her district — one day to meet students, and one day to hear oral arguments in cases of interest to the area, with a break for questions from students. Teachers received copies of the briefs ahead of the session and the justices' opinions when the decision came down. The goal, she said, was to get students interested in government, and make them feel they had a stake. "I hope we created more voters, more participants in government."
Callahan said she looks forward to beginning her work in the Ninth Circuit, the largest in the country. "You answer questions in your circuit for the first time," and you're often "setting the stage" for Supreme Court cases, she said.
Callahan stressed that it is crucial to be a life-long learner when you're making difficult decisions, one reason she chose to continue her education with the Judges Program. "I think it's one of the best things that I've ever done," she said. "It will make you better at the job you are doing."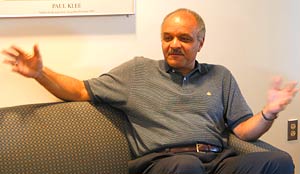 "This summer is a lot more relaxed," said Georgia Court of Appeals Judge Herbert Phipps contentedly. "It's so easy to get buried in the work and you can't see what's going on around you.
"It's good to get refreshed and look back at cases. You get brought up to date with the latest theories." Four other judges from the Georgia Court of Appeals had earned Master's degrees through U.Va.'s Judges Program and strongly encouraged Phipps to come. He had been elected to the Georgia Court of Appeals from Albany, Georgia, after serving on the local juvenile and superior court benches.
Phipps, who is African-American, was raised on a south Georgia farm — in Baker County, then a place notorious for its defiant segregationist ways — where as a young boy he worked behind mules in peanut and cotton fields.
He read the newspaper avidly and developed an interest in politics. Trials in particular attracted him. "It was like the circus came to town," Phipps said. In high school he would cut class to watch cases tried at the court house.
Phipps grew up under segregation, and knew it keenly for what it was.
"I woke up in bed once with six cops looking down at me. They had come to the door, pushed my father out of the way, and come to my room. I've been stopped for no reason while driving my car. I've been in jail charged with nothing." That time, his folks called the hospital looking for him and were told he wasn't there. Next they called the police and were told he wasn't there, though he was locked in a cell.
He wanted to do something about the treatment of blacks and saw that lawyers and judges had the power to do something "if they had the courage to, but most were in agreement with the segregationists," Phipps said. He was particularly inspired by C.B. King, a pioneering black civil rights lawyer in southern Georgia, who served as Phipps's mentor, and later partner, and whom Phipps ultimately pushed to have the Albany courthouse named for.
Once he concluded that the law could be a tool for relieving social suffering, Phipps was destined for a civil rights practice. "[Martin Luther] King and SNCC [the Student Nonviolent Coordinating Committee] were trying to draw attention to the problem. But once you got attention for it, then you had to have the lawyers to handle it," said Phipps, who as a young student activist was jailed with King in Georgia.
"The way civil rights law is taught at Virginia is very good," he noted, adding more faintly, "It quiets these people here down when I tell them what I know."
Phipps said this summer's lectures are "expanding on old theories and showing how they work out in the decision-making process.
"The professors you have here are just dynamite, just amazing. That makes a lot of difference."
He feels intellectually revitalized by the program. "Too often, especially state judges, we forget about Supreme Court opinions. We don't even read them like we should. When you get busy you can't keep up. But the program has given me a renewed interest in reading Supreme Court opinions."
Another lesson is "how similar things are from state to state. In some ways other states are better than we are, but in some we're better than them," said Phipps of Georgia's courts.
His personal view from the bench sees "too much ineffective assistance of counsel-incompetence. People ought to get a fair shake." Phipps's thesis is on stand-by defense counsels — lawyers who are present in cases where defendants choose to represent themselves, a situation Phipps called little more than "a slow guilty plea." The rules of evidence are too complicated for untrained people to understand, he said. "I think it's unwise for the defendant, in most cases, to decide to defend himself, but if you decide to do that, you should be allowed to go ahead.
"As the judge, I try to be fair to everybody. My policy is to treat people with respect. And I've never had a sleepless night. In six-and-a-half years on the bench, I had only one case appealed, and that was a murder case and you sort of have to appeal those."
Phipps said that mistreatment of criminals ultimately harms society by adding to the grievances convicts harbor. "A lot of criminals know they deserve the punishment, but they are looking for someone to show them respect."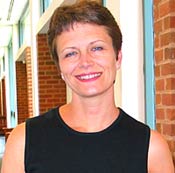 Cramming for exams is never easy, especially for students who are used to being in control at work. "Last year we were all frantic," laughed Kansas Court of Appeals Judge Carol Beier. "We've all pledged to be a little more laid-back this year."
Beier heard about the Judges Program when several members of the Kansas appellate courts raved about it. "I'm always on the lookout for opportunities to improve myself," she said. The Judges Program seemed to fit the bill, "and certainly it's proven to be such, I think."
Beier herself brings much to the classroom; she has just been appointed to the Kansas Supreme Court.
With a degree in journalism, Beier worked as a reporter for the Kansas City Times (now part of the Kansas City Star) for two years prior to attending the University of Kansas School of Law. As a journalist she had a knack for memorizing information about the people she was reporting on by using acronyms. Although she hasn't practiced that skill lately, her life-long love of learning remains strong. "More law school is more fun, as far as I'm concerned," she said.
A former visiting law professor at her alma mater, Beier said she's comfortable assuming the student role again and appreciates the efforts of the faculty in the program. "A number of the professors are just phenomenal," she said. "I'm in awe of their ability.
"I've really enjoyed the intellectual stretch and the new friends I've made all over the United States," she said. She added that she enjoyed the benefits of collegial discussions and learning about other states' legal systems. "I think one of the most important things about the program is what we learn from each other. It re-emphasizes the importance of being open to other peoples' ideas and different ways of doing things," she said, noting that it's key for appellate judges to hash out issues. "It gives us good practice."
After graduating from law school, Beier clerked for then Judge James K. Logan of the United States Court of Appeals for the 10th Circuit. She then headed to the nation's capital to serve as a Georgetown University Law Center fellow at the National Women's Law Center. She entered private practice in D.C. at Arent, Fox, Kintner, Plotkin & Kahn, focusing on white collar criminal defense work, and returned to Kansas to work at Foulston & Siefkin, LLP, concentrating on commercial disputes and health care law. She was sworn in to the Kansas Court of Appeals in 2000.
"I love my job," she said. "It's very quiet, next to practice." On the appellate bench, judging is a studious endeavor, she said, and requires thinking, researching, and writing. In practice there's more schmoozing, business-getting, and client hand-holding — and more unpredictability. Clients may have limited resources that require you to work only a certain amount of time on a case. "When you work on an appellate court the opinion is finished when you say it is."
Beier has a teenager and a 12-year-old, both of whom have spent time with mom and dad in Charlottesville during the summer sessions. But now, "they've made themselves scarce because I'm cramming."
Judges in the program are also required to write a thesis. Beier said she will focus on how the death penalty and the abolition of the insanity defense in Kansas affect each other and are interrelated.
The program "certainly updated my legal education," she said. "We're getting some exposure to things that weren't even taught when we were in law school."
Founded in 1819, the University of Virginia School of Law is the second-oldest continuously operating law school in the nation. Consistently ranked among the top law schools, Virginia is a world-renowned training ground for distinguished lawyers and public servants, instilling in them a commitment to leadership, integrity and community service.