Job Prospects Strong for International Business Lawyers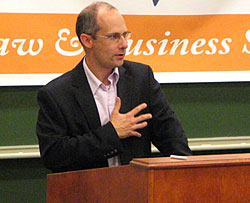 The increasing tendency of foreign companies to choose American law as the one governing the terms of their international deals means opportunities are expanding for law students interested in careers in international business transactions, according to Christopher Bernard '96, a lawyer with Allen Overy's London office who was on-Grounds August 31 on a recruiting visit. Bernard, a Dillard Scholar at Virginia, spoke on life in an overseas office and trends in cross-border business law at the invitation of the Law & Business Society.
International work is made easier for American lawyers by the fact that English is the language of international business and British and American law — New York or Delaware law, in particular — are the preferred governing laws for deals.
In later remarks on trends, he said standardization and globalization pressures give companies additional incentives to write their prospectuses in English.
He strongly urged those interested in international careers to become competent in at least one foreign language. He described feeling awkward at not being able to follow when clients discussed deals in their native language and another sort of awkwardness when they discussed it instead in English because only he could not participate in their language.
Bernard said it is important to be sensitive to cultural difference and learn the styles of doing business that different countries have. In Asia, he said, deals are relationship-based and it is important not to stand out. German dealmaking tends to be very detail-oriented and the French tend to more emotional in negotiations. These were all generalizations, he cautioned.
Working outside the United State is very different from traveling abroad, Bernard warned, and life as an expatriate is not as glamorous as it may sound.
Business travel is also not all it's made out to be, he said. Meetings with clients are often held at airports and that could be as much as you see of the city. After an arduous day meeting at the airport in Rome, he recounted, the client ended the day at 11 p.m. and took him to McDonalds for dinner, thinking it was what Americans want.
Furthermore, foreign offices are very expensive for American firms to maintain, so they are under heavy pressure to be profitable and to do it with fewer staff and smaller resources. "Living abroad is not cushy. Foreign branch offices tend to work even harder than home offices."
Life abroad "can be very isolating," Bernard addded. "You're a long way from your family and your friends, there's no coverage of baseball." Expatriates tend to hang out together, he said, and talk about the cultural differences that they can get used to.
Turning to trends, Bernard said globalization continues to expand the number of cross-border transactions and it is snowballing.
The two main trends in overseas business practice are the growing international standardization of accounting and disclosure rules and, secondly, the lawyer's emerging role as a gatekeeper between corporations and the public, he said.
European convergence on standards has abetted the continent's adoption of the euro, which Bernard called both a "huge step forward" and a "qualified success," an allusion to the economic troubles of Germany and France that have caused them to defy euro monetary rules.
Bernard's second example of standardization was Basel II, a new round of banking standards meant to promote stability, which created capital adequacy standards that require banks to maintain certain minimum amounts of cash to cover their credit risks. Three levels of standards linked to bank size are proposed and they will apply to all banks including those in the United States.
International accounting and disclosure standard have been in the works, but their development has accelerated after the corporate scandals of Enron, WorldCom, Parmalat and Vivendi. "There's a real push," he said. "It's a big achievement to have the European Union come together this way." The next stage will be to get common standards on both sides of the Atlantic, he predicted. "It's a product of globalization and it also encourages it."
He described the standards as "moving to the kind of disclosure America already does."
A second development is the new role lawyers are being asked to play as gatekeepers who protect investors and the public by being advocates for ethical behavior by the corporations they represent. The shift traces to the Sarbanes-Oxley Act, meant to remedy some of the sins of Enron. Bernard called the legislation "poorly drafted," "overbroad," "a kneejerk reaction," and full of ambiguities. Because the United States remains the "world's deepest capital market" and others want access to it, the new rules are having an effect internationally. They are changing the nature of lawyer-client privilege. New "up the ladder" rules require lawyers to report suspected wrongdoing higher and higher through the ranks of corporate leadership until it is addressed. Should a lawyer not be satisfied with the response, another proposal called the "noisy withdrawal" rule would oblige him or her to blow the whistle on his client. That rule is controversial and "it's neither passed nor withdrawn" from consideration, Bernard said. The United Kingdom has recently enacted laws requiring lawyers to report suspected money laundering too, he said.
International job opportunities for American business lawyers are most ripe in London, Hong Kong, and Frankfurt, he said, particularly in securities and mergers and acquistions work. Also on the recruiting visit for Allen Overly was Virginia Law alumna Stephanie Magnell '03, who answered students' questions on living abroad after the talk as well.
Founded in 1819, the University of Virginia School of Law is the second-oldest continuously operating law school in the nation. Consistently ranked among the top law schools, Virginia is a world-renowned training ground for distinguished lawyers and public servants, instilling in them a commitment to leadership, integrity and community service.