Ethical Character of Firms Set by Top Leadership, Miller Says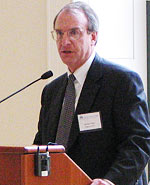 To avoid scandals, mutual fund companies must have programs that ensure compliance with government regulations, but more essential is a corporate culture that stresses integrity and trust-building, said Michael Miller '77, managing director of planning and development for the Vanguard Group, in his keynote remarks at the Business Advisory Council meeting Oct. 1.
"It's been a brutal past 13 months in the mutual fund industry. Numerous firms have been implicated in unethical and, in some cases, illegal behavior," Miller said. "We had a pretty clean reputation for much of our history and I never personally imagined that we would be hit with such a rash of scandals."
So far, 11 fund firms have agreed to pay nearly $3 billion in fines and restitution for trading abuses such as late trading, which is illegal because it allows privileged investors (in this case hedge funds) to take advantage of information available after the close of markets. "Some firms and some individuals lost sight of the fundamentals of our business, basic precepts of honesty, fair-dealing and integrity," Miller said. Some 93 million shareholders have entrusted $7.5 trillion to mutual fund firms. Vanguard is America's second largest fund company with $725 billion under management in the United States and another $100 billion overseas.
Miller praised New York Attorney General Eliot Spitzer and the Securities and Exchange Commission for their investigations and also credited the industry with coming forward with reform measures. The industry has "taken an active role in discussions about solutions," he said.
Meanwhile, fund investors have made some adjustments of their own. The guilty firms have lost customers and market share and are now "shadows of their former selves," Miller said. Assets are up just 2 percent among the 21 fund companies implicated in the scandal, despite a return of 13 to 14 percent in the stock market over the last year. Growth was 22 percent for those firms whose reputations remained intact, he said. With an additional $200 billion invested in funds since the scandal came to light, Miller said investors have shown that they have not lost faith in the industry. "It's gratifying that investors are not blaming the whole industry for the behavior of a few firms. We wish the media would get it too."
The SEC has stiffened rules of compliance and disclosure and required firms to have a compliance officer who reports directly to the firm's board of directors. Two possible changes that targeted particular abuses, a "hard 4 p.m. close" on trading on the stock exchanges and the imposition of mandatory redemption fees, "lost steam," Miller said, because of complications in implementing them.
Regulatory enforcement action has done more good than the new rules, he said, adding that "too many of the new regulations are more a matter of form than substance, in my opinion.
"The fund industry wants to be seen as a well-regulated industry that deserves the trust of its investors." He called for cooperation between regulators and firms to police the industry. In the past there was "a dialogue between regulators and the firms where disagreement occurred, but issues were still discussed." Now that relationship has deteriorated.
"The lesson for the public is that controls and cultures are what matter in mutual fund management," he said.
"Tight controls alone will not do the job. The firm must also possess a strong fiduciary culture, one committed to earning the trust of its investors. There has to be a commitment at the top to doing the right thing and it must be communicated clearly throughout the organization. Every employee must feel a sense of stewardship for the shareholder."
Vanguard is the only investor-owned mutual fund company in America, Miller said. "We don't have a parent company or shareholders to please." Employees are called "crew members" at Vanguard, he said, and they are promptly dismissed for infractions such as violating client confidentiality, accepting gifts, or trading on their personal account on the basis of client decisions. "We have a no-ifs-ands-or-buts policy. As we say in our ethics manual, a momentary lapse from the straight and narrow could be enough to ruin Vanguard's reputation for years to come, or perhaps forever in some people's eyes."
Vanguard's compliance manual is "27 pages of fine print, back and front," and the firm's compliance plan operates according to system of checks and balances, with the four involved functions-business operations, the legal department, the compliance department and the internal audit department-reporting to separate bosses, Miller explained.
An independently conducted survey of employee satisfaction this year found that the ethical environment at Vanguard was one of the highest sources of job satisfaction, and also revealed as a general sense among employees that their co-workers and superiors do behave ethically.
"The big lesson is that trust is an intangible asset that is hard to measure and fragile," Miller said. Client trust results in client loyalty and that loyalty is critical to the long-term success of the company. "To ignore client trust is to put a firm's future at risk."
Meanwhile, enforcement mechanisms must be "unremitting. Little slips can lead to big problems, as we've seen over the last year," he noted. And a firm's leaders "must demonstrate their commitment to integrity through words and actions. The message about what's right has to come from the top. How else do you expect people in your organization to get it?" Employees who have direct contact with clients are a firm's "first line of defense," he said, and must be honest, because no company's compliance system, regardless of how strict, can be thorough enough to prevent all abuses.
Founded in 1819, the University of Virginia School of Law is the second-oldest continuously operating law school in the nation. Consistently ranked among the top law schools, Virginia is a world-renowned training ground for distinguished lawyers and public servants, instilling in them a commitment to leadership, integrity and community service.