Passaportis to Clerk for Chief Justice Rehnquist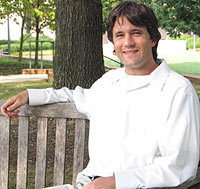 Michael S. Passaportis, a 2004 graduate of the Law School, will be one of three law clerks serving Chief Justice of the United States William H. Rehnquist for the Supreme Court's 2005-06 term, continuing Chief Justice Rehnquist's predilection for Virginia-educated clerks. Ryan Shores, a 2003 Virginia Law graduate and former editor-in-chief of the Virginia Law Review, is currently a clerk for Rehnquist.
"It's a tremendous honor to have been selected. There are so many qualified candidates. I was very lucky," said Passaportis, a Hardy Cross Dillard Scholar who was also awarded the Roger and Madeline Traynor Prize and the John M. Olin Prize in Law and Economics. Both prizes honor superior written work. He also received the Jackson Walker Prize for having the highest second-year GPA in his class.
A native of Zimbabwe, Passaportis earned his undergraduate degree from Harvard University, where he was also Phi Beta Kappa, in 2000.
He left Zimbabwe at age 16 to go to school in Canada. His parents still live in Harare, where his father is a solicitor and his mother teaches English at a high school. Passaportis said he entreats his parents to leave Zimbabwe constantly because of the political instability there, but they, both natives, are reluctant to move. Passaportis's youngest brother is at an American university and he hopes to persuade his last brother to move here too.
"I sort of rebelled against the idea of being a lawyer as a teenager," he said, reflecting on having chosen his father's profession. "But law school jelled with me very well. I'm meticulous in certain ways. I shy away from expansive reasoning. I like statutes and cases because they force your reasoning to remain grounded."
Since June, Passaportis, joined by classmate Allison Orr, has been one of three clerks for Judge J. Harvie Wilkinson of the Richmond-based U.S. Court of Appeals for the Fourth Circuit. Wilkinson's office is in Charlottesville.
Passaportis has been preparing briefs for cases on the judge's docket and so far has finished 10, each running about 20 pages. "We summarize the case to help the judge navigate through the issues. You have to cross your t's and dot your i's. You're helping a judge make law. That's no small task. There's an incredible critical gaze that judicial opinions are subject to." Passaportis was also articles development editor for the Virginia Law Review.
"Initially, cases seem very dry, but as you delve in you see hidden questions that are like jewels amongst the dross. It's very rewarding," he said, adding that he doesn't mind working the long hours that a clerkship can entail; "It's fulfilling; it's not drudgery," he said. "The really fun part is the intellectual stimulation we give each other."
Passaportis applied for a Supreme Court clerkship in the customary way, sending a transcript and writing sample. Rehnquist's office subsequently called to arrange an interview. "I drove to Washington shaking all the way," Passaportis recalled.
"The chance to work for a Supreme Court justice is a very great honor. The work you're doing there really matters. It's fulfilling and it's also scary."
Chief Justice Rehnquist is "the most gentlemanly person," Passaportis said. "In five minutes I was completely at ease. After the interview was over, I thought it went well, but who knows. Expect-the-worst, hope-for-the-best is what I go on. I got a call a couple of days later. Immediately after I found out I called my mother in Zimbabwe to tell her and she said, 'Is he very famous?' It helps you keep it in perspective."
Passaportis said his ideal career would be to join the law faculty at a top school like Virginia. "I want to teach law. A clerkship is a rite of passage to teaching. It helps incredibly to have a Supreme Court clerkship."
The note he wrote that earned Rehnquist's attention was on defamation issues pertaining to freedom of speech. "I think the First Amendment is crucial. With access to the vote it forms the cornerstone of liberal democracy.
"It's something to admire about the United States. Out of this cacophony of viewpoints, a prosperous society emerges. People here take these things for granted. In Zimbabwe you cannot freely express yourself. All media is controlled by the government. That's why the Web is so important. If access can be made cheaper it represents the possibility of unimpeded information flow on an unprecedented scale." Passaportis said he likes to check Google's news site because it gathers points of view from so many sources around the world.
He'll start his next clerkship in June. As a foreign national he's had to get a special work visa. While at Harvard he tutored people preparing to take the citizenship exam and he intends to become a naturalized U.S. citizen too one day.
Founded in 1819, the University of Virginia School of Law is the second-oldest continuously operating law school in the nation. Consistently ranked among the top law schools, Virginia is a world-renowned training ground for distinguished lawyers and public servants, instilling in them a commitment to leadership, integrity and community service.