Stephan Laments Lack of Judicial Modesty on Supreme Court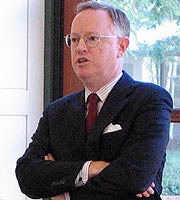 The U.S. Supreme Court should restrain itself from issuing rulings that rely mainly on its authority and fail to make arguments that account for precedents, said Paul Stephan in his inaugural lecture as the Lewis F. Powell Jr. Professor of Law. According to Law School tradition, professors awarded endowed chairs customarily deliver a public lecture to mark their new title. Stephan was a law clerk for the late Supreme Court Justice Lewis F. Powell Jr. in 1978.
"Judicial modesty is a virtue and we do not see enough of it in the federal judiciary, particularly in the present justices of our Supreme Court, who just consider what they want," said Stephan. He defined judicial modesty as "a serious effort to respect the boundaries on present action set by the past and the future… A modest judge realizes that she occupies only a moment in a web of judging and respects her location on that web.
"The immodest judge maximizes his power and discretion. The essence of judicial modesty relies on authority and argument. Modesty relies on reason; immodesty is arbitrary.
"It is not necessarily immodest of a judge to take a position that will generate political controversy or to overrule earlier case law," explained Stephan, who held up Brown v. Board of Educationas a dramatic and pivotal case that was not immodest. "When a judge can defend a position taken with clear and persuasive argument based on widely accepted interpretive techniques where those arguments apply clear constraints on a judge's future action," he or she is showing proper respect for their role in the legal system, he said.
Stephan illustrated judicial modesty with an analysis of Justice Powell's dissenting opinion in the 1979 case of Cannon v. University of Chicagowhich involved the question of whether the Title XI act of 1972 that forbid discrimination based on gender in the admissions policies of universities receiving public funds. As an example of immodesty he analyzed the Supreme Court's ruling last term in Sosa v. Alvarez-Machain, a now-famous case involving the Alien Tort Statute and the power of federal judges to hear private lawsuits seeking redress for violations under customary international law. He said the decision in Sosatried to avoid controversy but ended up being "unintelligible" and further eroding confidence in how the legal system works.
"If you believe as I do that our approach to judicial authority is an essential part of our society's greater openness to dissent and innovation, and greater opportunities for the weak and marginalized than any other political culture currently allows, then judicial immodesty is a big problem," Stephan said.
Founded in 1819, the University of Virginia School of Law is the second-oldest continuously operating law school in the nation. Consistently ranked among the top law schools, Virginia is a world-renowned training ground for distinguished lawyers and public servants, instilling in them a commitment to leadership, integrity and community service.