Two Law Alums Look Forward to Supreme Court Clerkships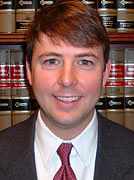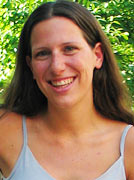 Ryan Shores '03 felt nervous as he walked into Chief Justice William H. Rehnquist's office, but found that the tough interview he was expecting was more like a conversation, as he talked with Rehnquist about the history of some of the furniture in his office.
"When I left there, I thought, 'well, even if I don't get the job, I just had a nice conversation with the Chief Justice,'" said Shores, who is now a clerk for Judge Kenneth Ripple of the U.S. Court of Appeals for the Seventh Circuit, based in Chicago.
Shores and classmate Melissa Arbus will begin their Supreme Court clerkship in July; Arbus, who is currently clerking for Judge Diana Motz on the Fourth Circuit Court of Appeals, will clerk for Justice John Paul Stevens.
"Any clerkship is an invaluable experience and a very good transition between law school and the working world," Arbus said. "With a Supreme Court clerkship you have the rare opportunity to see the most exciting and difficult cases there are."
Arbus, a New Jersey native whose father is a sole practitioner and certified civil trial attorney, plans to enter private practice or work for the government after her clerkship. "I look forward to learning everything I can from the clerkship, and from Justice Stevens," she said, and she is thrilled to tackle "some of the hardest legal issues out there."
Both Arbus and Shores served on the Virginia Law Review; Shores was Editor-in-Chief while Arbus worked as Notes Development Editor. Shores said his current clerkship depends heavily on his law school experience. "You analyze cases over and over in law school and break them down," he said. "That's precisely what happens when we get a case here — My legal education at U.Va. was just terrific in that respect."
Shores, a northwest-Florida native who worked in advertising before choosing to study law, plans to practice privately after his Supreme Court clerkship as well. "The reason that I applied and wanted to do it so badly [was that] I really enjoy trying to understand how law fits into the whole process."
Supreme Court justices typically take four clerks each year, although Rehnquist takes three. Applicants usually must clerk with a lower-court judge before moving on to the Supreme Court, and students begin applying for the coveted positions as soon as they secure their first clerkship.
Second-year students interested in clerking should be looking for judges they would like to clerk with and start requesting recommendations from professors, said Jason Wu Trujillo, Director of Public Service and Career Counselor at the Law School. Clerkship applications typically include a legal writing sample, cover letter, resume, transcript, and three academic references. Under the Federal Law Clerk Hiring Plan, federal judges are encouraged to wait until the fall of a student's third year to accept applications, but state court deadlines are more varied.
"People should not self-select themselves out of clerkships," Trujillo said, explaining that students often feel they won't get a clerkship without at least a 3.5 GPA. In reality, state supreme courts and state courts of appeal are less grade-conscious, and competition for clerkships varies regionally at the federal and state level as well. "State court clerkships should not be overlooked, and they have been in the past." Trujillo said anyone interested in state clerkships should meet with him, since some states require submissions as early as a student's second year.
Students applying for clerkships and firms at the same time may be able to negotiate with the firm to defer accepting an offer, said W. Stevenson Hopson IV, Senior Assistant Dean for Career Services, but often students choose to wait until they begin their clerkship to interview with firms. Sometimes judges don't want potential clerks to commit to a future law firm position because conflicts of interest may arise if, for example, a lawyer from the firm is arguing before the judge's court.
Founded in 1819, the University of Virginia School of Law is the second-oldest continuously operating law school in the nation. Consistently ranked among the top law schools, Virginia is a world-renowned training ground for distinguished lawyers and public servants, instilling in them a commitment to leadership, integrity and community service.