Adams '03 to Clerk for Justice Clarence Thomas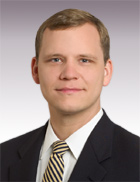 John Adams '03 had settled down to work in private practice after a postgraduate clerkship and a pre-law career as a naval officer when he heard one more call to duty. Adams was recently selected to clerk for Supreme Court Justice Clarence Thomas, starting in July 2006.
"It was a great honor just to interview," Adams said. He was admittedly nervous, but he "went in and tried to enjoy it." Two months later he learned he had the job.
"I consider it a great form of public service. I really look forward to working with my co-clerks and the Justice," said Adams, who is currently an associate at Hunton & Williams in Richmond, focusing on antitrust and intellectual property litigation.
While at the Law School, Adams served as managing editor of the Virginia Law Review and secretary of the Student Bar Association, and was elected to the Raven Society. After graduation he clerked for Judge David Sentelle of the U.S. Court of Appeals for the D.C. Circuit. Adams praised Sentelle and his staff, as well as the role the experience had in preparing him for the future. "By the nature of its jurisdiction, the D.C. Circuit hears some very challenging cases. Working with Judge Sentelle on complicated cases was an incredible learning experience," he said. "Judge Sentelle has dedicated most of his life to public service, and he is a gifted teacher. It was a real honor to work with him."
During his June interview at the Supreme Court, Adams spent well over an hour interviewing with Thomas's current clerks on substantive constitutional law issues.
"We covered a lot of ground — the commerce clause, free speech, the role of precedent — a broad area of constitutional law and statutory interpretation," Adams said. "It was actually an enjoyable give and take."
After that he spent about 45 minutes with Thomas for a more personal interview. "We talked about a lot of things — family, and what we do for fun," Adams said. "His chambers seem to have a team feel to it, and I look forward to being part of the team." Adams previously interviewed with the late Chief Justice William H. Rehnquist.
Adams is a graduate of the Virginia Military Institute, where he majored in economics. He served as a naval officer for four years before coming to the Law School, including tours in the Middle East and counter-narcotics work in the Caribbean. Adams said he is excited to return to public service. "Obviously it's a great honor. Mostly, I am very humbled," he said.
Adams and his wife, Lisa, have one child, who shares a name with his father's future boss: Thomas.
Founded in 1819, the University of Virginia School of Law is the second-oldest continuously operating law school in the nation. Consistently ranked among the top law schools, Virginia is a world-renowned training ground for distinguished lawyers and public servants, instilling in them a commitment to leadership, integrity and community service.