Bragdon '02 to Clerk for Justice Thomas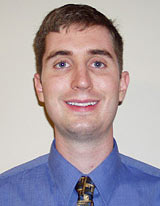 David Bragdon had just finished the first grueling day of the North Carolina bar exam — the third state bar exam he's taken — when he got the news that he was going to interview for a Supreme Court clerkship under Justice Clarence Thomas for the 2006-07 court year.
"I didn't get a whole lot of sleep that night," said Bragdon, a 2002 graduate of the Law School. "I was really, really glad I found out after I had taken the essay portion."
Bragdon, currently an associate in the commercial litigation group of Burr & Forman in Birmingham, Ala., clerked for Judge Stephen Williams of the U.S. Court of Appeals for the D.C. Circuit soon after graduating from Law School. Afterwards, a move south made sense to Bragdon, who grew up in a military family and has never lived in the same place for more than four years.
"I wanted to be in the South in a place that had a good quality of life, and Birmingham is a nice-sized city. It's a good place to practice law," said Bragdon, whose wife is from North Carolina.
Bragdon didn't apply to the Supreme Court after his first clerkship.
"After I'd been working for a little over a year I just decided to give it a try," he said. "I thought it'd be a fun thing to do."
During his interview he was drilled by Justice Thomas's current clerks for two hours on constitutional law and the Court's jurisprudence, and afterwards he had a more conversational meeting with Thomas.
"I'm really excited just to get to spend time with Justice Thomas on a daily basis and help research cases and assist him in making decisions," said Bragdon, who learned he had the job in September. He will join fellow alum John Adams '03 in clerking for Thomas.
"John is a really good guy, so I'm looking forward to clerking with him," Bragdon said. He met Adams through the Virginia Law Review, where Bragdon served as articles editor. During Law School Bragdon was also a Federalist Society member, serving one year as vice president, and participated in the Law Christian Fellowship.
As for that North Carolina bar exam, the news of his clerkship and a sleepless night added some pressure. His firm had asked him to take the exam, as well as the Kentucky bar exam, to expand out-of-state practice opportunities. "It's a lot harder to take a bar exam when you're working at the same time as you're studying," he said. But no surprise for a future Supreme Court clerk — he still passed.
Founded in 1819, the University of Virginia School of Law is the second-oldest continuously operating law school in the nation. Consistently ranked among the top law schools, Virginia is a world-renowned training ground for distinguished lawyers and public servants, instilling in them a commitment to leadership, integrity and community service.