Bress '05 to Clerk for Justice Scalia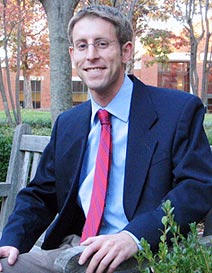 As a clerk for the U.S. Court of Appeals for the Fourth Circuit, Daniel Bress '05 appreciates researching and reasoning over cases with his co-clerks and boss, Judge J. Harvie Wilkinson '72, as much as the tight-knit group's daily 3.5 mile run. Whether shouting out legal questions through office walls or running laps around the University track with "the Judge," as Wilkinson is fondly called, what stands out is Bress's love of interacting with his colleagues — and his love of law.
Bress will get the chance to share that passion as a clerk in the Supreme Court next year, under Justice Antonin Scalia, a former U.Va. law professor.
"Clerking is the best job a young lawyer could have," Bress said. "I have tremendous respect for the United States judiciary and am humbled by the opportunity to serve. As I grow and learn in the profession, that respect I have matures a lot. What an honor to work for two people who have contributed to the legal profession in the ways they have."
Born and raised in Gilroy, California (proudly noted by Bress as the "garlic capital of the world"), he has been setting the intellectual pace for those around him since childhood. The eldest of four sons, Bress, along with two of his brothers, graduated first in their high school class and went on to Harvard. (His youngest brother is still a senior in high school).
At Harvard, Bress majored in government, and his time there culminated with his emceeing the Hasty Pudding theatrical club's Man of the Year award show with award recipient Billy Crystal. His love of civics then led him to the Federal Trade Commission, where after a year working under lawyers and analyzing the effects of looming mammoth corporate mergers, law school called. "I knew of the reputation of the faculty at Virginia; I came down for an afternoon and thought it was terrific," he said. "I am the biggest booster of this law school."
Bress appreciated the sense of community at the Law School. "It is such a nice learning atmosphere. That's what I loved about it — I just thought I could concentrate so well here." And concentrate he did.
"Dan was a terrific student — hard-working and genuinely interested in ideas. He has also prepared himself exceptionally well; he has read widely and thought very deeply about the kinds of issues that the Supreme Court regularly addresses. He'll do Virginia proud," said professor Caleb Nelson. A course in the federal court system with Nelson stands among Bress's favorites.
During his Law School career, Bress served as editor-in-chief of the Virginia Law Review, where he was a moving force behind the so-called "Virginia experiment," an effort that encourages professors to write shorter articles — which most of the country's leading law reviews now emulate, according to Nelson.
But if you ask Bress about his time managing a publication with a staff of roughly 45 classmates that receives 2,000 submissions a year, he'll simply reminisce about those challenges, equating them with fun.
Once he handed over the reins of the VLR, he turned his free time toward writing. Under the guidance of professor Elizabeth Magill, Bress wrote "Administrative Reconsideration" (91 Va. L. Rev. 1737 (2005). According to Magill, the paper examined an important topic in administrative law that heretofore was little understood. "Dan conceived of the topic himself and he executed it perfectly," she said. "It was a difficult project because the law is complicated and the many cases on the subject are all over the map. His clear-headed analysis put to rest errors that plague some of the lower court cases."
Although an accomplished writer in his own regard, Bress is still inspired by the writing talent of his current boss, Judge Wilkinson. "He is a tremendous writer. It's a natural gift for him and he is a wonderful mentor in that sense," Bress said. "Being able to work for him you really get a great view of the process from the judge's perspective. I've learned so much."
Having the opportunity to work on cases from multiple areas of law appeals to Bress. "The Fourth Circuit is very interesting — covering everything from criminal to administrative agency law. Bankruptcy cases, discrimination suits, contract cases. Torts. You get everything."
Bress interviewed with Justice Scalia in August after getting the call to come to D.C. just three days earlier. It was the first time he set foot in the Supreme Court, and he was touched by its beauty and stature. "As a young lawyer you spend your entire Law School career reading opinions that came out of that building. In a sense it becomes almost an abstraction," he said. "To see it as a physical place is very humbling, because it plays such an important role in our government — most of the time you think about it as a volume or a piece of paper you're reading and not somewhere where people actually work."
Bress's interview with Scalia was substantive in nature. "We had a wide-ranging discussion on various areas of constitutional law. We discussed things in broad strokes," Bress said. "The Justice was very gracious. We spoke for a little over half an hour. We talked about Virginia — he has very fond memories of his time as a professor here."
Bress has two goals for his time serving the courts. The first is to make a contribution to the chambers. The second is to represent Virginia Law well. He says he couldn't ask for anything better.
Founded in 1819, the University of Virginia School of Law is the second-oldest continuously operating law school in the nation. Consistently ranked among the top law schools, Virginia is a world-renowned training ground for distinguished lawyers and public servants, instilling in them a commitment to leadership, integrity and community service.