Legal Sex Discrimination Damaging Women's Careers, Coughlin Charges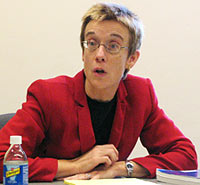 Legal forms of sex discrimination still exist in the military and in private employment, leaving women at a disadvantage in the workplace, law professor Anne Coughlin said during a Women of Color brown-bag lunch Oct. 31.
When assessing a person, "sex is one of the characteristics that we just automatically notice and use," Coughlin said. "We immediately pick up on it and use it to place the person into a specific category."
According to social science, sex is the most important individual characteristic, Coughlin said, although she stressed that race also is significant.
But when people analyze the law in terms of contemporary equal protection jurisprudence, Coughlin said, they believe that laws should be blind and neutral and not draw distinctions based on sex. She questioned whether a revision of contemporary equal protection jurisprudence was necessary or whether the problem is that the law has not gone far enough.
To analyze these questions, Coughlin turned to two examples: women in the military and appearance code cases, which she acknowledged are "strange bedfellows."
Coughlin noted that during his speech nominating a replacement for Justice Sandra Day O'Connor, President George W. Bush highlighted Judge Samuel Alito's military service and honorable discharge as a captain. She theorized that the emphasis on military service as a credential for various positions, even those in which it may not be directly relevant, places women at a distinct disadvantage.
She expressed frustration with feminists' hesitance to challenge the combat exclusion.
"Why is it that in the year 2005 we have examples of formal sex discrimination on the books, and no one anywhere is complaining about it?" she asked.
Furthermore, men face felony charges and a loss of federal benefits if they do not register for the draft, from which women are exempt. Women's exclusion from the draft and from combat is contrary to feminist ideals, she charged.
"They seem to be completely incompatible with the tenets of contemporary feminism, which aim to say the law should on its face be neutral," Coughlin said. "Let males and females make their own choices about what risks they're going to run, about the dangers of the jobs they're going to take, but whoever is fit for this job is the person who should be permitted to compete and to try to qualify and be chosen."
She questioned the rationale behind women's exclusion.
"Is it because we're psychologically weak, is it because we're physically weak, is it because we're so distracting to men that they won't fight if we're there?" she asked. "Is it that wars can only be carried out if there's a mom and a girlfriend at home for the soldier on the front to guard?
"I just want the explanation to be given and then we can at least regroup and understand where we are," she said.
Coughlin questioned women's ability to make career choices given their lack of options in the military, associating military sex discrimination with the wage gap, the lack of plausible female candidates for president, the small number of women qualified for nomination to the Supreme Court, and the disproportionate absence of women in high positions in industry.
In the private sector women in some fields have to deal with another kind of sex discrimination: appearance codes. It is still legal for employers to require male and female employees to dress differently for work, Coughlin said.
"The problem with the clothing cases is that feminists are misunderstood as trying to get rid of sexuality, as trying to get rid of fun and fantasy and joking and senses of humor and so forth," she said.
Instead, feminists want to prevent women from being required to wear or not wear certain items. When Coughlin first became a law associate, women were not allowed to wear pants and even would be turned away from the Virginia bar exam if they did not wear skirts. Still, litigation for appearance codes is rare because many people find appearance requirements trivial.
When an appearance code case does make it to court, the codes often are upheld. In one of the cases brought before the 9th Circuit Court of Appeals in 2004, a female casino employee questioned the legality of requiring female employees to wear makeup and to wear their hair long and curled. In contrast, male employees were not allowed to put on makeup, and their appearance standards were less expensive to fulfill. Nevertheless, the court upheld the employer's right to dictate its employees' appearances and found that it was not sex discrimination.
"The notion is that this is a neutral appearance code because all it does is mirror community norms," Coughlin explained.
During the trial's oral arguments, the judges asked whether upholding the employer's codes meant law firms could fire women for not shaving their legs.
"I'm thinking, of course you can't, but the answer is of course you can," Coughlin said. "Isn't that fabulous?" she wryly added.
In more extreme cases courts have struck down appearance codes. Judges ruled against one employer who required male receptionists to wear suits while women wore harem costumes.
Although some people regard clothing codes as trivial, Coughlin said their message is important.
"Women are penalized if they don't conform to these, I would argue, very sexist stereotypes," she said. "What the clothing cases make me think about is the larger culture in which we live and the question of what law can be doing about that culture."
Between exclusion from the draft and appearance codes, Coughlin said women "end up getting channeled into a world where employers are able to say, 'this is what women have to look like in order to be in this workforce,'" forcing them to comply with certain visions of femininity.
Although Coughlin appreciates women's freedom to make choices, including wearing provocative clothing or having one-night stands, she is concerned with the negative consequences of women using that freedom.
"It worries me that that freedom has ended up being very restrictive because I fear that we're not being taken seriously," she said. "You can be smart, but you've got to be sexy also. … I don't think that's a cost that men bear."
Coughlin then welcomed students to voice their opinions or ask questions. One student suggested that women hesitate to demand equality in the military because they do not want to be forced to fight and consequently feel hypocritical. Coughlin replied that many men also do not want to fight and that women may experience more advantages than disadvantages in being treated equally in the military.
"My sense is as a pragmatic strategic matter that women must be admitted to the military before we get to be part of a wider dialogue about whether we should be having wars, about whether we should be more pacifist," she said. "I want women to be part of the decision-making apparatus, and I don't see any way to get us taken seriously within that venue because the minute you say, 'I object to this war,' they [say], well, 'You don't have to fight and what do you know, you could never be commander-in-chief anyway.'"
Although she does not want her own daughter to go to war, she also does not want to foreclose that option to her.
"I don't know if I want law to make that choice for her when it doesn't make it for my son," she said.
Coughlin also discussed how the changing circumstances of war, such as in Iraq where there is not a distinct front, have increased women's exposure to danger.
"There's no clear line of demarcation between combat and noncombat," she said. "It's just one big mess."
Thrust into increasingly dangerous positions, Coughlin said female soldiers in Iraq have acted admirably and capably according to their superiors.
She also discussed how many of the reasons used to keep women from combat previously were used to keep African-American men out of the military and have been proven wrong. Additionally, physical and psychological tests could be used to prevent unable women from being drafted, she said.
Founded in 1819, the University of Virginia School of Law is the second-oldest continuously operating law school in the nation. Consistently ranked among the top law schools, Virginia is a world-renowned training ground for distinguished lawyers and public servants, instilling in them a commitment to leadership, integrity and community service.