Domestic Violence Laws Should Recognize Unmarried Victims Better, Fulcher Says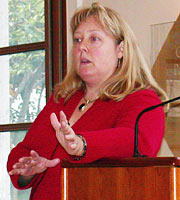 Teenage and college women often must cope with abusive treatment without the full support of laws against domestic violence, which typically approach the problem as one occurring in marriages, according to Julie Fulcher, director of the Washington, D.C., office of Break the Cycle. Fulcher spoke at the Law School Oct. 26 at the invitation of the Domestic Violence Project.
Abusive relationships "are about controlling other people," she said. "The pattern of abuse almost always includes other things, such as financial abuse — controlling your access to money; emotional abuse — putdowns and telling someone that 'no one could ever love you. You're lucky to have me'; isolation tactics to keep you from friends and family or organizations you might belong to; controlling what you wear; or threatening family members. A batterer usually uses a whole range of tactics."
Beginning from an assumption about married relationships, domestic violence laws have expanded to include people who are living together and those who are formerly married, have a child together, or are related by blood, she said. But many states do not cover dating relationships, which is a problem for young people who are unlikely to be married to the abuser.
Break the Cycle serves young people between the ages of 12 and 22 who are in abusive relationships. Two-thirds of sexual assaults reported to police are by people under age 18, said Fulcher, noting that people in their 70s and 80s can also be victims. Two-thirds of their clients have children or are pregnant, she added, and about 90 percent of the girls in the juvenile justice system have been abused.
The highest abuse rates are against young women between 16 and 24 who are "just getting into dating and relationships and are confused about sex and how things are supposed to happen," Fulcher said. "This is a particularly vulnerable group who will never show up at a domestic violence shelter."
Typically they will only tell their friends who are the same age and the advice of those friends is generally not very helpful; in fact it may do damage.
"Changes in the law are needed to really respond to the problem. Relationships can't be defined too narrowly," Fulcher said. There has been "some rapid change in this in last few years," but only slightly over half of states cover minors in dating relationships and some also require the relationship to be with a member of the opposite sex.
There is also variety in the way the laws get carried out. Citing D.C. as an example, she said its law covers all sorts of relationships, but does not define age.
"As a lawyer I say that [when the law says] 'a person,' it covers kids," but not all judges see it that way. Break the Cycle is currently looking for legislative clarification from D.C. City Council, she said.
"It's enormously more complicated when the abuser is under 18. Who are you going to serve the papers to?" But the fact is that most abusers tend to be older than the clients, usually by four or five years. Often they go to the same school. They can even be in class together with one having a protection order against the other. Fulcher said that usually the victim is made to change her class schedule "because she got the order."
Break the Cycle has a prevention curriculum that it presents at schools and universities that discusses what a healthy relationship is, what a person's legal rights are, and what to do to help friends who are in abusive relationships.
School presentations generate many clients, she said. "Dating violence is extremely high. Studies show one in three high school students will experience it."
The organization also offers training to D.C. police officers, health care workers and college dorm advisors. "We trained every athlete and coach at Howard University and we train interested high school students to be peer trainers," she said.
Fulcher helped draft the Violence Against Women Act that passed in 2000 and is now working on a new act to fill gaps and tinker with earlier language. "We hope to pass it before Thanksgiving." The first federal attempt to address domestic violence — legislation that passed in 1994 — changed things dramatically, she said, because it gave money to communities to help them respond effectively.
Founded in 1819, the University of Virginia School of Law is the second-oldest continuously operating law school in the nation. Consistently ranked among the top law schools, Virginia is a world-renowned training ground for distinguished lawyers and public servants, instilling in them a commitment to leadership, integrity and community service.