Stojilkovic '04 Clerking for Chief Justice Roberts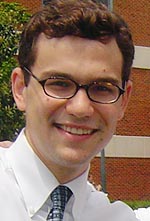 Kosta Stojilkovic was in the final weeks of his clerkship at the U.S. Court of Appeals for the District of Columbia Circuit when a fateful announcement suggested he might want to stick around. On July 19 President Bush declared that the judge Stojilkovic was clerking for — John Roberts — was his nominee to the Supreme Court.
"We knew he was in the running; we didn't know he was going to be the nominee," said Stojilkovic. "I kind of had a feeling he might be."
Stojilkovic and another Roberts clerk extended their clerkships to help Roberts prepare for his confirmation hearings and to provide documents to the Senate.
"I was happy to stay on just to do that," Stojilkovic said.
Once confirmed, Roberts asked both clerks to continue their duties at the Supreme Court, where they joined the late Chief Justice William H. Rehnquist's staff, whom Roberts retained.
"It was something I was very honored by and absolutely enthusiastic to do," Stojilkovic said of his move to the Supreme Court.
Stojilkovic joins classmate Michael Passaportis '04, who was originally hired by Rehnquist, in clerking for the new Chief Justice.
"It's great to have Mike as a co-clerk. He and others at the Court have made it an easy transition for us," Stojilkovic said.
Seeing Roberts govern the Court for the first time was a memorable experience. "He always asks good, probing questions.
"He is a fantastic boss. That's been my experience throughout. He engages his clerks, and he's a very approachable guy," he said. "I've always enjoyed talking with him about cases and seeing how he goes about breaking down the issues."
Stojilkovic, who lived in the former Yugoslavia until his family moved to a Maryland suburb of Washington, D.C., served as articles editor on the Virginia Law Review and was a Hardy Cross Dillard Scholar.
Founded in 1819, the University of Virginia School of Law is the second-oldest continuously operating law school in the nation. Consistently ranked among the top law schools, Virginia is a world-renowned training ground for distinguished lawyers and public servants, instilling in them a commitment to leadership, integrity and community service.