Virginia Law, Harvard Join NAACP LDF to Prepare Guide to School Integration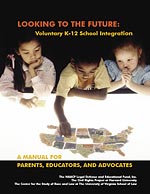 Advocates for racial and ethnic diversity in public schools should find their work easier with a guide to relevant legal and policy issues jointly prepared by the NAACP Legal Defense and Educational Fund (LDF), the Center for the Study of Race and Law at the University of Virginia School of Law, and Harvard University's Civil Rights Project. The manual, "Looking to the Future: Voluntary K-12 School Integration," is designed to help parents, students, community leaders, and school board members, administrators, and attorneys navigate the maze of legal, political, and policy issues related to the promotion of racial and ethnic diversity in public schools.
"Supporters of school integration are often, understandably, confused about whether race can be used as a factor in voluntary desegregation efforts, and in what way," said Kim Forde-Mazrui, director of the Law School's Center for the Study of Race and Law. "Looking to the Future" answers questions like these, and we hope it will help to clarify what legal means can be used to enhance racial diversity in elementary and secondary schools."
The manual synthesizes recent court decisions for their practical implications. It provides a brief legal history of school desegregation cases since Brown v. Board of Education and describes current trends toward school resegregation, along with its causes, patterns, and impact. The manual also summarizes research demonstrating the benefits of racially and ethnically diverse schools and the harms of racial isolation. The guide offers integrative student assignment strategies and reviews legal considerations in play when school districts pursue voluntary methods of achieving racial and ethnic diversity.
When the Supreme Court affirmed the importance of diversity in higher education in 2003, it was unclear what that meant for public elementary and secondary schools, Forde-Mazrui said. However, several recent federal court decisions recognizing the ability of school districts to consider race to promote integration have provided some guidance on what kinds of actions K-12 public schools are permitted to take.
Founded in 1819, the University of Virginia School of Law is the second-oldest continuously operating law school in the nation. Consistently ranked among the top law schools, Virginia is a world-renowned training ground for distinguished lawyers and public servants, instilling in them a commitment to leadership, integrity and community service.