Trodden '05 Wins Skadden Fellowship to Focus on Immigrant Workers
Erin Trodden is one of 29 recent law school graduates nationwide who were awarded Skadden Fellowships this year.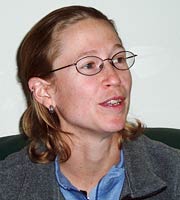 Although central Virginia and the Shenandoah Valley employ a high number of migrant farmworkers, changing demographics and increasing growth in the area have led to a less-evident population of urban immigrant workers that legal services groups have more trouble finding.
"There's a large population of more settled workers — construction workers, painters, drywall workers, restaurant staff, hotel cleaners — who were really falling through the cracks — who weren't getting much in the way of legal services and who desperately needed it," said Erin Trodden '05, describing her experience during her second-year summer working for the Virginia Justice Center for Farm and Immigrant Workers, a statewide project of the Legal Aid Justice Center in Charlottesville.
Migrant Farmworker Project Works on Behalf of Area Immigrants
Student volunteers for the Migrant Farmworker Project frequently visit labor camps and farms that employ migrant workers each fall, through a partnership with the Virginia Justice Center for Farm and Immigrant Workers. Third-year law student Andy Schmidt, a co-director of the program, said student volunteers let workers know they have legal recourse for unpaid wages and poor living conditions, should either problem occur.
"For the most part there aren't any problems, and we like to think that's because we are out there checking on people," he said, noting that about 25 students have volunteered this year, most of whom speak Spanish.
Workers, who are paid by the box of fruit they pick, are sometimes shortchanged. "They don't necessarily realize they have recourse," Schmidt said. "Just having a line to the world really helps."
For law students, it can be an eye-opening experience to visit labor camps just 10 minutes from the school. "It's a totally different world," he said.
Students also help the Virginia Justice Center research legal issues and with lobbying efforts in the state legislature.
"Regrettably, the General Assembly continues to approve policies that don't recognize the reality of Virginia's economic dependence on low-wage immigrant workers," said Virginia Justice Center managing attorney Tim Freilich. He said the Center tries to educate the community and the Assembly about issues affecting immigrant workers, such as the funding of day labor centers and access to higher education for immigrant children brought to the country at a young age.
After graduation, Trodden channeled her observations into a proposal to address the problem and was rewarded with a Skadden Fellowship, an honor given by law firm Skadden, Arps, Slate, Meagher & Flom to 25 graduating students and outgoing law clerks pursuing public service careers each year nationwide, from an applicant pool of hundreds. (This year four additional fellowships were funded.) Other fellows have planned projects on issues such as housing discrimination, literacy among teens, predatory lending, aggressive medical bill collecting, domestic violence, and health care access for immigrants. The fellowship offers a $46,000 salary with benefits for a year with the expectation of renewal the second year.
"It's very competitive," said Trodden, who is currently clerking for Judge Norman K. Moon of the U.S. District Court in Lynchburg, Va. "I knew I had a good project, but they're all good projects. Dean [Kimberly] Emery and the Public Service Center were hugely helpful in giving me direction and actually putting together my application."
"It's one of the most prestigious public service fellowships, and one of the most generous," said Emery, Assistant Dean for Pro Bono and Public Interest and Co-director of the Mortimer Caplin Public Service Center. "That kind of innovative outreach project was appealing to the Skadden Foundation. Also, Erin's just an outstanding person."
The fellowship allows Trodden to again partner with the Virginia Justice Center to help exploited immigrant workers, starting next fall.
"Erin's fellowship comes at a great time for our program, as we're rebuilding our statewide outreach component," said Virginia Justice Center managing attorney Tim Freilich, who praised Trodden's dedication to her clients. "I think the project is going to fill an important gap—reaching out to low-wage immigrant workers who are not in the traditional migrant farmworker stream, letting them know there is help available, and ensuring that they have access to justice." Freilich, a 1999 U.Va. Law graduate, also earned a Skadden Fellowship, which he used to ensure that immigrant workers with H-2B visas were properly paid for their work.
Many legal services groups are unable to represent undocumented workers because a major source of their funding, the federal Legal Services Corporation, requires organizations to focus on documented workers and citizens. The Virginia Justice Center has sought funding from other sources in order to be able to serve those immigrant workers most in need, regardless of their immigration status.
"Undocumented workers are still entitled to be paid for their work under the Fair Labor Standards Act and other regulations," Trodden said. "They still have some basic employment protections."
Immigrant workers frequently face exploitation in the workplace through nonpayment of wages or overtime, unauthorized deductions in paychecks, and discrimination, including sexual discrimination, she said.
Trodden plans to target the hidden pockets of immigrant workers through methods similar to those used by the Virginia Justice Center branch in northern Virginia, where urban workers are the primary immigrant population. "I'll be reaching out to workers at community events, churches, restaurants, stores, and day labor corners, as well as spreading the word through other organizations that work with immigrants in Virginia," she said. She also plans to work more closely with community organizations, building on the collaboration begun by a Central Virginia Legal Aid Society conference last spring ( story ).
An Arlington, Va., native, Trodden studied the humanities at the University of Virginia as an undergraduate, spending one summer in Spain and volunteering for work in Mexico and Honduras, where she was able to practice her Spanish skills. After college she joined the Peace Corps, working in Bolivia on sanitation issues and community health. At the Law School, she served as the president of the Migrant Farmworker Project.
"It got you out into the community; it got you talking to real people," said Trodden, who also served on the Virginia Law Review. She volunteered for outreach to migrant worker camps in Albemarle and Nelson counties, home to many apple orchards. After her summer working at the Virginia Justice Center, an internship that was funded by a Public Interest Law Association grant, "I realized that was really the work that I wanted to do.
"I like feeling that I actually can make a positive impact with my education," she said.
Founded in 1819, the University of Virginia School of Law is the second-oldest continuously operating law school in the nation. Consistently ranked among the top law schools, Virginia is a world-renowned training ground for distinguished lawyers and public servants, instilling in them a commitment to leadership, integrity and community service.