World Economy Hinges on China's Bankruptcy Law, Wood Says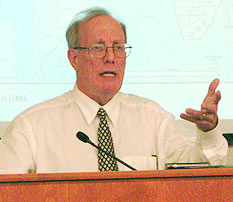 Financial law around the world can be grouped into six legal cultures that give different relative weights to debtors or creditors, according to British financial law authority Phillip R. Wood. With China now selecting features from each as it thoroughly rebuilds its own statutes, its pending choices over bankruptcy law will have profound implications for the world economic health.
Wood spoke on "World Financial Law: U.S. vs. Europe vs. China" March 3 at a talk sponsored by the J.B. Moore Society of International Law and Allen & Overy. Formerly a partner with the distinguished British firm of Allen & Overy LLP, now its Special Global Counsel, he also teaches at Oxford, Cambridge, and London Universities and as well as at the London School of Economics. U.Va. law professor Paul Stephan introduced him as the "the world's foremost authority on financial law."
Wood's lecture (he called it "a picture show" and himself merely a "projectionist") included art history lessons; raconteuring asides on Galileo, Newton, Chaucer and Shakespeare; a $20 prize to any audience member who could name the seven jurisdictions in the British Isles (he paid it out in the end, despite a wrong guess over the Isle of Man); and a bailment demonstration in which a student two rows back was given possession of his watch. In addition, he gave away 100-page books containing dozens of color maps depicting key elements of global financial law, copies of his bound 75-page report "Financial Law in China," and color brochures presenting the talk in bullet points.
Wood sketched the modern financial system from the invention of money. He gave the metaphor of grain silos for banks and said their role is to "collect the droplets of people's savings and use them to irrigate the land, that is … the people's money would be funneled out for productive infrastructure investment" such as power stations. "The real creditor in interest is the depositor, not the bank. But we're debtors as well because we, via our [stock ownership in the power station], are borrowers as well. One of the central ambiguities of financial law is that the people are on both sides." Which side-the lender or the borrower-the law chooses to give relatively greater protection to is a distinguishing characteristic of legal cultures, Wood said.
He next showed a map of countries that in the last 25 years have experienced systemic banking meltdowns of at least a 10 percent decline in GDP-Indonesia's was 55 percent, Japan's was 24 percent, Sweden's was 12 percent-and posed the question, "have [banks] got such a dark side, such an inherent vice, that we can't cure?" meaning, will banks and other depository institutions such as corporations always be vulnerable to insolvency or bankruptcy? The weakness of banks, he said, is that they must try to respond to depositors' fears by giving them their deposits back in the event of a panic, most of which lead to bank collapses, and they must constantly prophecy conditions 10 to 15 years ahead. No one in 1988 foresaw the collapse of the Soviet Union in 1989 or in August 2001 imagined the 9/11 attacks, he noted. The map showed what he lamented as a "shocking" scale of global insolvency.
Making a tour of the world's 319 jurisdictions (there are now 192 sovereign states), Wood grouped them into six legal cultures with three main ones: American and British common law (about 45 percent of world jurisdictions); the Napoleonic group, derived from French law (about 25 percent); and the Roman-Germanic group (about 10 percent, including Russia). The remaining cultures are Islamic (3 percent), mixed systems that draw pieces from different groups (5 percent, including China and Japan, which have Roman-Germanic leanings), and what he called incomplete new systems, such as Vietnam's (6 percent). The common law group represents 35 percent of the world's population and 46 percent of world GDP. The Napoleonic group covers 34 percent of people and 35 percent of GDP.
Wood described financial law as a mix of ethics and efficiency. Ideally, it strives to protect both the creditor and debtor completely, but, pragmatically, the most ruthless choices the law makes are in the area of bankruptcy, and legal cultures reveal themselves most starkly on that feature. The feature Wood looks for is the availability of set-offs in insolvency law. Set-offs are counter-demands that can cancel out or reduce part of what's owed, for instance a bank loan against a bank deposit. For the most part, creditors' investments amount to "dust" in the eyes of the liquidator, Wood said, and those investments are simply forfeit.
English common law and Romano-Germanic system countries tend to protect creditors; those with the Napoleonic system tend to protect debtors. Russia, he noted, can't make up its mind which side to favor, and China is trying to decide, having recently withdrawn its new bankruptcy legislation.
China presents an interesting "clean slate" case study in legal development, he said. "I know that on the transparency index, corruption index, centrally planned [economy]… it ranks low. But the guys who are drafting the underlying private law-contract law, banking regulation, antitrust law-they believe in the law as I do. Of course they can't get their way." He said the Chinese procedure for reforming their laws has been a "Peter-the-Great-style period of assembling bits from different sources," then proposing a draft, heavily hedged as merely tentative, and proceeding slowly, listening for feedback. But the usual outcome, Wood said, is that the tentative law becomes permanent.
The key positive development he sees in China's reforms is that "they accept the trust." Trusts are segregated assets held by an intermediary. Should the trustee become insolvent, the trust funds are immune to his creditors and the assets belong to the trustee's designated beneficiaries.
"China's trust act of 2001 is, in my view, though unheralded, the most important legal event of the last 25 years."
Meanwhile the Chinese face the hurdle of devising new property law "because they have a feudal system in which the government owns all the land. The property law is in the works. They're going to have to settle that, and it's not so easy." And their next task would be new bankruptcy law.
He praised America's example. "The American empire is not territorial, but legally, it's an empire of the mind, and those matter. Should the empire of the mind be spread amongst the people of the world? The answer is, of course. The criterion is the quality of the product. Underneath, the ideology is very impressive. The combination of Athens and Sparta, morality and efficiency, is nicely done. To have the degree of stability that you've got across the country, we don't have that in Europe.
"Insolvency is the test because it is basic to credit economies. It's the key arena. If a debtor remains solvent he can ultimately be made to pay for his fraud. It's only when he's insolvent that the problem becomes crucial."
Turning to prophecy, Wood said two outcomes were possible, one of complete harmony in world financial law or one of near complete fragmentation as countries, using their traditional legal structures, pursue national political and economic interests. "Countries in the same tradition are coming to different results," he warned.
But he also withheld endorsement of a uniform system. "I think there is a lot to be said for competition in legal systems, so long as we have a choice between them." He said we should ask ourselves, "Is the law in charge of us or are we in charge of the law? I think the law is our servant and we should be in charge of it," though he worries that parochially minded legislatures might cause disasters.
On his crucial area, bankruptcy, he predicted that "it's most unlikely we will have a harmonized [world] law on bankruptcy by 2025. I think of it as throwing a stone against a glass-incredible splintering."
Founded in 1819, the University of Virginia School of Law is the second-oldest continuously operating law school in the nation. Consistently ranked among the top law schools, Virginia is a world-renowned training ground for distinguished lawyers and public servants, instilling in them a commitment to leadership, integrity and community service.